There's a catch: Braves face backstop decision in 2015
Gattis provides power bat, but Bethancourt proving he has all-around game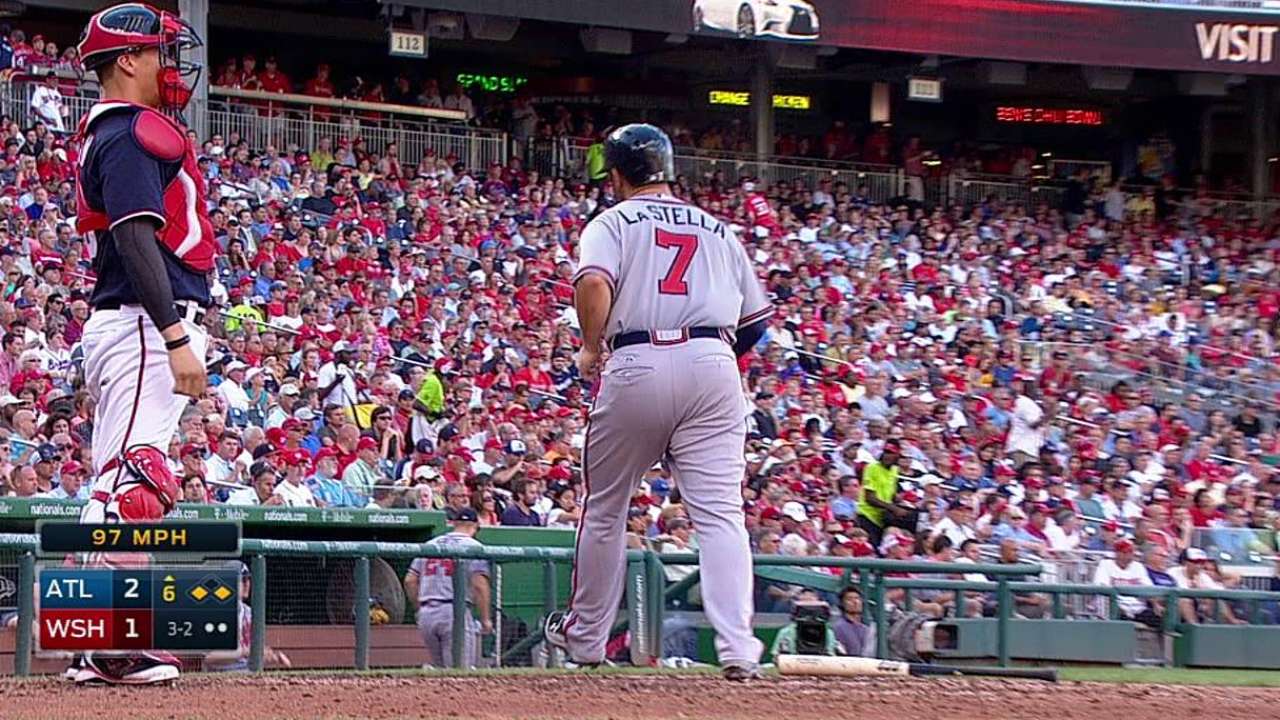 WASHINGTON -- Once Evan Gattis regains the strength he lost while battling strep throat this week, the Braves are going to want his powerful bat in the lineup as frequently as possible until this season concludes. But as they look toward next season with the confidence that Christian Bethancourt is prepared to handle the catching duties on an everyday basis, there is reason to wonder where Gattis will fit.
As the Braves fight for a playoff spot with the hope their maddening offense will start to provide consistent production, it is easy to understand why they want to lean on Gattis, whose 16.32 at-bats-per-home run ratio ranks second among all Major League catchers. But concerns about Gattis' defensive limitations and durability have at least cracked the door of opportunity for Bethancourt, whose rocket arm provides him a chance to be a special defensive talent.
"For me, [Bethancourt] is the catcher of the future," veteran backup catcher Gerald Laird said. "He's a commodity in my opinion you can't get rid of. He's got the skills to be really good defensively. He's got the makeup and the mind to be a good catcher and game-caller. But also, he wants to be good offensively. You can tell he wants to be an all-around good player."
If Atlanta does indeed determine that it wants Bethancourt serving as its starting catcher at the start of next season, the club will need to decide whether it is best to trade Gattis or attempt to play him in left field like they did last year.
Though Gattis is not the most skilled defensive catcher -- his 0.9 FanGraphs Defensive WAR ranks 22nd among the 24 catchers who have caught at least 700 innings this year -- he has made strides behind the plate and has been more efficient than he was when he registered a minus-10 in the Defensive Runs Saved category while playing left field last year.
If the Braves were to dangle Gattis on the trade market, they would likely get plenty of interest from clubs interested in gaining the commodity of a right-handed power bat. American League clubs would likely show the greatest interest because they would have the option to utilize him as a designated hitter on a consistent basis.
As Bethancourt was showing signs of promise with Triple-A Gwinnett in June, Atlanta toyed with the idea of moving Gattis back to the outfield. Justin Upton would have shifted to right field and Jason Heyward would have taken over the center-field duties. The idea faded because of memories of how Gattis played the outfield last year.
But when a bulging disc sidelined Gattis two weeks later, Bethancourt came to the Majors and made the most of his opportunity by showing off his arm and his improved offensive approach. When the young catcher hit .243 with a .275 on-base percentage for Double-A Mississippi in 2012, he was viewed as an undisciplined hitter whose offensive limitations would slow his rise toward the Majors.
But Bethancourt showed improvement as he produced a .305 OBP with Mississippi in 2013. He took another step in the right direction when he compiled a .308 OBP as he batted .283 with eight homers in 91 games for Triple-A Gwinnett this year.
"He's a talent," Braves hitting coach Greg Walker said. "Young catchers that can be offensive players and play both sides of the ball, they're hard to come by these days. The Atlanta Braves have one that has a chance to be good on both sides of the ball."
Bethancourt impressed many of his teammates when he concluded an eight-pitch at-bat against Stephen Strasburg with an opposite-field single that proved decisive in Wednesday's win over the Nationals.
"His approach has come a long way in the last couple of years," Braves first baseman Freddie Freeman said. "He's very calm, cool and collected up at the plate. He doesn't let anything get to him. He's starting to show that when he gets his chances."
During Tuesday night's loss, Bethancourt conjured memories of Benito Santiago when he showed off his arm and athleticism with a pickoff attempt that might have been successful had Freeman been prepared to receive the throw at first base. Freeman's view was blocked by left-handed hitter Adam LaRoche, and he has not seen many of Atlanta's catchers of recent memory have the ability to make that kind of attempt.
"You can't take away the aggressiveness from a young catcher," Braves manager Fredi Gonzalez said. "We haven't seen it in the four or five years I've been here, because what he did was pretty difficult and he did it so quickly that it caught everybody off guard. It won't happen again, I guarantee it. Because now 'Free' is going to say, 'OK, I know this guy is able to do that.' There aren't many catchers in the big leagues that can do what he did."
With Bethancourt, Atlanta has one of the game's finest young catchers. With Gattis, it also has a powerful offensive talent who could provide value as long as his 6-foot-4, 250-pound frame does not consistently affect him during the course of long season.
Now, the Braves have to determine if they can carry both on the same roster next year.
"This leaves a tough decision," Laird said. "I know you want to leave Gattis in the lineup, but you can't sit this kid. In my opinion, he's ready to go."
Mark Bowman is a reporter for MLB.com. This story was not subject to the approval of Major League Baseball or its clubs.