For Braves, no time like now for offensive boost
As K's remain high, homers have drastically decreased, but club still eyes playoffs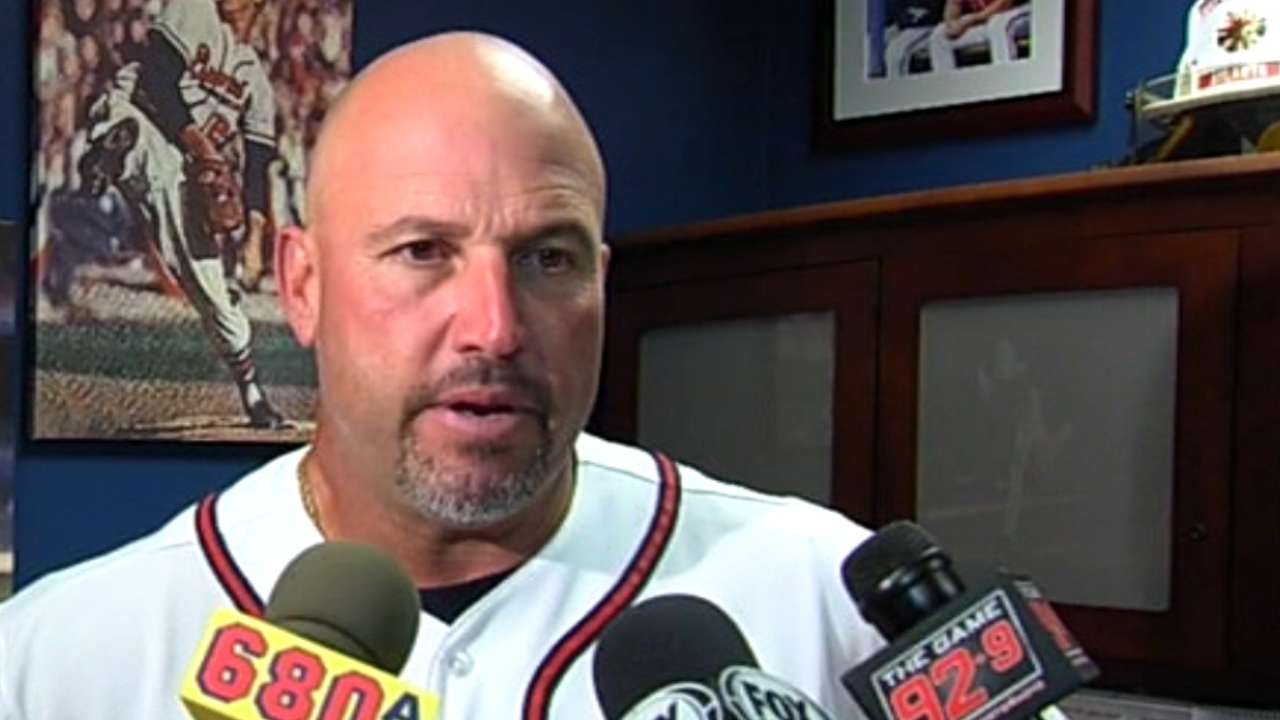 ATLANTA -- Though they entered Thursday feeling fortunate to be just a half-game back in the battle for the National League's second Wild Card spot, the Braves know their postseason hopes could quickly fade if they spend the regular season's final three weeks battling the offensive woes that have plagued them all year.
On the way to winning the NL East by 10 games last year, Atlanta led the NL in both home runs and strikeouts. Though the DNA makeup is quite similar, this year's lineup has been unsuccessful in its attempt to again perfect the art of producing enough power to mask an overabundance of strikeouts.
The difference in the home run/strikeout ratios of the past two seasons stands as just one of the many theories that have developed as the Braves have gone from being a team that scored the NL's fourth-most runs last year to a team that has tallied the third-fewest runs in all of Major League Baseball this season.
"We know at some point, we're going to bust out," third baseman Chris Johnson said. "Hopefully it's soon, and hopefully it's not too late."
Unfortunately, this has been a message any member of the Braves' organization could have professed at any point over the past five months. But fortunately, with the assistance of a pitching staff that has kept the club afloat and the cooperation of a few other NL clubs who have performed in mediocre fashion, Atlanta still has time to do enough to earn a third straight trip to the playoffs.
In the process of losing six of their past 11 games and being shut out in three of their past five, the Braves have severely weakened any hope to catch the Nationals in the NL East. But with the help of the Brewers, who entered Thursday with eight straight losses, they are on the verge of the Wild Card spot.
Here is a look at some of the offensive components that have put Atlanta in this position where the club is fighting for a chance to play in October:
Strikeouts are still up, but homers are not
Last year, the Braves homered once every 30.06 at-bats and struck out once every 4.44 plate appearances. This year, those numbers stand at 42.0 and 4.43. In other words, they have not been able to continue saying, "You're going to have a lot of strikeouts when you hit a bunch of home runs."
The strikeout and home run ratios produced by Justin Upton and Evan Gattis are similar to what they were last year. Freddie Freeman has gone deep at a lesser rate (23.96 AB/HR in 2013 vs. 31.18 in '14), but his decline is nothing compared to Andrelton Simmons (35.65 vs. 66.86), Johnson (42.83 vs. 57.78) or Jason Heyward (27.29 vs. 46.55).
Though Simmons is striking out a little more frequently (once every 9.49 plate appearances as opposed to last year's 11.96 PA/K ratio), he still stands as the hardest member of the club to strike out. His decline in power was expected after he surprised with 17 homers last year.
More concerning from simply the power standpoint are the numbers produced by Heyward, who in every other aspect has been a legit NL MVP Award candidate this year. Without looking at the numbers, some might wonder if power reduction has been influenced by his role as the leadoff hitter. But Heyward hit just one of his 11 home runs in the 154 at-bats he tallied while hitting fifth.
While few expected Johnson to once again compete for a batting title, it would have been equally hard to predict that he would come back this year and produce a sub-.300 on-base percentage (.296) while notching more strikeouts (144) than hits (139). Along with striking out more frequently (4.72 PA/K in 2013 vs. 3.79 this year), Johnson has also grounded into a team-high 22 double plays.
Speaking of GIDPs
When the Braves were on their way to breaking the franchise strikeout record for a third straight season last year, there was reason to joke that they were at least avoiding double plays. But this year, Atlanta is on pace to ground into 121 double plays and strike out 1,377 times. To put that in perspective, the 2013 Mariners are the only club in Major League history to ground into at least 120 double plays and strike out at least 1,350 times.
Speaking of strikeouts
B.J. Upton has struck out once every 3.35 plate appearances. Among all qualified players in Braves history, that would rank as the second-worst mark. Dan Uggla had a 3.14 PA/K in 2013 and 3.75 in '12. As he has continued to play Upton on a consistent basis, manager Fredi Gonzalez has drawn ire from fans. But given that Upton has produced a two-hit game and a homer over the past three days, he'll likely continue seeing his name in the lineup.
Mixing and matching
Gonzalez has done his share of making changes this year. After going through nearly two months without any production at second base, he began utilizing Tommy La Stella, who has brought consistency to the position since making his Major League debut. Gonzalez also made the mistake of using Upton as his leadoff hitter for six weeks before realizing that Heyward is the only one he has on his roster. At the same time, he has found ways to get Phil Gosselin playing time.
As Gonzalez attempted to digest being shut out for the third time in a four-game span earlier this week, he used the term "mindboggling." As these next three weeks elapse, he can only hope to have an opportunity to make sense of what has been a maddening and unpredictable offense.
Mark Bowman is a reporter for MLB.com. This story was not subject to the approval of Major League Baseball or its clubs.