Bethancourt provides reliable option behind plate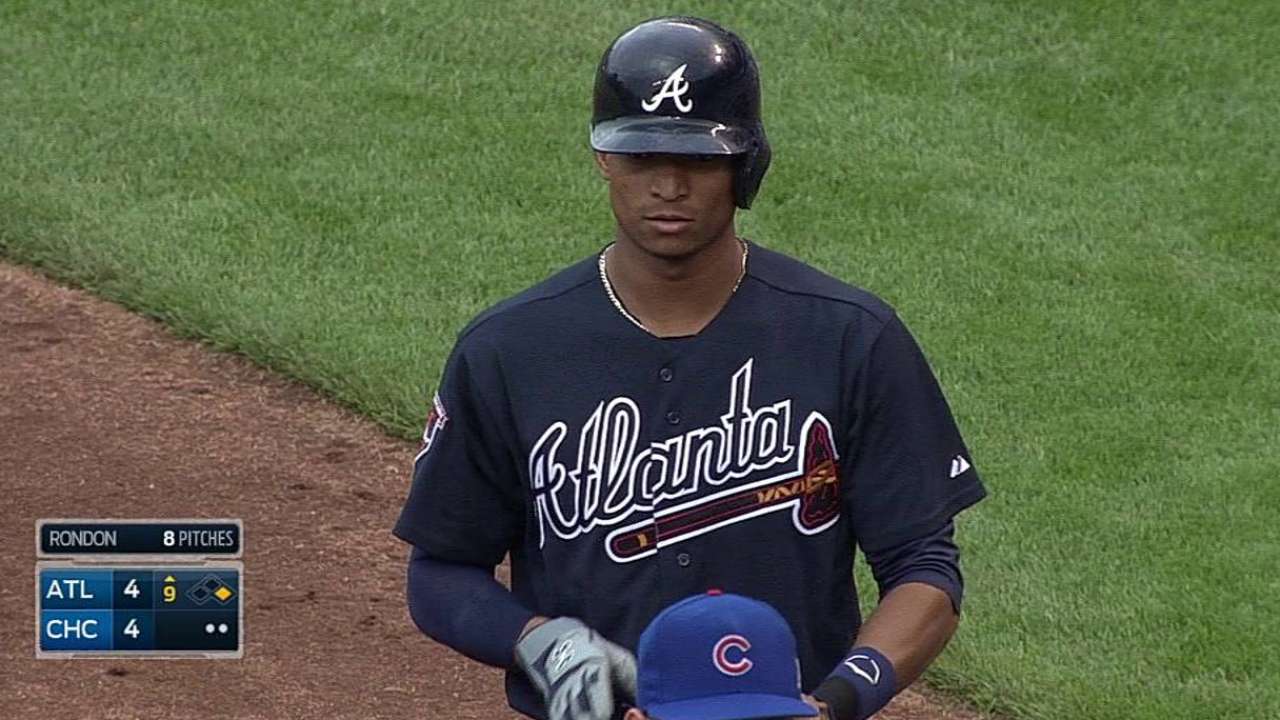 ATLANTA -- Now that he has completed a successful season with Triple-A Gwinnett, Christian Bethancourt will spend the regular season's final month attempting to help the Braves reach the postseason. The highly regarded catching prospect rejoined Atlanta's expanded roster as he celebrated his 23rd birthday on Tuesday.
With three legit catchers -- Evan Gattis, Gerald Laird and Bethancourt -- on a roster that also includes Ryan Doumit, who could catch in emergency situations, Braves manager Fredi Gonzalez will have the comfort to pinch-hit and double switch his catchers in situations that he might not have earlier this season. But at the same time, he has the challenge to figure out how much time Laird and Bethancourt will get while serving as Gattis' backups.
"We'll see how that materializes," Gonzalez said. "Off the top of my head, I'm not going to say Gattis catches three [games], Bethancourt one and Laird is off the chart. But there is a luxury to having three guys. You can do a little bit out of that position."
As Gattis has hit just .237 with a .300 on-base percentage since returning from a back injury on July 21, there has been reason to wonder if he is providing enough offensively to make up for his defensive deficiencies. But Gattis has at least helped his cause, belting four home runs in his last 47 at-bats entering Tuesday.
Bethancourt undoubtedly stands as the better defensive option, and he showed this when he served as Atlanta's starting catcher while Gattis spent the first few weeks of July on the disabled list. But it's the offensive strides he has made over the past two years that have created speculation that Bethancourt could become the Braves' starting catcher as soon as next year.
This possibility would obviously hinge on whether Atlanta trades Gattis this winter. But Bethancourt has at least provided motivation to evaluate this option.
"[Bethancourt's] development is pretty much done," Gonzalez said. "From what I saw from him playing up here earlier this year, defensively, his development is ready to go. Offensively, there will be some adjustments, just like with everybody else."
When Bethancourt produced a sub-.300 on-base percentage for Class A Advanced Lynchburg in 2011 and again for Double-A Mississippi in '12, there were concerns about his offensive development. But the late bloomer hit .277 with a .305 OBP during his second season with Mississippi, and then followed that up by hitting .285 with a .308 OBP for Gwinnett.
"Everything comes with time," Bethancourt said. "You've just got to be patient. They've been telling me, 'You've just got to trust yourself.'"
Mark Bowman is a reporter for MLB.com. This story was not subject to the approval of Major League Baseball or its clubs.