Terdoslavich among callups looking to help off bench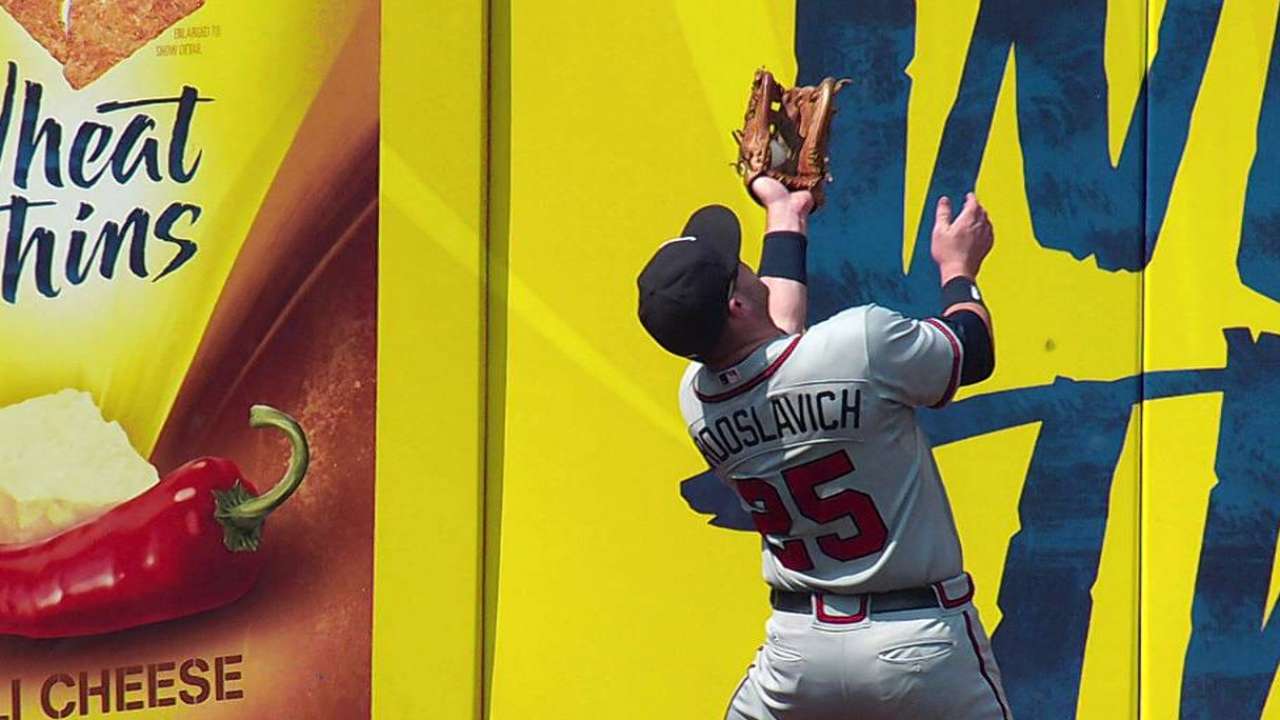 ATLANTA -- Many eyes will be on Christian Bethancourt as he spends the next month possibly preparing to serve as Atlanta's starting catcher as early as next year. But among this year's September roster additions, Joey Terdoslavich might have as much of an influence as Bethancourt.
When all Major League rosters expanded on Monday, the Braves added Terdoslavich, outfielder Jose Constanza, right-handed reliever Juan Jaime and left-handed reliever Chasen Shreve. Bethancourt will play in Triple-A Gwinnett's regular-season finale on Monday and then join Atlanta's roster on Tuesday.
Bethancourt will be coming back to the Majors feeling good about the way he has been swinging the bat recently. The highly regarded prospect, known primarily for his defensive ability, entered Monday with 12 hits in his past 21 at-bats. Constanza, who hit .293 with a .344 on-base percentage for Gwinnett this year, will attempt to aid the Braves much like he has the past few years -- as a role player whose speed can prove beneficial as a pinch-hitter or pinch-runner.
Terdoslavich will have a chance to provide the Braves with the reliable pinch-hitter they have lacked all season. When the regular season began, Ryan Doumit was supposed to be an upgraded version of Terdoslavich. But while hitting .194 with a .234 on-base percentage this year, Doumit has proven to be a primary reason the bench has been one of Atlanta's most glaring weaknesses.
In his attempt to strengthen the bench, Terdoslavich can only hope to extend the success he had while batting .273 with seven home runs and an .811 OPS in his final 34 games with Gwinnett. These might not be jaw-dropping numbers, but they were certainly more impressive than the .224 batting average, four homers and .646 OPS he produced in his first 75 games of the year.
"It's been a grind, but I learned a lot," Terdoslavich said. "Any time you go through something like that, you learn new things and you learn to work through it. I'm just excited to be back here."
As Terdoslavich played the final three months of the 2013 season with Atlanta, he spent some time learning the pinch-hitting craft from Reed Johnson and some of the club's other veterans. Terdoslavich recorded just four hits in 30 pinch-hit at-bats, but he feels fortunate to have at least experienced some time in that role.
"I learned a lot last year from Reed and all of the other guys," Terdoslavich said. "They helped me work on it, and I learned a lot doing it last year. At first, it's not the easiest thing in the world, but I have some knowledge of how to go about it and I do the best I can."
Mark Bowman is a reporter for MLB.com. This story was not subject to the approval of Major League Baseball or its clubs.