Simmons continues to dazzle with latest gem at short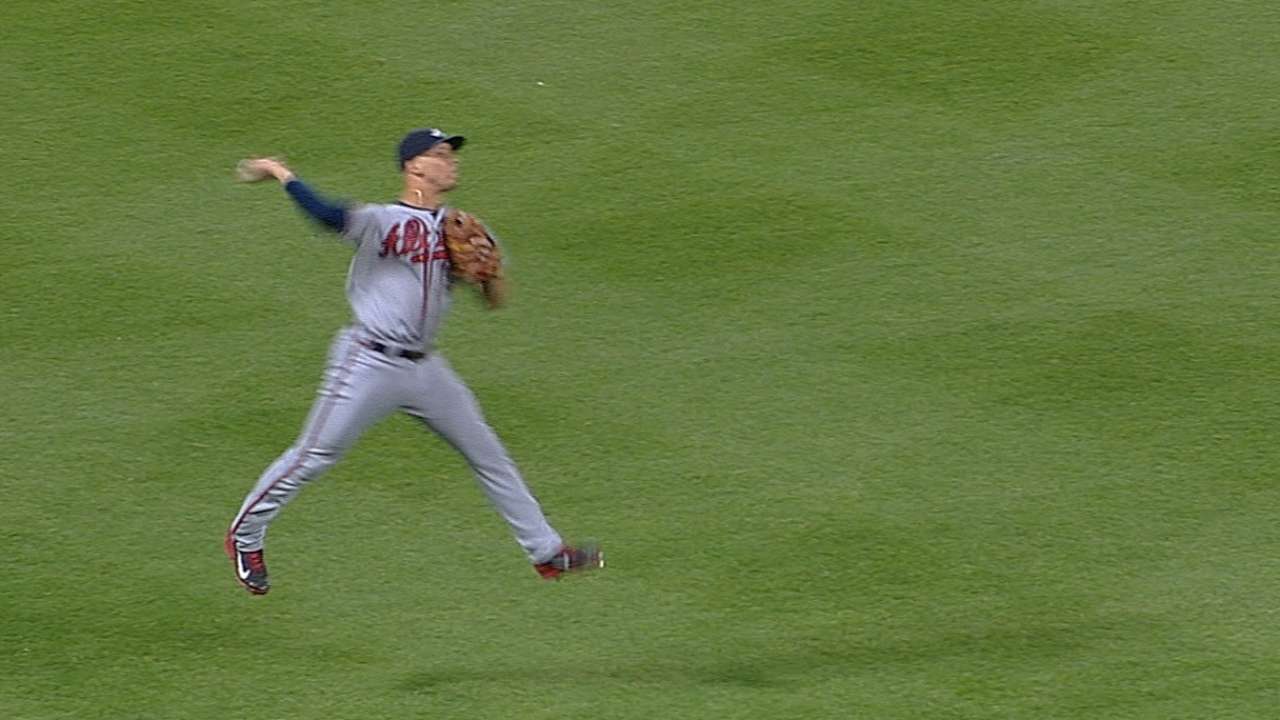 NEW YORK -- When asked what he considers to be the best of Andrelton Simmons' defensive plays, Braves manager Fredi Gonzalez has repeatedly said, "The next one."
Through his first three seasons at the Major League level, Simmons has routinely trumped some of his gems that originally seemed impossible to top. But when accounting for both the situation and degree of difficulty, it will be quite challenging for the Braves shortstop to best what he did to end the eighth inning of Wednesday night's 3-2 win over the Mets.
"He's unbelievable, always making plays for us," Braves starting pitcher Julio Teheran said. "Every time you don't think he's going to make the play, that is when he makes it."
With a runner on third and two outs in the eighth inning, d'Arnaud sent a sharp grounder through the left side of the infield. Once it escaped third baseman Phil Gosselin's reach, it seemed destined to result in a game-tying single that Justin Upton would glove in left field. But, all the while Simmons was ranging to his right.
"When it went by [Gosselin], it was just how am I going to get it over [to first base]," Simmons said. "That was the fastest way I could think of right there."
With momentum pulling him toward the right field line, Simmons backhanded the ball in the outfield grass and then hopped off his left leg. As he was in the air, he managed to rocket an accurate throw that first baseman Freddie Freeman scooped to record the out in uncontested fashion.
"As soon as the ball gets in my glove, I'm looking for him," Simmons said. "So as soon as I get in the air I got him locked in. If I don't, then I'm in trouble because I'm throwing into space and hoping it falls in the right spot. … I knew it was on target, I was just hoping it didn't take a bad or weird hop."
d'Arnaud was not necessarily shocked by the incredible development. One inning earlier, Simmons had backhanded one of his grounders in the infield dirt before making a throw to first base to record the out.
"When he made the play, I saw in the dugout that he was out and I said, 'I'd like to go out and challenge it as best I can, but I know he's out so all I'm doing is delaying the game a little bit,'" Mets manager Terry Collins said.
Simmons won his first Gold Glove Award last year and he entered Wednesday having compiled a Major League-high 62 Defensive Runs Saved since the start of the 2013 season. No other shortstop had more than 25.
Simmons' greatness has led many to compare him to the great Ozzie Smith, who played alongside Braves first-base coach and former third baseman Terry Pendleton for many years in St. Louis.
Pendleton said arm strength is the one thing that would have prevented Smith from matching what Simmons did on Wednesday night.
"If they are playing in the same spot, yes Ozzie Smith could get to that ball," Pendleton said. "But Ozzie might not have been able to throw the ball. He'd have gotten to the ball, but I don't know if he'd have been able to throw it because he played from 1985 until the day he retired with a torn rotator cuff. It's safe to say he would have gotten to the ball, but I don't know if he'd have had the arm strength to do what the kid did."
It would have been difficult for any shortstop to match Simmons' latest gem. But Gonzalez is certainly not ready to make any guarantee that this latest will indeed remain the greatest.
"How many times have we said that and there is another one?" Gonzalez said. "Maybe this one wasn't as graceful as some of the others. But the situation with two outs and the tying run at third … I'll stick to my guns with that one. There will be something else that we'll sit here and talk about because he's a special guy."
Mark Bowman is a reporter for MLB.com. This story was not subject to the approval of Major League Baseball or its clubs.