Johnson gets break amid hitting woes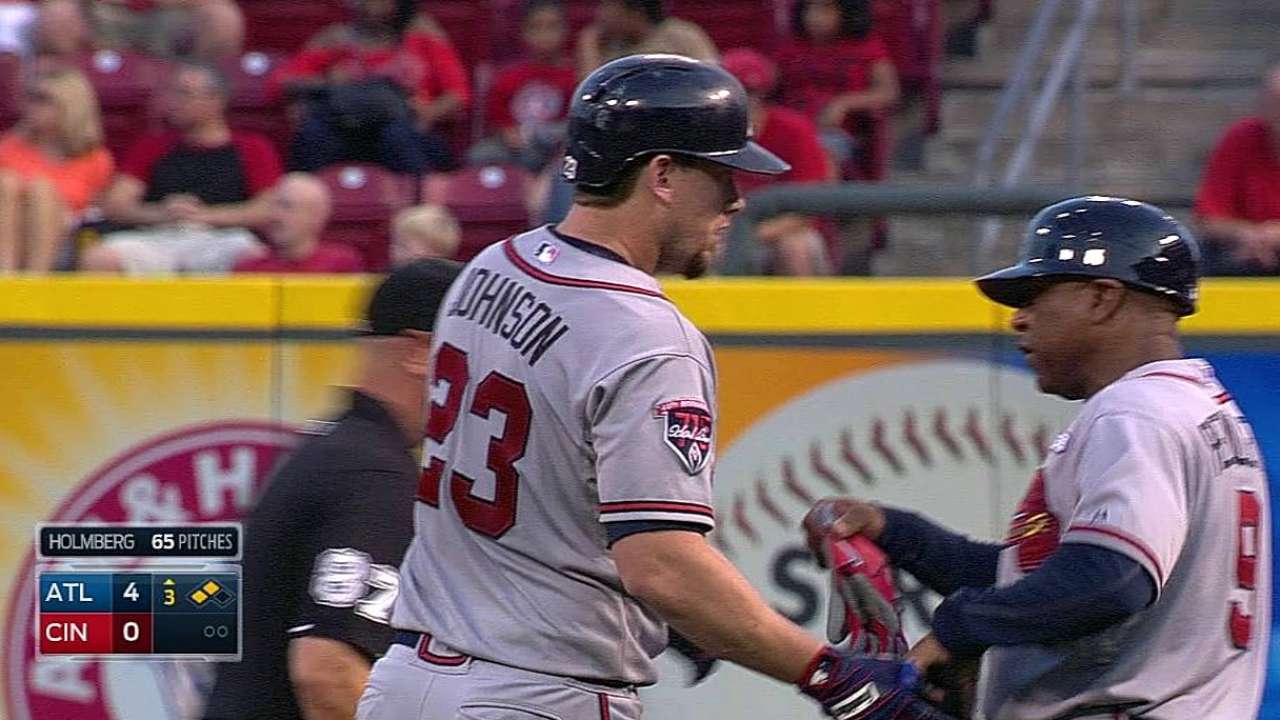 NEW YORK -- Mired in a slump that has extended nearly three full weeks, Chris Johnson had no problem with the fact that he was not in Wednesday night's starting lineup. The unselfish Braves third baseman came to Citi Field well aware of the fact that he had previously struggled against Mets starting pitcher Zack Wheeler.
"I have no problem with that," Johnson said. "If I'm not going good against a starting pitcher out there or I'm struggling or whatever, whatever we have to do. I just want to win."
Given that he had notched two hits in 17 previous at-bats against Wheeler, Johnson knew the odds of breaking out of his funk on Wednesday were not favorable. But as September approaches, he remains hopeful that he will produce a strong finish to a season that obviously been much more trying than his surprising 2013 season.
Johnson exceeded all expectations when he batted .321 -- the National League's second-best mark -- with a .358 on-base percentage and .457 slugging percentage last year. These numbers trumped the career averages -- .276/.315/.430 -- he had carried into the season.
But as Johnson has progressed through his second season with the Braves, he has produced numbers much more similar to those career marks he had produced from 2009-2012. He entered Wednesday hitting .271 with a .296 OBP. His disappointing OBP is a product of the alarming strikeout ratios that he has produced while trying to hit for more power this season.
Although he has attempted to generate more power, Johnson has produced a career-low .375 slugging percentage.
"I've been trying to work on pulling the ball a little bit more and kind of driving balls a little more this year," Johnson said. "I think that has gotten me into pulling off some balls and getting first-pitch strikes and fouling balls off because I'm trying to do too much. Last year, I would just take my hits.
"I just never really got big [with my swing] last year. I want to find that happy medium for my game. I think I've got power. I just have to learn how to do what I'm really good at and use that power."
After striking out in just 21.2 percent of his plate appearances last year, Johnson has been retired via strikes in 26.1 percent of the time this year. Once again, this year's number is closer to the 24.7 percent that he produced from 2009-12.
As Johnson's strikeout total has risen to an already career-high 136, his walk rate has decreased from 5.3 percent to 3.3 percent this year. His 30.7 plate appearances/walk ratio stands as the NL's highest.
"There is only one stat that has absolutely killed me, and it's the strikeouts," Johnson said. "I'm a firm believer that if you put the ball in play you have a better opportunity to get hits. I've just struck out too much. It's something I've got to figure out."
Mark Bowman is a reporter for MLB.com. This story was not subject to the approval of Major League Baseball or its clubs.