Walden checks in with injured friend Richards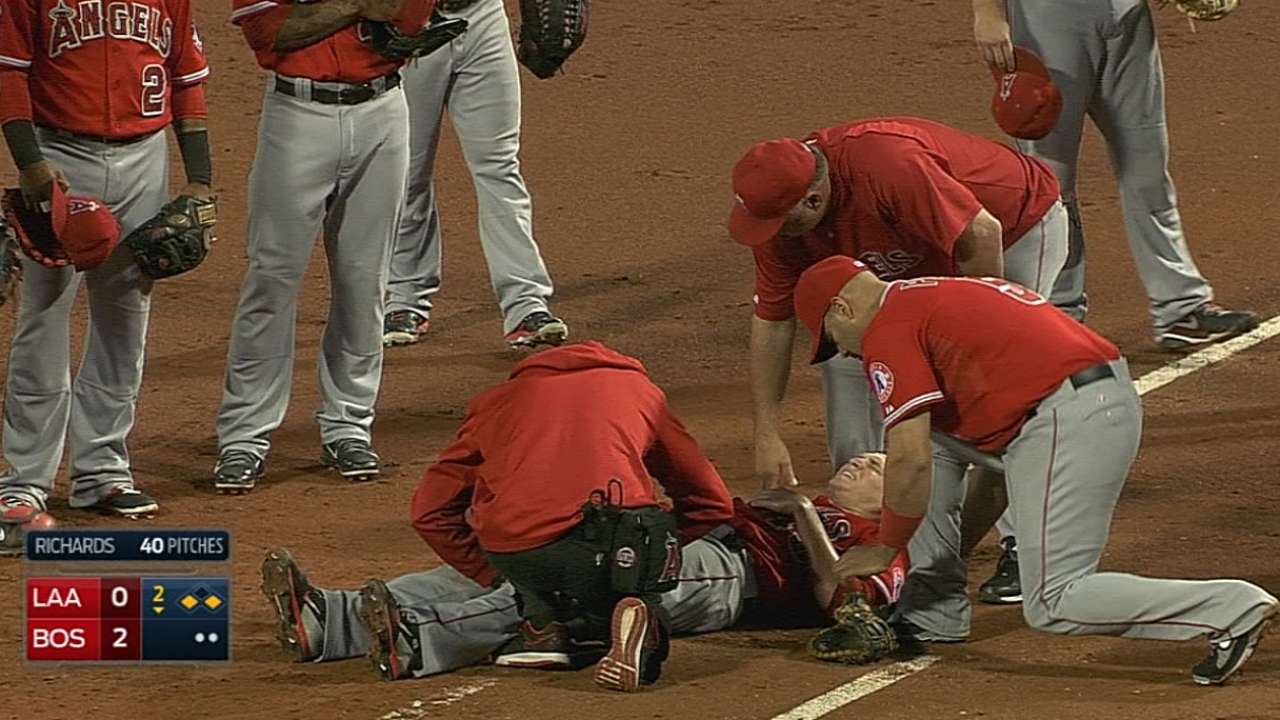 CINCINNATI -- After Angels right-hander Garrett Richards' left knee buckled beneath him as he ran to cover first base on Wednesday against the Red Sox, causing him to be carted off the field in a stretcher, he received a text message from a good friend who happens to be a big league pitcher himself.
"I texted him right after I saw him go down," Braves reliever Jordan Walden said. "He just told me what happened and that he was going to have surgery. I'm actually waiting on another text back from him right now."
Walden was waiting to hear from Richards prior to Saturday's game against the Reds because Richards had undergone surgery to repair a torn left patella tendon on Friday in Orange, Calif. He is expected to need six to nine months for recovery.
"It's tough to see the ace of a pitching staff go down, especially when they're in the race," Walden said. "To see him go down with a knee injury is really scary, but Garrett is a hard worker and I think he'll recover from it and come back even stronger."
Both Walden and Richards were drafted by the Angels -- Walden in 2006 and Richards in '09 -- and met while in the club's farm system.
"We lived together a long time in the Minor Leagues," Walden said. "He went to the University of Oklahoma and we have a lot of mutual friends in Texas, so we always hang out. We've just been buddies forever, and he's in my wedding this offseason."
Walden is confident that Richards will be better than ever when he gets back on the mound.
"One, he's young," Walden said. "Two, he's got one of the best arms in the big leagues. And his arm didn't get hurt, so he's still going to have the 100 mph fastball. He's never going to lose that. It's just a little bump in the road for him. He'll bounce back fine."
Manny Randhawa is an associate reporter for MLB.com. This story was not subject to the approval of Major League Baseball or its clubs.