Braves players take Ice Bucket Challenge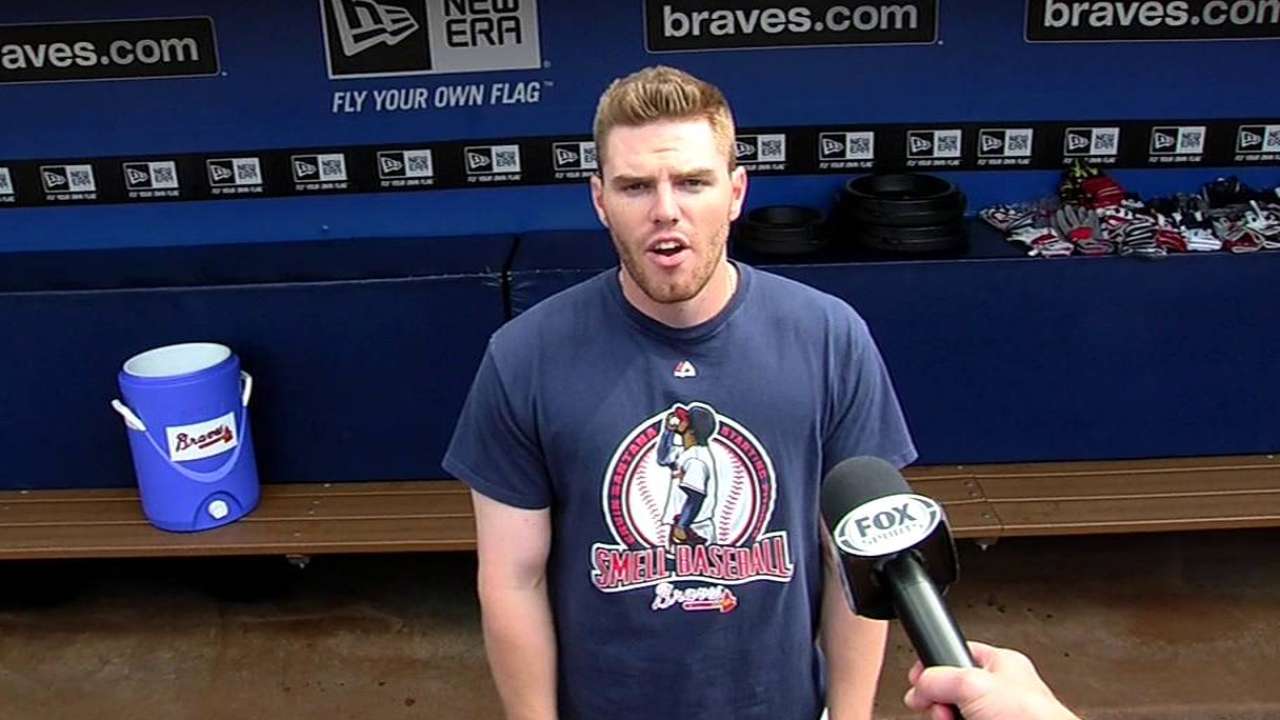 ATLANTA -- The Ice Bucket Challenge is the hottest trend around the sports and entertainment world right now ... or is it the coolest?
Friday afternoon at Turner Field, Braves first baseman Freddie Freeman, and several of his teammates, took turns participating in the charitable pursuit, in which they get an ice-filled cooler dumped over their heads.
"We're going to do that. It's for a good cause so it will be fun," said Freeman, who was challenged to participate by his brother, Andrew.
The initiative, which helps raise money and awareness for amyotrophic lateral sclerosis (ALS), aka Lou Gehrig's Disease, is credited to former Boston College baseball player Pete Frates, who's been living with ALS since 2012. He began the craze in late July and celebrities of sports, entertainment and all walks of life have jumped on board.
Once someone gets dunked, that person can make a donation to the ALS Association then can issue three challenges.
Freeman wasted no time, challenging his good friend and teammate Jason Heyward, as well as recent Baseball Hall of Fame inductees Bobby Cox, Tom Glavine, and Greg Maddux.
Heyward wasted no time taking the plunge, doing so right after Freeman. His challenges have not yet been made public, although Braves manager Fredi Gonzalez might be a good candidate.
"I haven't gotten invited. I would do it but I haven't got invited," said the Braves skipper. "It raises awareness, raises money for that charity. Why not?"
Freeman and Heyward stood in the middle of the home dugout to receive their ice bath from third baseman Chris Johnson, who took great delight in performing the honors from on top of the dugout. (Braves relievers Craig Kimbrel, Jordan Walden, and David Carpenter, and Executive of Business Operations Mike Plant also took the challenge, but preferred to take matters into their own hands).
Freeman admitted that while he'd gotten soaked before following walk-off hits, this time would be a little different.
"It's going to feel a little bit different because Chris is going to pour it on me and he's not going to tell me when. Just stand there and make the guy just sweat it out until the water hits you," he said. "You can kind of feel or see someone coming, but I'm just going to be standing there and just waiting and knowing him he's going to wait for a few seconds and just make me panic a little bit.
"But it's for a great cause so we're going to have a lot of fun with it and I get to challenge some people, too," he said, "That you'll probably get to see. I can't wait to see them do the Ice Bucket Challenge."
The Ice Bucket Challenge has brought in an estimated $9.5 million in donations according to the ALS Association. That's up from $1.6 million raised during the same time period last year.
Jon Cooper is a contributor to MLB.com. This story was not subject to the approval of Major League Baseball or its clubs.