Gosselin steps in for Simmons, hits first homer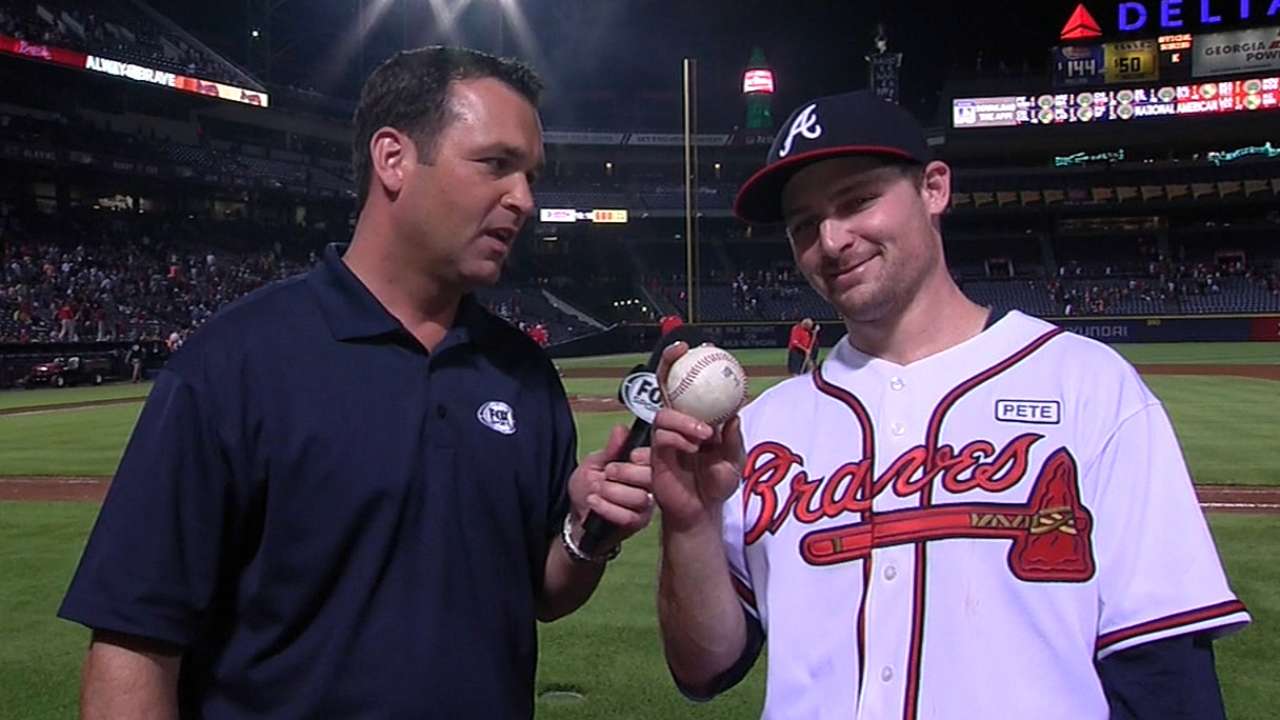 ATLANTA -- Phil Gosselin got the start at shortstop for Atlanta on Friday night as the Braves opened their weekend series with the Oakland A's at Turner Field.
The reason Gosselin got to fill in was because regular shortstop Andrelton Simmons needed some dental work and was unable to start the game.
"He had to go to the dentist. He has some tooth issue," said manager Fredi Gonzalez, prior to Friday's game. "I told 'Goose,' 'I'm just going to put a lineup out. If he's able to play then he'll play. If not, you'll play.'"
Gosselin lashed a single as part of a three-run third inning, then mashed a Jesse Chavez pitch out to center field for a two-run homer in the sixth, putting a crown on Atlanta's 7-2 win.
It was a long time since Gosselin went yard, but every bit as fun as he remembered -- back on May 30, 2009 against San Diego State and a certain, unbeaten, rocket-throwing right-hander.
"The last one was probably in college," said the former University of Virginia star. "I hit one off [Stephen] Strasburg when we beat them in the NCAA Tournament. This is the big leagues. This one's on a little bigger stage. That was definitely the biggest one I've hit."
For Gosselin, coming up big is all about coming in ready to play.
"Definitely," said the 25-year-old, who was drafted by the Braves in the fifth round of the 2010 First-Year Player Draft. "Whatever I have to do to get on the field, it's kind of my motto and however I can help the team out."
His work ethic isn't lost on his teammates.
"I've seen him play in Spring Training and our Minor League coaches give us a good report every time they come up," said Gonzalez. "You can play him at shortstop, he's going to make all of the routine plays. He's now played three different positions for us, third, short and second. He's got a nice, short stroke, he's athletic and it's nice to see that. Nice to have that piece in your dugout that you can run out there with Simmons, and give him a day or whoever on the infield, give him a day and you feel like you're pretty good."
"It's tough to not play every single day and come in and get some hits off a very tough pitcher," added first baseman Freddie Freeman, who scored behind Gosselin in the third. "He was able to do that tonight and help us win a ballgame."
However and wherever.
Friday's start was his first at short. In his first four games, he's started twice at second base and once at third. The versatility and ability to play any infield position made Gonzalez's decision to put him in the starting lineup an easier one and the endorsement of the team's Minor League Roving Infield Instructor Luis Lopez, who has worked out Gosselin at short and was at Turner Field, and current Gwinnett Braves manager Brian Snitker further eased Gonzalez's mind.
Gonzalez said Gosselin's hot bat was the deciding factor in giving him the start. He was hitting a team-high .344 when called up on July 26 from Gwinnett and is hitting .333 (2-for-6) on the current homestand.
He's looking forward to helping the team however he can from the two-hole.
"I've hit there a bunch throughout my career," he said. "I can bunt a little bit, hit-and-run, that kind of stuff," he said. "Maybe get some guys moving. Whatever Fredi wants me to do I'm ready to do."
Jon Cooper is a contributor to MLB.com. This story was not subject to the approval of Major League Baseball or its clubs.