J. Upton starts as hamstring shows improvement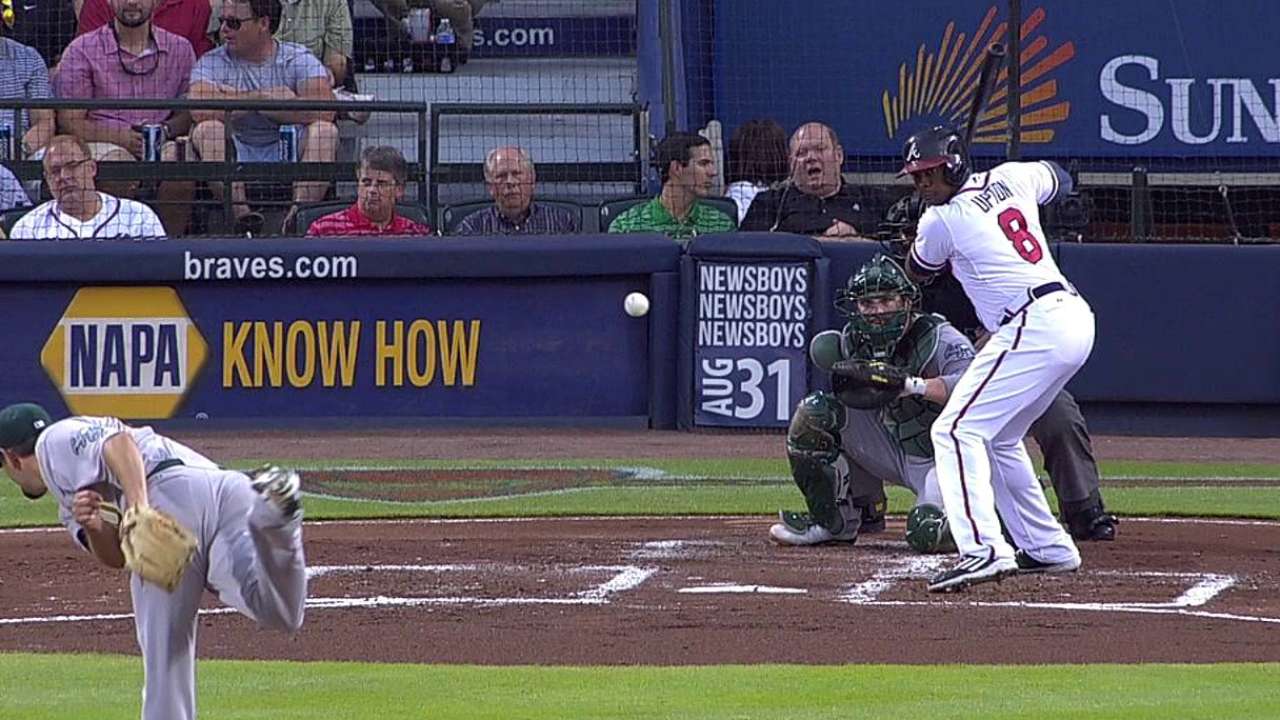 ATLANTA -- Any worries about Justin Upton and his left hamstring were alleviated early on Friday morning, as the Braves' power-hitting left fielder was in manager Fredi Gonzalez's starting lineup, batting in his usual cleanup spot for Friday night's opener against the Oakland A's.
He also showed he was okay in the second inning of Friday night's 7-2 win over the Oakland A's, when he jumped on an 0-1 pitch from Oakland starter Jason Hammel, depositing it over the left-field wall.
It was his only hit of the day, but not his only hard-hit ball, including a rocket in the third inning that All-Star third baseman Josh Donaldson made a tremendous play on for an out.
His second-inning blast proved to be a key blow in the game, as it gave the Braves a lead and allowed the hitters to relax.
"You want to get it going, but you can't press. So we were just trying to stay loose and have good at-bats," said shortstop Phil Gosselin. "Justin got us off to a good start and we kind of rolled from there."
It also allowed winning pitcher Alex Wood to pitch with a lead.
"Any time we get a lead like that and we're swinging the bats like that it gives me a lot of confidence, a little more room for air, so to speak, a little more room to work with," he said. "It's exciting when we swing the bats like that."
If he'd had his way, Upton never would have left Thursday afternoon's series finale with the Los Angeles Dodgers, a game he had to leave in the eighth inning after suffering a mild left hamstring strain pulling into third base. He might have had a chance to provide some excitement with two outs in the ninth, when his spot in the order came back up. But that's history, as, obviously, is any talk of injury. He made that clear to his manager Friday morning.
"He's fine," said Gonzalez before the game. "It's one of those things. He's had it before. It flairs up on him a little bit. I'm not a trainer, not a medical, but the weather's got something to do it. But I checked with him this morning. He said, 'Fredi, I feel great. I felt like if I had enough time yesterday I probably could have stayed in the game.' I'm like, 'Son of a gun, you looked like you were hurtin'.'"
Upton continued putting the hurt on opposing pitchers over the last 39 games, batting .290 (40-for-138), with six homers and 27 RBIs. He carries a six-game hitting streak into Saturday's game, during which he's hit .316 (6-for-19). For the homestand, he's hit in seven of the first eight games, with two doubles, three homers, nine RBIs. He's also shown a great eye at the plate, walking eight times vs. eight strikeouts.
Jon Cooper is a contributor to MLB.com. This story was not subject to the approval of Major League Baseball or its clubs.