Harper denies intent with stepping on Braves logo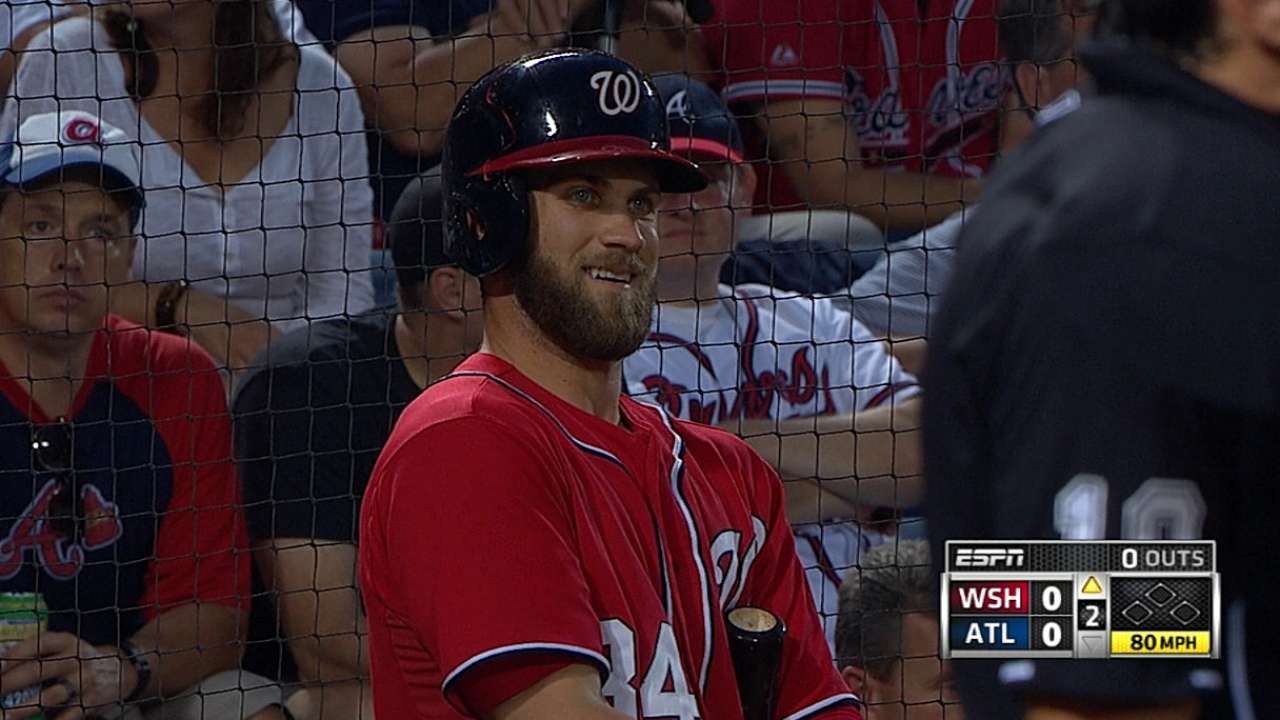 ATLANTA -- Braves fans have greeted Bryce Harper with loud boos all weekend long at Turner Field, and he appeared to respond on Saturday night by dragging his right spike across Atlanta's "A" logo stenciled in the dirt behind home plate.
Harper appeared to do it two more times but denied any ill intent following the game. The clip of the first scuffing made its way around online, and the Braves' Twitter account only added to the buzz by posting, "#RespectTheA."
"That's the last thing on my mind when I'm walking up to the plate. I really had no idea. When [a Nationals spokesperson] came up to me, I had no clue that I did anything," Harper said. "Seriously, that's the last thing on my mind going to face [Aaron] Harang or [Craig] Kimbrel or somebody like that. I had no idea why that was such a big deal. Of course, that's the last thing on my mind."
Braves manager Fredi Gonzalez simply laughed the whole thing off, saying he got a kick out of the whole situation when he saw the clip on Sunday.
"I think it's silly," Gonzalez said. "I think it's just one guy being silly."
However, Gonzalez was impressed by two of Harper's teammates prior to Friday night's contest. During a pregame ceremony honoring late Braves broadcaster Pete Van Wieren, Kevin Frandsen and Ian Desmond made eye contact with Gonzalez and gestured to ask if they could get loose by jogging in the outfield.
"They were respectful to say, 'Hey, is it OK? Can we do this without [ticking] anybody off?'" Gonzalez said. "You know what, that's some class. You know what's going on, you know that this is special for the Braves family. We don't want somebody to get [ticked] off that we're running in the middle of the ceremony.
"If I see them, I'll talk to them and tell them how that's a classy move. Most guys wouldn't even think about asking. They'd just go there, so that was a good move on their part."
Joe Morgan is an associate reporter for MLB.com. This story was not subject to the approval of Major League Baseball or its clubs.