Braves hoping to avoid DL stint for Simmons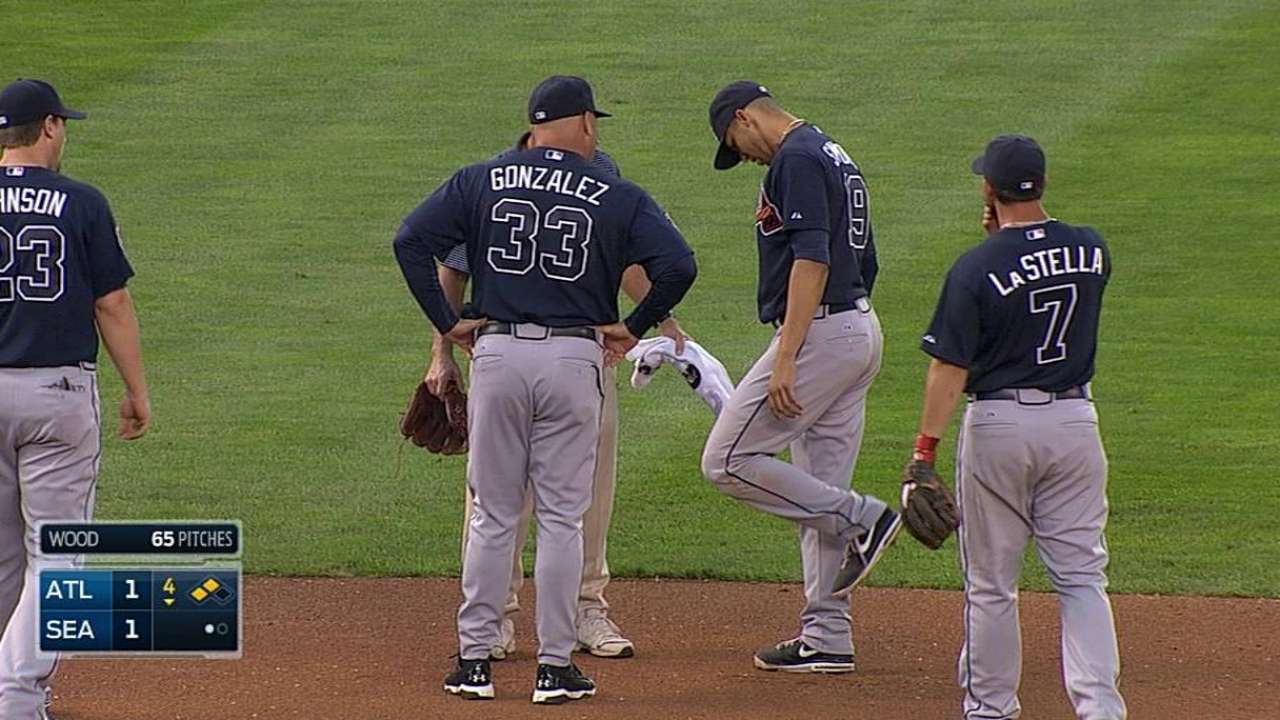 ATLANTA -- As Andrelton Simmons walked through the Braves' clubhouse late Friday afternoon, he was wearing an air cast on his left ankle and displaying a slight limp. This is not exactly an encouraging description of an acrobatic shortstop who relies on his legs to create his defensive magic.
But because Simmons' ankle had improved since Thursday, the Braves decided they will wait a few more days with the hope of avoiding having to place the shortstop on the 15-day disabled list. Braves manager Fredi Gonzalez indicated that a decision will likely be made by at least Monday.
"It's one of those injuries where 15 days might be too much, but six might be enough," Gonzalez said. "If we can avoid those 15 days with him, I would like to take a shot at it. There is going to be a lot of communication going on, from him telling us he is getting better and the doctors saying he's getting better. I don't see him [playing] this weekend."
If the Braves can get through this weekend's key division series against the Nationals playing one man short, they will likely evaluate Simmons again before Monday's series opener against the Dodgers. The shortstop turned his left ankle when he stepped on third base without looking during Tuesday night's game against the Mariners. He left Seattle the next day under the power of crutches.
When Simmons arrived at Turner Field to undergo treatment during Thursday's off-day, he was still struggling to walk under his own power.
"I didn't feel half as good [on Thursday] as I do now," Simmons said. "I came in today and I was thinking, 'I'm not even limping.' So, I don't know when I come in tomorrow how good I will feel or what they think about me starting [to jog]. [The trainers] are the experts. I just know I feel a lot better than I did yesterday and I'm walking a lot better.
"It's been gradually feeling better, but the jump from yesterday to today was pretty noticeable."
If the Braves determine they have no choice but to place Simmons on the disabled list, they might promote highly regarded prospect Jose Peraza from Double-A Mississippi to serve as the starting shortstop for at least a week.
Peraza, the Braves' No. 1 overall prospect, has played just 41 games above the Class A level. But the speedy 20-year-old infielder has batted .335 with a .361 on-base percentage and 25 stolen bases (32 attempts) since getting promoted to Double-A Mississippi.
Mark Bowman is a reporter for MLB.com. This story was not subject to the approval of Major League Baseball or its clubs.