Hale apologizes for waving off trainer, manager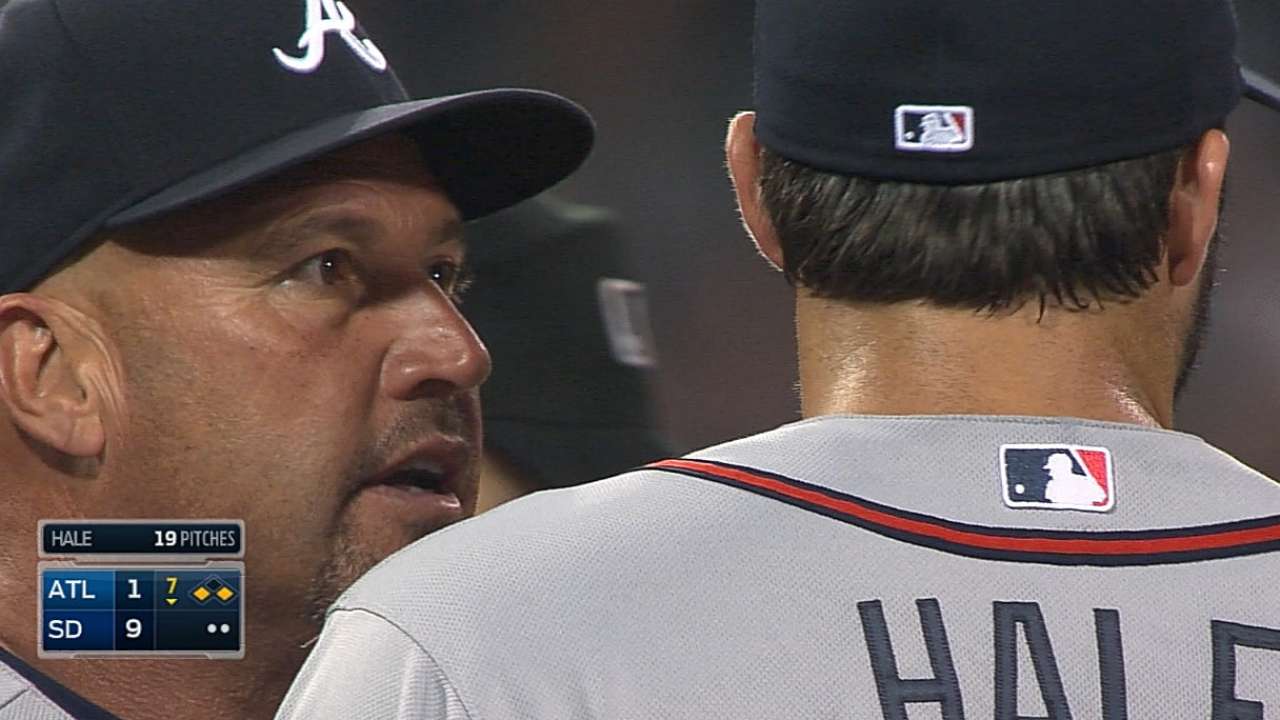 SAN DIEGO -- The usually mild-mannered David Hale was very remorseful about expressing his emotions in a manner that incensed manager Fredi Gonzalez and added to the ugliness of the 10-1 loss the Braves suffered against the Padres on Friday night at Petco Park.
After being grazed by a comebacker during the seventh inning, a frustrated Hale used his left hand to shoo away trainer Jeff Porter and Gonzalez. As they continued coming toward the mound, he brushed them away again in a more demonstrative manner and said something to Porter.
"My emotions were running high," Hale said. "I pride myself on treating people the right way and being appreciative of what they do for me. I'm more disappointed about the way I acted toward Mr. Porter, Jeff Porter. I think it was completely the wrong thing to do. We talked to each other and we love each other. It's all behind us."
Gonzalez got in Hale's face and provided some choice words before heading back to the dugout.
"It bothered me," Gonzalez said. "I know about his competitive frustration, anger or whatever word you want to use. But those aren't the right actions, especially toward a guy [Porter] who wants to help him. When the guys get hurt, who is the first one they call?"
After being asked to warm up multiple times as starting pitcher Mike Minor struggled during the early innings, Hale finally entered in the seventh and proceeded to give up hits to six of the eight batters he faced.
"When you're getting hit around like that, your emotions start going pretty crazy," Hale said. "I wasn't able to take it out on the hitters and get them out. I took it out on a sitting duck, the guy who is out there trying to do the best for me. It's being a poor human being on my part."
Mark Bowman is a reporter for MLB.com. This story was not subject to the approval of Major League Baseball or its clubs.