Wood finds form with eight-K gem vs. Dodgers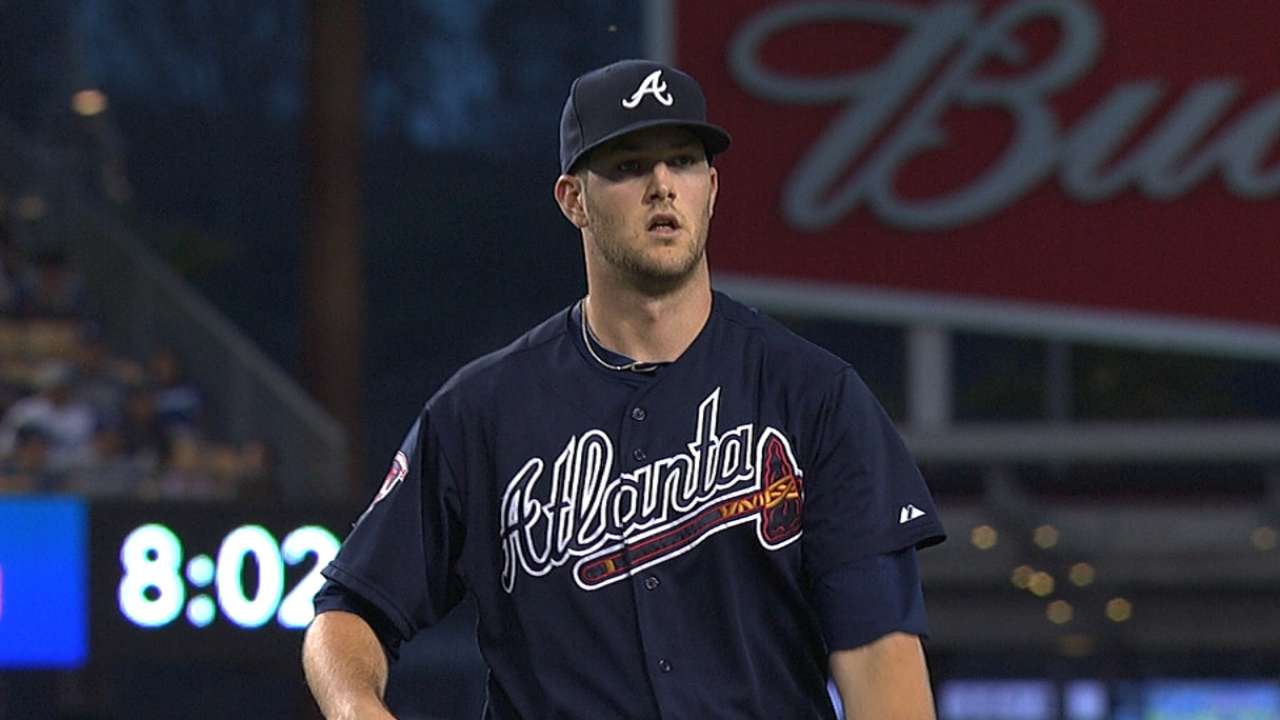 LOS ANGELES -- Just five days removed from allowing a season-high 12 hits against a rather weak Padres lineup, Braves lefty Alex Wood limited the Dodgers' potent offense to just one run on six hits with eight strikeouts over seven innings during Wednesday night's 3-2 loss in 10 innings.
It was an outing that provided the Braves further reason to believe Wood will be capable of dealing with the pressure of pitching in a similar environment during the postseason.
"I always enjoy pitching against like [Zack] Greinke because it shows me that I can go out there and go toe-to-toe with a guy like that," Wood said. "He's as good as it gets."
Wood was not necessarily dominant, as he allowed at least one Dodgers baserunner in each of the first six innings. But whenever presented with trouble, he managed to induce a timely ground ball or flash his nasty curveball, which accounted for consecutive strikeouts of Adrian Gonzalez and Hanley Ramirez to end the first inning with Dee Gordon at second base. The only run surrendered by Wood came courtesy of Matt Kemp's homer to begin the second inning. Kemp's blast into the left-center field seats was his third homer in a span of five plate appearances.
"I made that one mistake to Kemp, and boy is he locked in right now, not just on that home run, but yesterday and today," Wood said. "Anytime you get a hitter who is capable of doing what he is doing, you've got to be careful. He made me pay early."
Tommy La Stella produced Atlanta's most influential defensive assist when he dove to his right to snag Gordon's one-out, fifth-inning single, which would have easily scored A.J. Ellis had it rolled past the hustling second baseman. Wood then proceeded to retire Yasiel Puig and Gonzalez, leaving Ellis stuck at third base.
Showing no signs that he was making just his 25th career start, Wood was not fazed when the Dodgers put runners at the corners with two outs in the sixth inning. Instead of issuing an intentional walk that would have given the Dodgers reason to think about pulling Greinke, Wood went right at Ellis and set him down with a strikeout.
Wood displayed his emotions as he walked off the mound in the sixth inning and then completed his only perfect frame of the night during his seventh and final inning. He has allowed one run or fewer and completed at least seven innings in five of his 14 starts this season.
"He made some good pitches against a right-handed-dominant lineup," Braves manager Fredi Gonzalez said. "Every time he goes out, he gives you an opportunity. You see the competitiveness there. You see him making pitches. You see him not wanting to come out of games. It's nice to see that."
Mark Bowman is a reporter for MLB.com. This story was not subject to the approval of Major League Baseball or its clubs.