Braves' focus is on the field as Deadline nears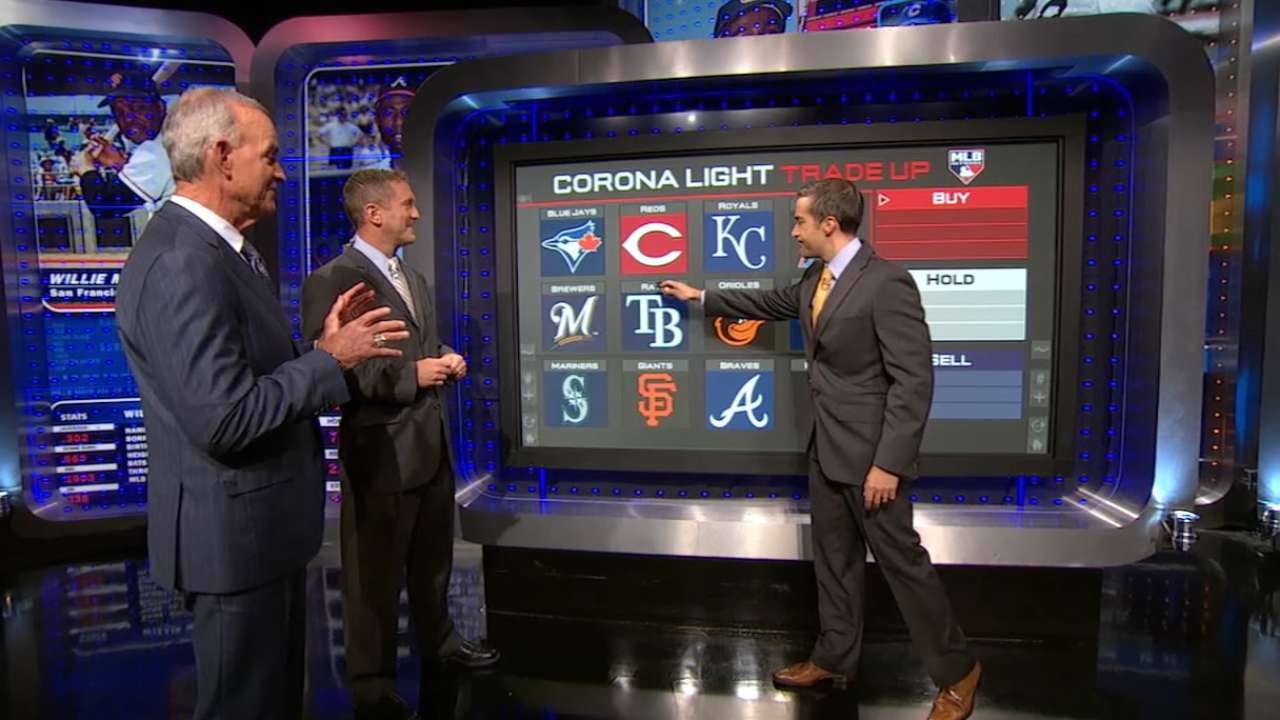 LOS ANGELES -- Like fans, many baseball players have spent the past few days keeping up with trade rumors involving Jon Lester and a significant portion of the Phillies' roster. But Freddie Freeman said he has not allowed himself to be consumed about what the Braves might do before Thursday's 4 p.m. ET non-waiver Trade Deadline.
"We've got enough to worry about, going out there three hours every night and trying to win ballgames," Freeman said. "That's what [the front office's] job is. Our job is to be on the field and go out there and play hard every night. I keep hearing lefty arm. Whatever happens, happens. We'll welcome that person if he comes. If not, we'll go out there and keep doing what we're doing and keep trying to win ballgames."
Assembled at Turner Field this week, Braves general manager Frank Wren and many of his top scouts have continued to prioritize finding a left-handed reliever. Red Sox southpaw Andrew Miller, who has limited left-handed hitters to a .206 on-base percentage, sits at the top of Atlanta's wish list.
But because a number of other clubs are showing interest in Miller, the Red Sox's asking price may be more than what the Braves are willing to part with.
Because the Braves went over budget when they gave Ervin Santana a $14.1 million contract in March, they are not in a position to take on any more salary this year. Thus, in order to get other clubs to agree to pay the remainder of a player's salary, the Braves will likely have to provide a more significant return in terms of prospects.
While finding a lefty reliever has stood as the highest priority, the Braves have looked at the possibility of acquiring a veteran pinch-hitter to strengthen their anemic bench. Both of these areas of need might be addressed in August when clubs can acquire players who have passed through waivers.
Many of the daily conversations Wren and manager Fredi Gonzalez have shared over the past couple of weeks have included ways they could improve the club via trade. But Gonzalez seemed to understand there is a possibility that Thursday's deadline will pass without a deal being done.
"We're who we are and we're [one game] behind the Nationals in our division," Gonzalez said. "So, you feel like you have a pretty good club. Yeah, you always want to improve, but you never want to take away from your own club if you can [avoid it]. We could get a piece here or a piece there. We'll see."
Mark Bowman is a reporter for MLB.com. This story was not subject to the approval of Major League Baseball or its clubs.