PLAY Campaign stops at Turner Field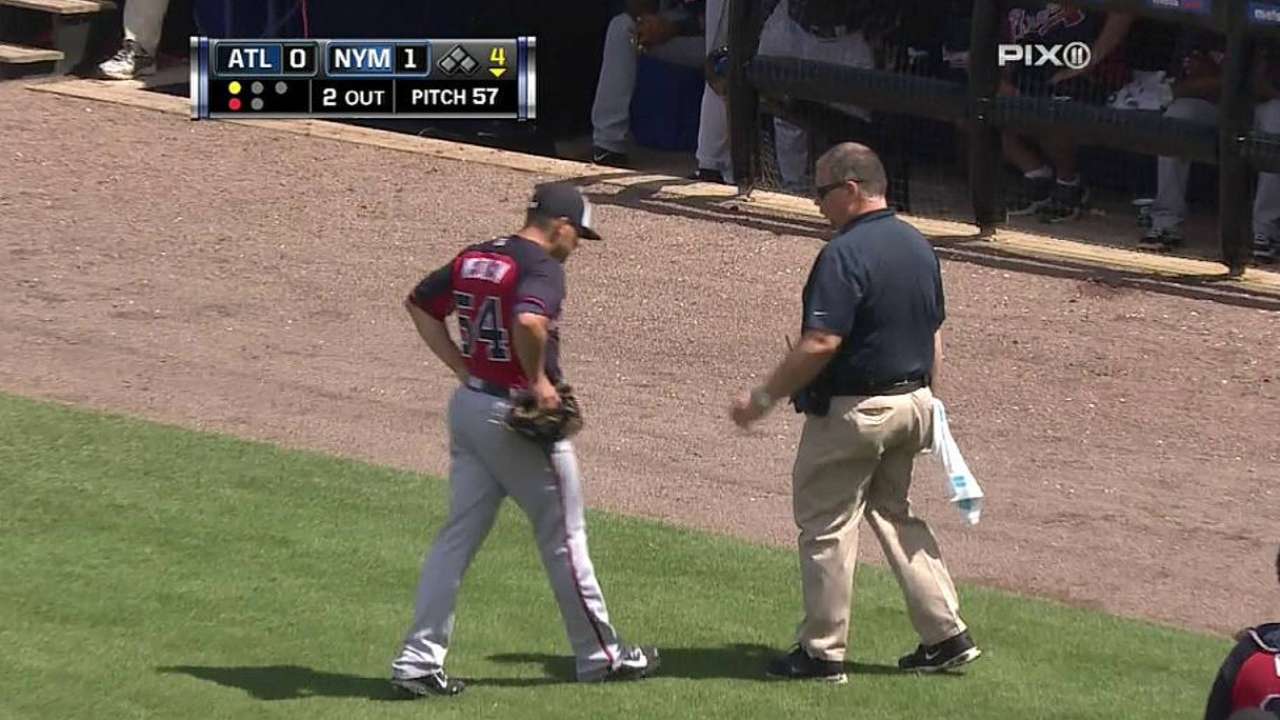 ATLANTA -- Kris Medlen had a Q&A session with the children who participated in the PLAY Campaign event on Tuesday morning at Turner Field. They participated in numerous on-field activities, led in part by Braves trainers Jeff Porter and Jim Lovell.
There was also an educational station in the home dugout, where participants learned about the importance of a healthy living from what they eat to how often they exercise. Porter has been a part of the program for more than 10 years and remains passionate about it.
"All I have to do is look in the mirror," Porter said. "I'm serious. I'm 59 now and trying to keep weight off and get weight off. I've got a sore knee and I can't run like I used to and now all I can do is walk. I just tell them the truth. Just get out and be active."
The Professional Baseball Athletic Trainers Society (PBATS) created PLAY (Promoting a Lifetime of Activity for Youth) in 2004 to raise awareness for child health issues in the United States, including obesity. PLAY has traveled to all 30 Major League ballparks and held more than 150 events to reach thousands of kids nationwide since it began.
A representative from the Taylor Hooton Foundation, a non-profit organization that teaches and promotes awareness of the negative effects of steroid use, was also on hand to educate the kids about the dangers of using steroids. The foundation is named after Taylor Hooton, who committed suicide at age 17 after suffering depression related to steroids.
Porter asked Medlen, 28, to come speak with the kids, something that struck a chord with the starting pitcher. Already the father of a son nearing 18 months in age, Medlen has had to adjust to the idea that he is advancing into adulthood.
"It's weird," Medlen said. "I said something like, 'I don't think I'm that old, but I think to you guys, I am.' I was 20, and me and Tommy Hanson were living in Danville, Va., with our roommate, who was graduated from college and was 22, we were just like, 'Gosh, he's old.' But the older you get, a couple of years is not that big of a deal."
Medlen had several years on the kids, who asked him questions ranging from the toughest hitters he has ever faced (Baltimore's Adam Jones and San Francisco's Pablo Sandoval) to when he began playing baseball (as a 5-year-old). Afterward, Medlen autographed caps and T-shirts and took photos with the children.
"When it comes to giving kids advice, I have a hard time being serious with them. I'm great with kids, because I'm a kid. I'm going to joke sometimes," Medlen said. "I have a hard time having a serious conversation. I struggle with that when it comes to talking to kids. I'm a kid, and I'm good with them."
Mark Bowman is a reporter for MLB.com. Joe Morgan is an associate reporter for MLB.com. This story was not subject to the approval of Major League Baseball or its clubs.