After callup, Shreve gets first taste of Majors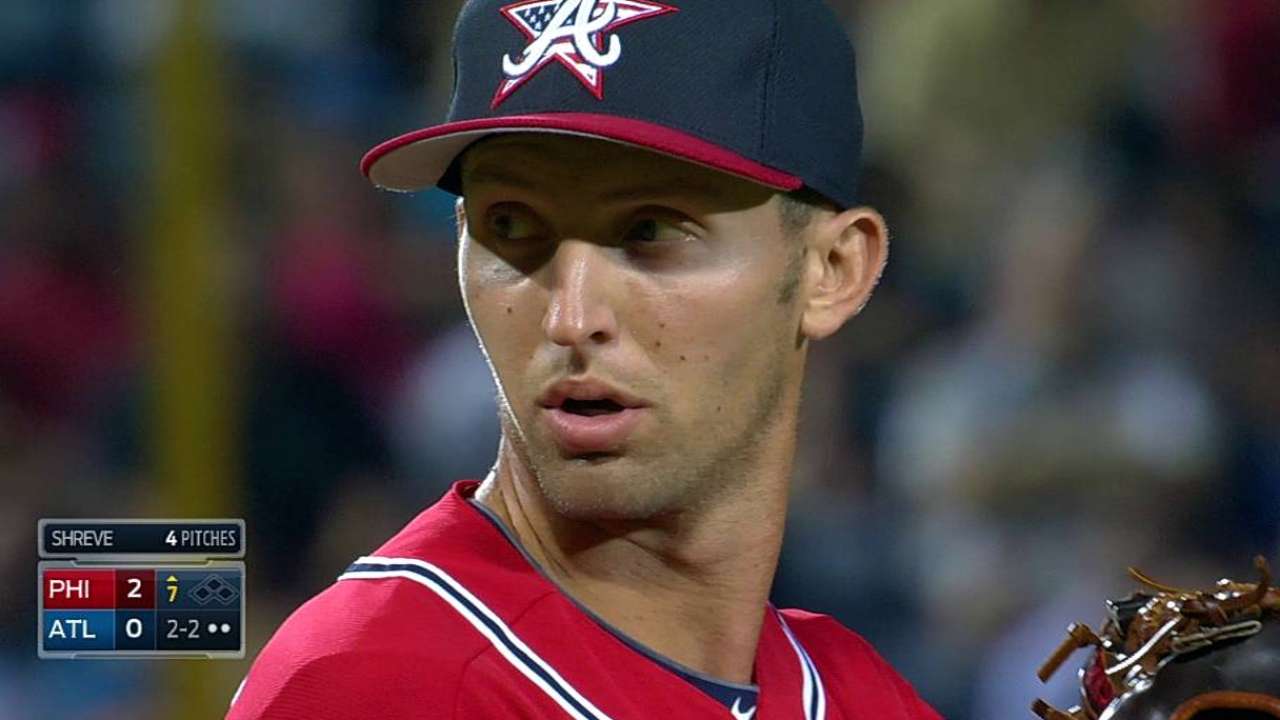 ATLANTA -- The Braves wasted no time welcoming left-hander Chasen Shreve to the big leagues on Saturday night. The rookie made his Major League debut against Phillies slugger Ryan Howard in the seventh and struck him out.
"Focus on the [catcher's] glove," Shreve said. "Don't focus on who's up, what the situation is. You've got to focus on making quality pitches."
After retiring a player he described as "one of the best," Shreve told reporters he celebrated just "a little bit." He then stopped, smiled and performed a subdued fist pump.
Once Shreve fanned Philadelphia's three-time All-Star, however, Braves pitching coach Roger McDowell put him back to work.
"Roger came up and just said, 'Hey, you're going to go out for another one. Good job. First guy, just go out and do what you do,'" Shreve said. "I thought I did that."
The eighth was a little rocky for Shreve, who gave up singles to Marlon Byrd and Domonic Brown that sandwiched a Cody Asche sacrifice bunt, but Anthony Varvaro took care of Shreve's inherited runners to keep the Phillies off the scoreboard.
"I thought I pitched well, threw quality strikes," Shreve said. "It kind of didn't go my way, but it was all right in the end."
Braves manager Fredi Gonzalez put Shreve right to work after purchasing his contract from Double-A Mississippi on Saturday afternoon, much like he did when rookie reliever Shae Simmons departed Mississippi to join Atlanta on May 31.
Simmons struck out Miami catcher Jarrod Saltalamacchia with the tying run on second for the third out in the eighth inning of a Braves victory at Marlins Park.
"We didn't have to pinch-hit and there [were] a couple of left-handers that were there, and I wanted to see what he could do," Gonzalez said of sticking with Shreve. "He did a nice job. He really did. I'm looking forward to continuing to use him in that role."
"It was really nice to get the first one out of the way the first day," Shreve said. "Now I can settle in and hopefully do some good things."
Joe Morgan is an associate reporter for MLB.com. This story was not subject to the approval of Major League Baseball or its clubs.