Braves teammates praise Uggla after release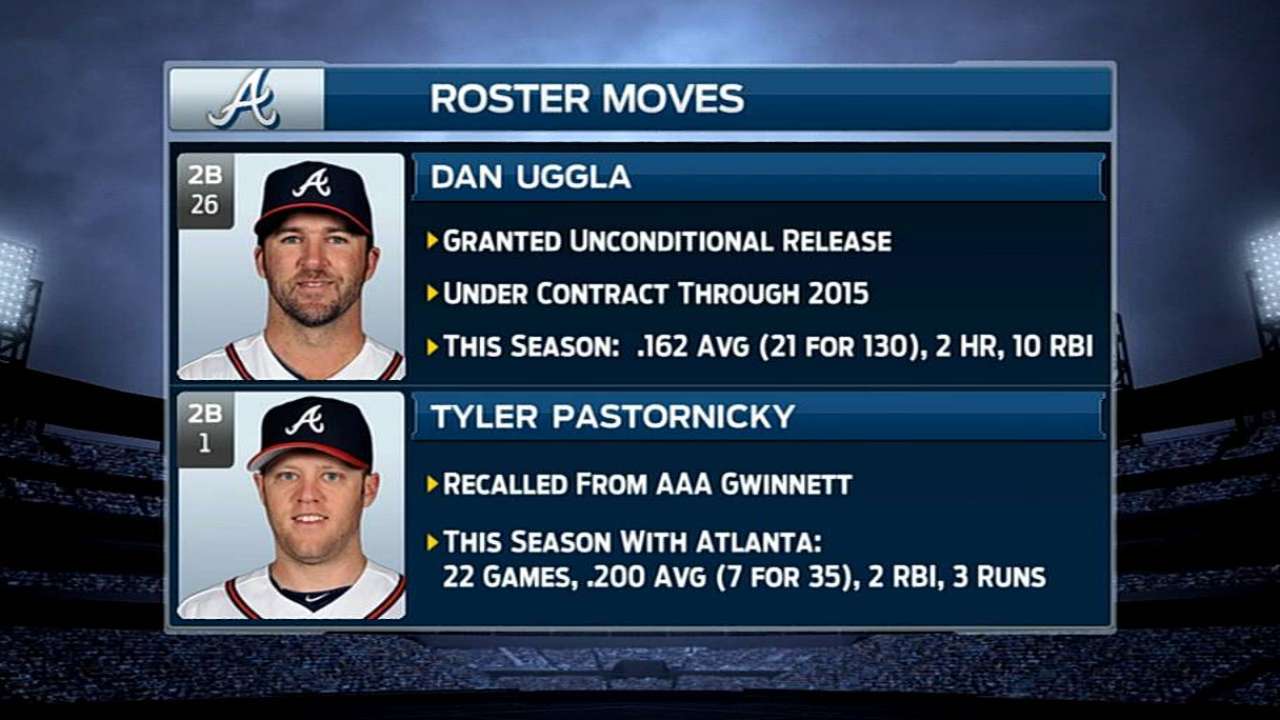 ATLANTA -- Although Dan Uggla's on-field role diminished quite rapidly during the weeks leading up to his unconditional release on Friday, his influence on his teammates remained strong.
"He was beloved by everybody in this clubhouse," Freddie Freeman said. "I think everybody would say it, he was probably one of our favorite teammates, and he's definitely going to be missed in this clubhouse. Wherever he goes, that team's going to be lucky to have him."
"Obviously, he's been a great guy for this team and a great guy in this clubhouse, and I think, even more, a good person," B.J. Upton said.
Uggla has played sparingly since losing his starting role in early May. Last weekend, he showed his frustration by arriving 30 minutes before the start of a game at Wrigley Field. He was consequently suspended for Sunday's game.
Even after that incident, however, Upton did not expect Uggla's release to happen so soon.
"I found out as soon as I walked in today," Upton said. "He was kind of on his way out, and it kind of caught me by surprise. I really don't know what to say to a guy in that situation."
Players' comments seemed to indicate that Uggla's episode of tardiness was an anomaly. Multiple Braves praised the veteran's professionalism in what was a frustrating situation for the former All-Star.
"He always went about everything the right way. He always hustled, did not complain one time," Jason Heyward said. "He wanted to be in the lineup every day. He supported everybody. Even going through my struggles, he was right there. When I bounced back, he said, 'I knew you could do it, and I'm proud of you.'"
And many believe that we have not seen the last of Uggla's talent. Gerald Laird believes a change of scenery might be good for Uggla.
"I see it all the time," Laird said. "You see pitchers that kind of lose what they've done in one organization and go to another organization, and it's just one thing someone else says, a different word that kind of gets you clicking again. He's still a young man. He's got a lot of baseball left."
Uggla's departure is especially hard on Freeman, whose locker sits right next to the second baseman's. However, Freeman, as well as most Braves, was happy to see Uggla find a resolution to his difficult situation.
"It's not fun, but we know this is a business, and that's definitely a tough side of it," Freeman said. "When you build a relationship with someone since 2011, it's definitely tough to see him go. It's definitely going to take me a while to get over this, but I'm just going to be happy for him when he goes to a new team and gets a fresh start."
Uggla's future is uncertain, but the Braves have a National League East crown to defend. They begin the second half tied for first place with the Nationals, and they will have to make their final run without one familiar face cheering them on.
"It's definitely going to be difficult tonight, but we're going to be able to do it," Freeman said. "We're going to do this for Dan tonight."
Said Laird: "Now it's back to baseball. We have games to play, and Dan understands that. Everybody in this room understands that."
Joe Morgan is an associate reporter for MLB.com. This story was not subject to the approval of Major League Baseball or its clubs.