Heyward recalls beaning after near-miss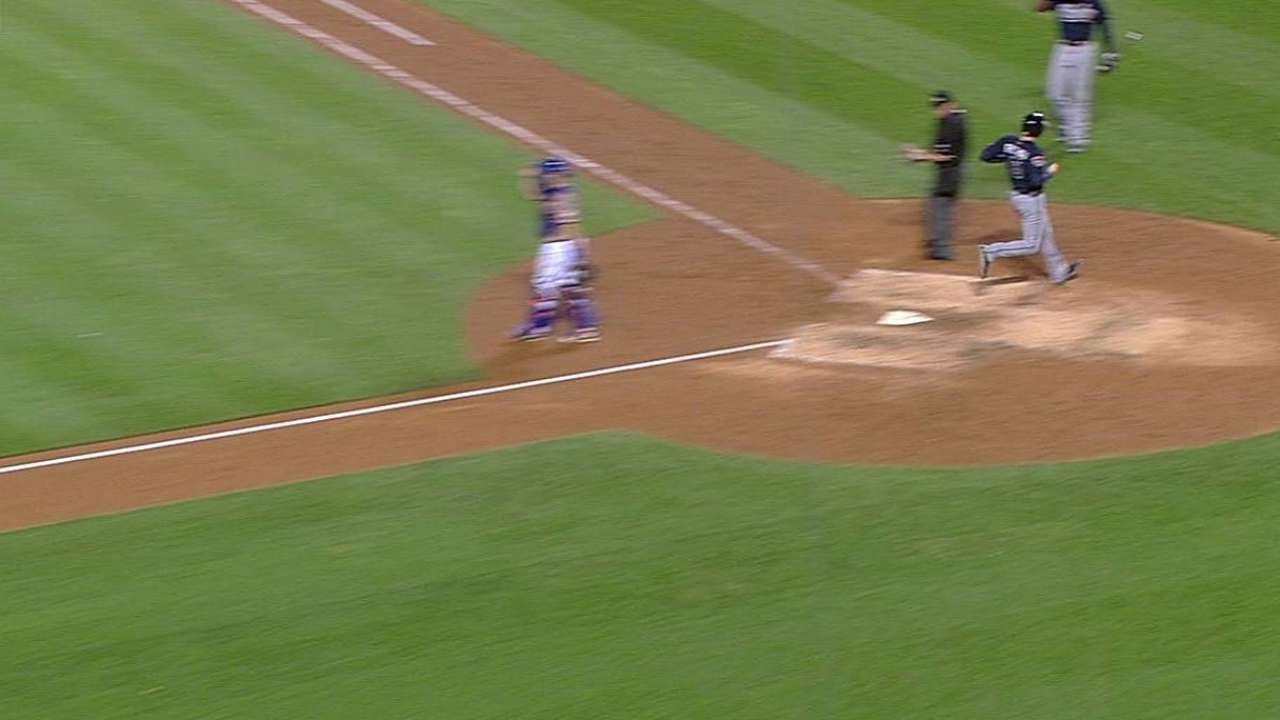 NEW YORK -- Jason Heyward was thinking about removing the face guard that he has worn on his batting helmet since his jaw was fractured by Mets left-hander Jon Niese's fastball last Aug. 21. But he altered his thinking Monday night when he watched Mets southpaw reliever Josh Edgin's 94-mph heater sail over his head as he stood in the same Citi Field batter's box where Niese had hit him.
Heyward said he did not draw the connection until he singled and began talking to Mets first baseman Eric Campbell, who was not present for the traumatic event that had occurred a little more than 10 months earlier.
"He was like, 'That's a nice piece [of hitting], especially after a ball was thrown over your head,'" Heyward said. "I was like, 'I appreciate it, man.' He was like, 'Why do you wear that face guard, have you been hit there before?' I was like, 'Yeah, it was actually here last year in August.'"
Heyward said he will continue wearing the face guard for the foreseeable future.
"Teams want to throw me in and that's fine," Heyward said. "They don't live there. But they know they want to do something to keep me off the away pitch. Hopefully, they can get it down and near the plate next time."
Instead of allowing Monday's near miss to affect him, Heyward showed some mental fortitude when he laced Edgin's 1-2 curveball to center field for a single that halted an 0-for-37 skid against left-handed pitchers. Heyward, who was hitting just .208 against southpaws before the skid, has continued to contend he has not been adversely affected by the lingering effects of being struck in the face last year.
"It feels like it has been a grind against them," Heyward said. "You just wanted to be perfect -- get the perfect pitches and not chase pitches off the plate. I felt like there was some [at-bats] where I was just missing pitches and sometimes, not being passive, but just being cautious to not chase a slider out of the zone or something like that."
Mark Bowman is a reporter for MLB.com. This story was not subject to the approval of Major League Baseball or its clubs.