Fredi still flummoxed over 'neighborhood' call
Braves manager wonders how Mets' Collins got umpires to review play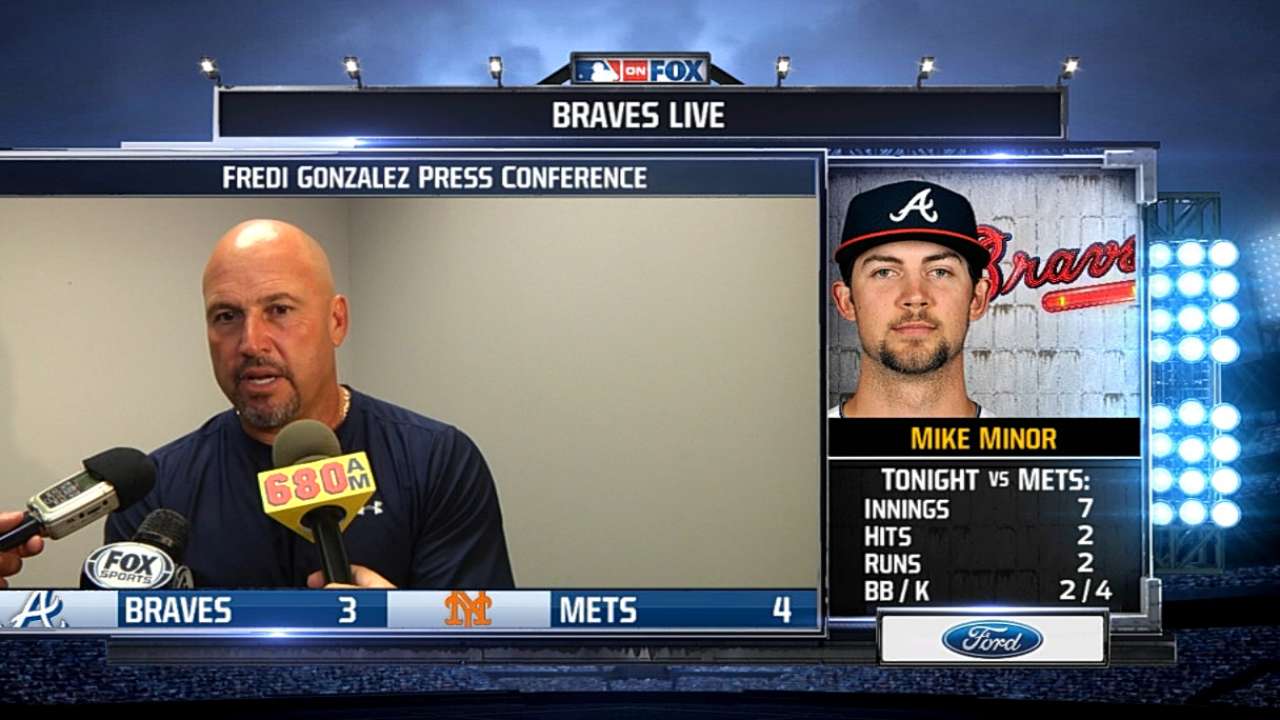 NEW YORK -- Braves manager Fredi Gonzalez knows he may be fined for saying, "It's one of the worst calls I've ever seen," in reference to the reversal of a disputed challenge of a "neighborhood play" that occurred during the ninth inning of Monday night's 4-3, 11-inning loss to the Mets.
But as of Tuesday afternoon, he had not heard anything from Major League Baseball other than a postgame statement that left reason to wonder why this play was deemed different than the typical neighborhood play that can't be challenged.
MLB's statement read: "The replay regulations allow umpires to determine if they considered a play to be a neighborhood play or not, based on a variety of factors. Some of the factors they consider are the throw and if the player receiving the ball is making the turn. Umpires might consider whether it was an errant throw or if a player receiving a throw who is not at risk of contact made an effort to touch the bag."
"There's a lot of holes in that statement," Gonzalez said. "You've got to be kidding me. You can go so many different directions with that statement. The reason to not replay the neighborhood play was to protect the infielders. The infielders know how to do it just one way. Now, with that statement that came out, now you have to ask infielders to change their routine based on whether they're going to slide into them or not slide into them? That's almost impossible."
The dispute occurred after Braves third baseman Chris Johnson fielded a sacrifice bunt to the right of the mound and made a pinpoint, chest-high throw that Andrelton Simmons caught as he turned to make a throw that narrowly missed forcing Juan Lagares out at first base. Eric Campbell was originally called out at second base. But the call was reversed when Mets manager Terry Collins delivered a successful sales pitch that convinced the umpires that this was not a "neighborhood play."
"Good for [Collins], I don't blame him whatsoever," Gonzalez said. "He's trying to win. Whatever explanation he gave the umpires worked. I've learned so far that if you go to the headsets, you have no idea what is coming out of it. Good for Terry. I'm going to find out how he actually got them to do that.
"Once the umpires went to the review, the replay showed that Simmons, like most other middle infielders when turning a double play, was slightly off the bag when he caught the ball. The catch was made as Campbell was sliding toward second base. Thus, there was reason for Simmons to protect himself on the play.
Umpire Tim Timmons said, "He's trying to complete the double play quicker. He's trying to gain an advantage." But this explanation seemingly just described the events of a typical "neighborhood play."
"I don't believe that was a very good interpretation," Gonzalez said. "Number one, I've never heard that one before. I thought it was pretty plain and simple, you can't replay a neighborhood play, bottom line."
Mark Bowman is a reporter for MLB.com. This story was not subject to the approval of Major League Baseball or its clubs.