Carpenter returns from DL with clear head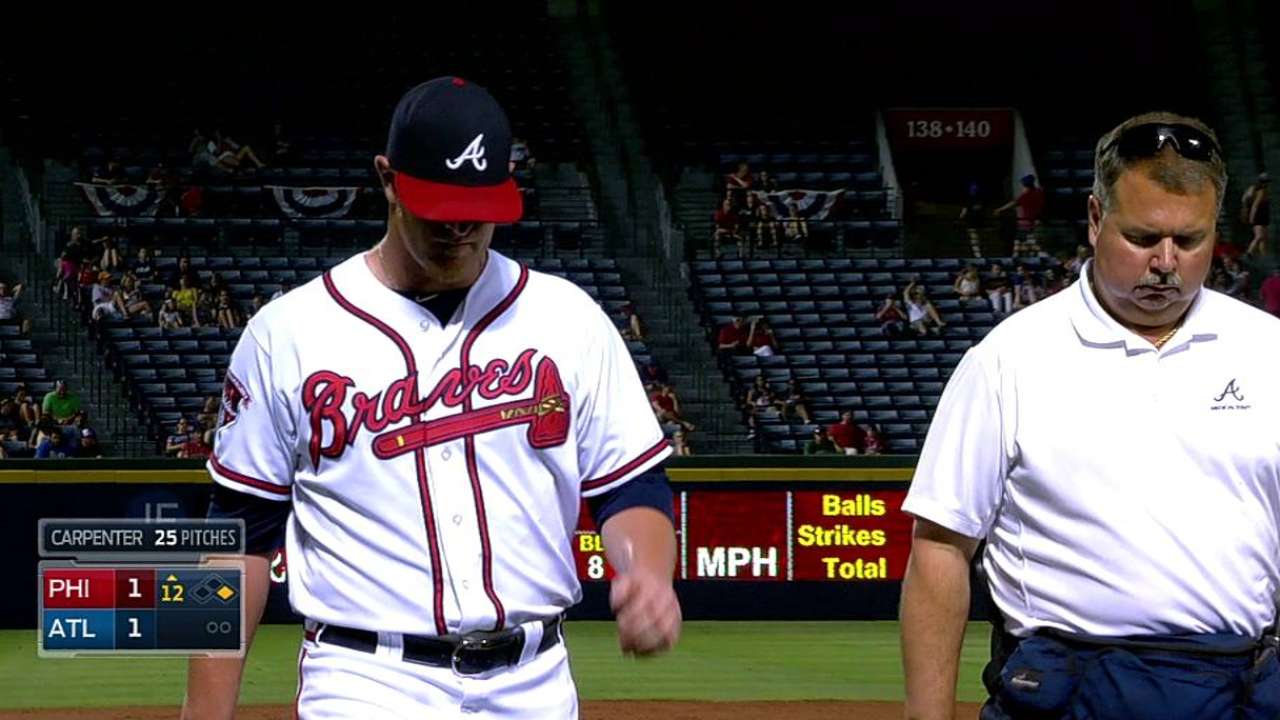 ATLANTA -- When Braves reliever David Carpenter came off the disabled list on Wednesday, he was not worried about the right biceps strain that had sidelined him the previous two weeks. The time off was more than enough for him to recover physically, but more importantly, he admitted, it was nice to have a chance to mentally recover from the sudden struggles that began during that latter part of May.
"I'm back to normal and feeling good," Carpenter said. "It was good to just step away and get everything right."
Carpenter entered this season attempting to build off the success he had when he produced a 1.78 ERA in a career-high 56 appearances last year. The 28-year-old right-hander seemed to be heading in the right direction when he produced a 1.69 ERA through his first 18 appearances. But he posted a 7.71 ERA and allowed opponents to hit .436 in the 16 appearances that followed leading up to his DL stint.
"I just got a little tired," Carpenter said. "I always want the ball whenever they call down. I never want to say I need a day or I need this. You want to be a guy that is relied upon."
When Carpenter proved steady through this season's first 18 appearances, he allowed a .364 BAbip (batting average on balls in play) and struck out one of every 3.28 batters he faced, similar to the 3.11 strikeout/plate appearance ratio he produced last year. In his 16 most recent appearances, he surrendered a .564 BAbip and struck out just one of every 4.5 batters he faced.
Carpenter was pleased to see his fastball consistently register 95-98 mph as he struck out four of the seven batters he faced during the two scoreless rehab appearances he made for Triple-A Gwinnett.
But velocity was never really an issue for Carpenter until his fastball dropped to 91 mph during a June 16 appearance that prompted his DL stint. According to FanGraphs.com, his average fastball velocity (95.3) has actually been a tick higher than it was last year (95.1).
Joe Morgan is an associate reporter for MLB.com. This story was not subject to the approval of Major League Baseball or its clubs.