Bullpen's performance keeps Braves rolling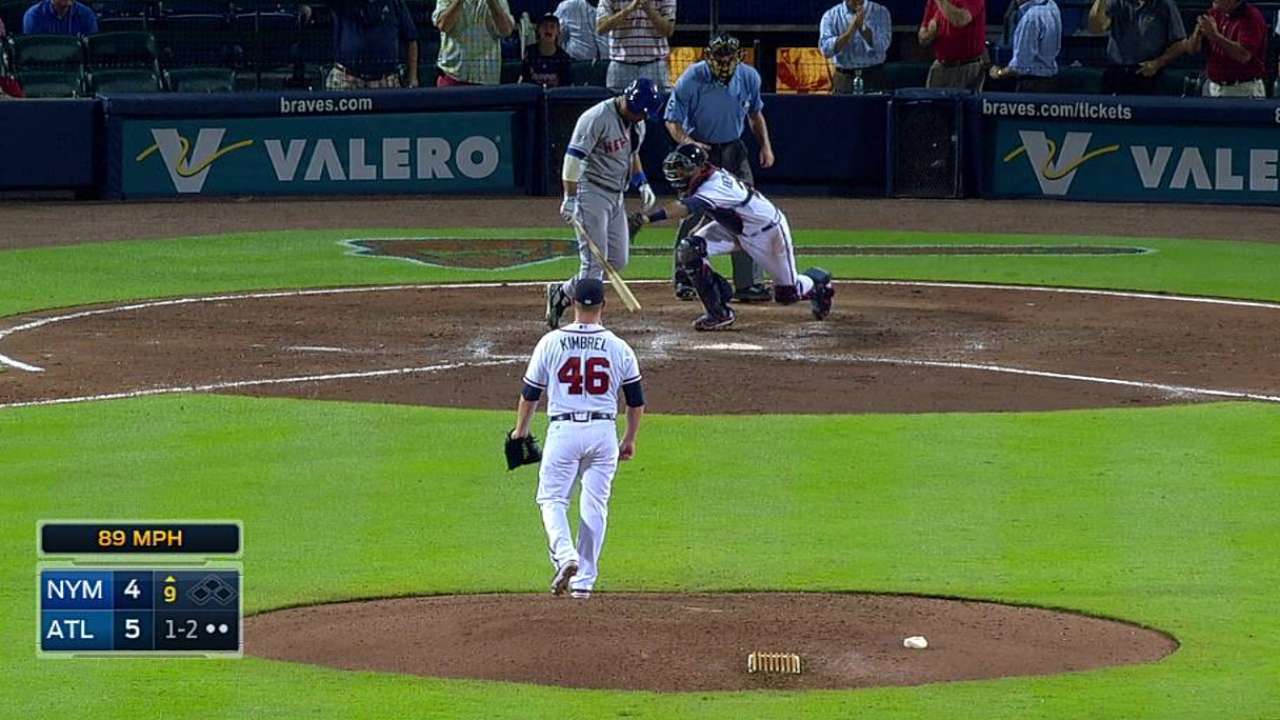 ATLANTA -- Shae Simmons earned his first Major League victory on Tuesday night at Turner Field, rescuing starter Mike Minor in a tumultuous fifth and pitching 1 2/3 perfect innings as the Braves defeated the Mets, 5-4, at Turner Field.
"We had to get some big outs there in the fifth inning and he did," Atlanta manager Fredi Gonzalez said. "He got two big outs there."
Minor added: "It was great. Shae came in and I left him with two guys on and still two outs to get, and he closed the door."
Simmons' effort was part of yet another stellar night from the Braves' bullpen, which gave up only one hit and struck out eight in 4 2/3 innings. The relief effort helped Atlanta notch its sixth consecutive victory and remain in first place in the National League East.
"I think the MVP of the team today is the bullpen," Gonzalez said. "They covered 4 2/3 [innings] out of that bullpen today in a one-run game. That's a pretty awesome night for us out there."
It has been an awesome couple of weeks for Braves relievers, who have been red hot and incredibly reliable since a rough stretch from May 26 to June 14. Atlanta went 7-11 as its bullpen compiled a 6.10 ERA, a .303 opponents' batting average and issued 32 walks compared to 42 strikeouts in 51 2/3 innings.
Three of those outings featured Jordan Walden struggling in his return from a month-long stay on the disabled list. Once Walden got hot, however, so did the Braves' bullpen. In eight outings since June 14, Walden has tallied five holds, a save and 12 strikeouts and eight scoreless innings.
During that same stretch, Atlanta's bullpen compiled a 1.53 ERA in 53 innings, limiting opponents to a .187 clip and striking out 59 batters against only 18 walks. The Braves are 11-6 during this run, and Minor and the rest of the starting staff like what they see.
And with David Carpenter scheduled to return to the club on Wednesday after a stint on the disabled list, Atlanta could be in store for an even stronger bullpen.
"The rest of the guys, it's the fifth inning, and I'm diving out of there," Minor said. "Those guys are picking me up."
Mark Bowman is a reporter for MLB.com. Joe Morgan is an associate reporter for MLB.com. This story was not subject to the approval of Major League Baseball or its clubs.