Braves cheer on US, other teams in World Cup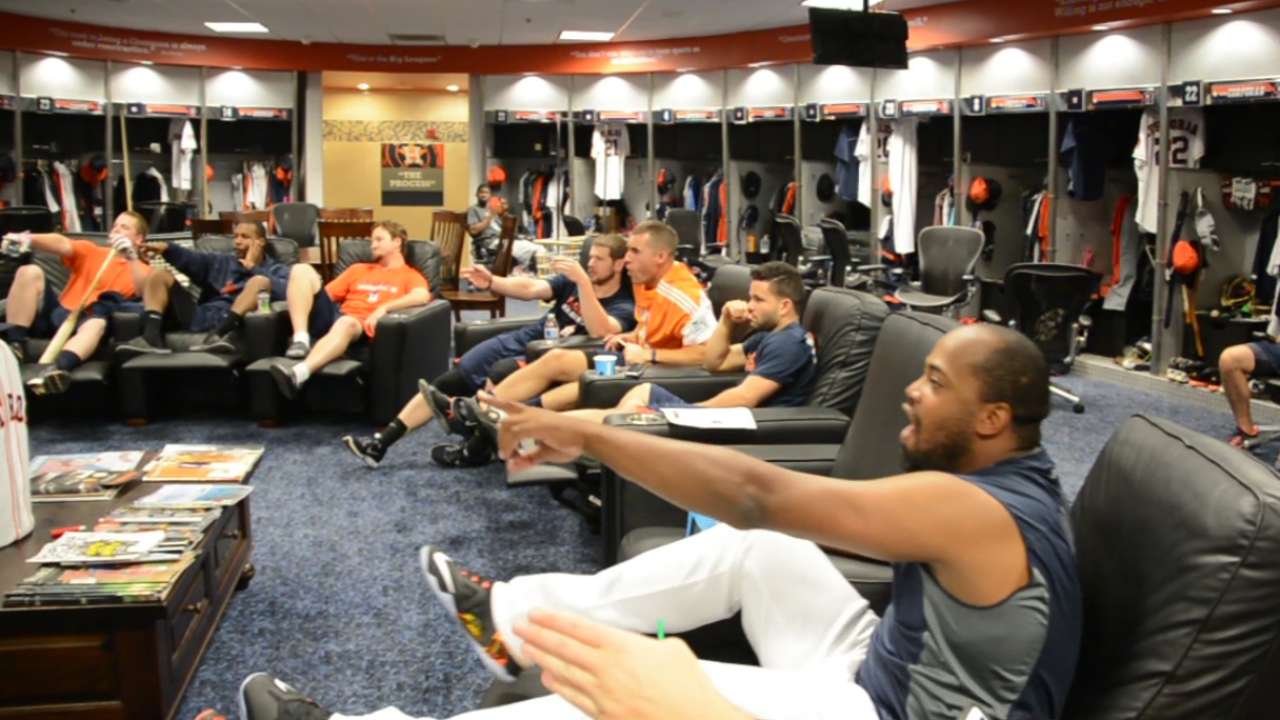 ATLANTA -- There were two No. 8 jerseys in the Braves clubhouse on Tuesday afternoon. One belonged to Justin Upton, who usually sports the number for Atlanta. The other was a Clint Dempsey U.S. soccer jersey worn by Chris Johnson.
"The Latin American guys in here are pretty big soccer fans, so it's really cool to see them get so excited about their football," Johnson said. "I think that's why a lot of us American guys are kind of jumping on and taking part just to make it a team thing.
"It's a lot of fun. Any time you can put USA on something, it doesn't really matter what sport it is. We're all going to jump on and root for them."
Johnson was one of several Braves players to voice support for the US Men's National Team ahead of Tuesday's Round of 16 match against Belgium. Turner Field showed the live broadcast on the JumboTron.
Left-handed starter Alex Wood was another Atlanta player looking forward to the match. His was one of several necks craned upward to watch the game while stretching and taking batting practice before Tuesday night's game against the Mets.
"Anytime anybody represents our country in any sport, it's fun to watch," Wood said. "We want our country to be on the map in all sports, so it's pretty fun."
Johnson and Wood are just two of several Braves tuned into the World Cup. Curacao native Andrelton Simmons has been cheering on the Netherlands, while Julio Teheran has been rooting for Colombia, with both teams advancing to the quarterfinals.
But even if the Dutch falter, Simmons still has bragging rights in the clubhouse when it comes to soccer. Wood, without hesitation, declared Simmons the best footballer in a Braves uniform.
"It has to be Andrelton," Wood said. "He was a big soccer player growing up. He likes it a lot, so he's probably the best soccer player in the clubhouse."
Ryan Doumit, it would seem, is also a talented soccer player, as evidenced by a photo the Braves posted on Twitter of the veteran kicking a soccer ball a little more than a week ago.
From earlier this week: Ryan Doumit warming up. Go @ussoccer! pic.twitter.com/hJ2H8BmbwU

- Atlanta Braves (@Braves) June 22, 2014
But Johnson, who called himself "one of the better soccer players in here," joked that even though Doumit likes to kick the ball around, he is not very good at it.
"He's terrible," Johnson said while laughing. "We went out there and kicked it around a little bit, but only for a couple of minutes. It was too hot out there. But he's not very good at all."
Wood laughed and added: "I haven't seen [Doumit] play, but I wouldn't write him off."
Mark Bowman is a reporter for MLB.com. Joe Morgan is an associate reporter for MLB.com. This story was not subject to the approval of Major League Baseball or its clubs.