Braves move B.J. Upton up to leadoff spot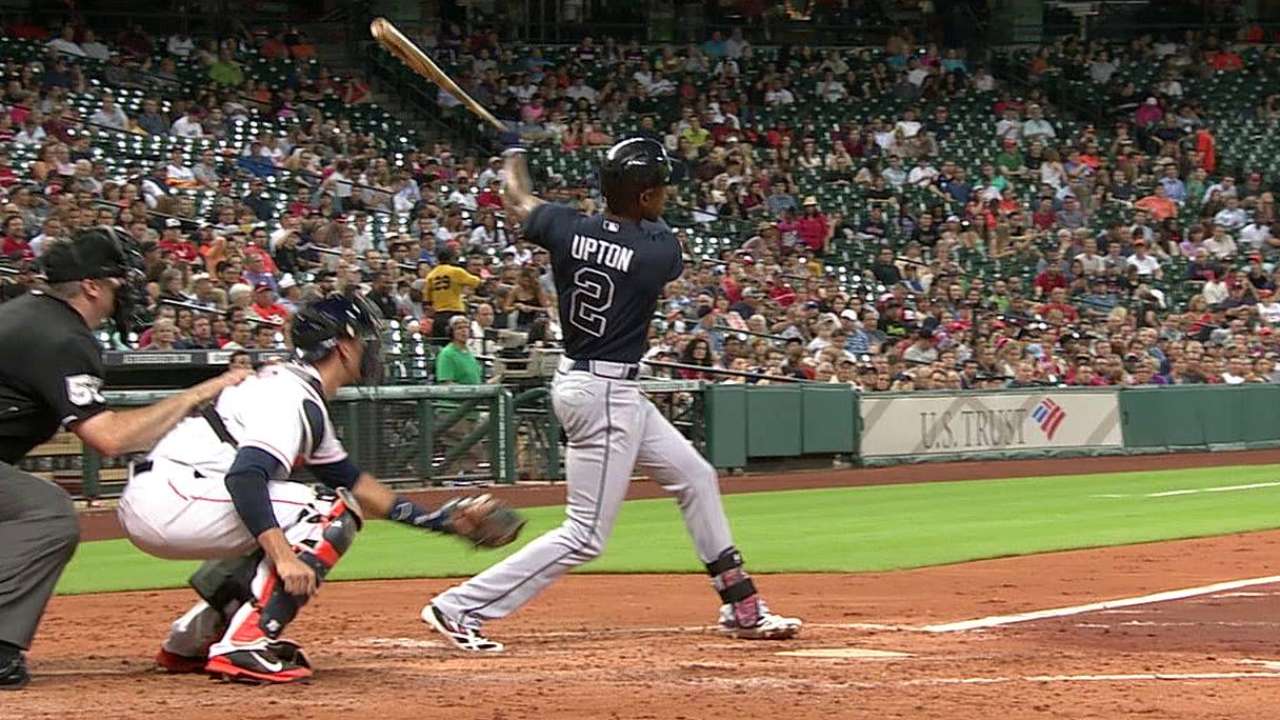 HOUSTON -- As some fans were calling for him to drop B.J. Upton down in the lineup, Braves manager Fredi Gonzalez opted to put the veteran center fielder and his below .300 on-base percentage in the leadoff spot for Tuesday night's series opener against the Astros.
"I've got a good feeling about it," Gonzalez said. "We're just trying to find a sparkplug in the first couple of spots there."
Gonzalez's hunch proved profitable when Upton hit a third-inning solo homer in a 3-2 win. The manager said the veteran center fielder will be back in the leadoff spot on Wednesday. But he's not necessarily married to this arrangement yet.
"He can do a lot of stuff if he gets on base," Gonzalez said. "We'll see how it plays out. I don't want it to be a knee-jerk reaction type of deal. I'll give it a few games. I can't tell you off the top of my head how many. But we'll let it play out."
When the Braves opted to move Jason Heyward to the middle of the lineup last week, Tommy La Stella was given a chance to fill the leadoff spot just three weeks into his career. But the left-handed-hitting La Stella then suddenly lost his usual disciplined approach and ended up going 2-for-20 with two walks in the five games he filled the lineup's top spot.
"With his approach and the way he swings, I think he can hit anywhere," Gonzalez said. "That's why we tried him in the leadoff spot. If you look at the way he takes pitches, the way he walks and the way he covers pitches with his bat -- other than the running aspect -- he could be a good leadoff candidate. He can do that in the two-hole, too."
Gonzalez believes La Stella could prove effective in the two-hole, where his ability to consistently put the ball in play could prove valuable. But with the rookie second baseman in that spot and Freddie Freeman entrenched in the third spot, the manager believed he needed to place a right-handed hitter in the leadoff spot.
Essentially, Gonzalez deemed Upton was a better option than the only other logical candidate, Andrelton Simmons, who flopped in that role last year, hitting .219 with a .256 on-base percentage in the 64 games he occupied the top spot.
Of course, Upton hit .178 with a .256 on-base percentage in the 19 games he filled the leadoff spot last year. These numbers are similar to the .192 batting average and .270 OBP he has compiled through the first 198 games of his Atlanta career.
But Gonzalez is holding out hope that Upton will be able to regain some of the promise he produced when he hit .268 with a .354 on-base percentage over 15 games that stretched from May 19-June 3. Upton has batted .156 with a .207 on-base percentage in the 17 games that have followed.
Upton did bat .249 with a .331 on-base percentage in the 167 games he filled the leadoff spot for the Rays from 2004-12.
"At this point, I've bounced around so much that I don't really feel uncomfortable anywhere," Upton said. "I think in the leadoff spot, pitchers come at you a little bit more because of the threat of guys behind you. I think it just gives me an opportunity to use my legs a little more. That has been such a huge part of my game. I think this will open that door a little more."
Mark Bowman is a reporter for MLB.com. This story was not subject to the approval of Major League Baseball or its clubs.