Gattis gets to gain staff's faith, but streak ends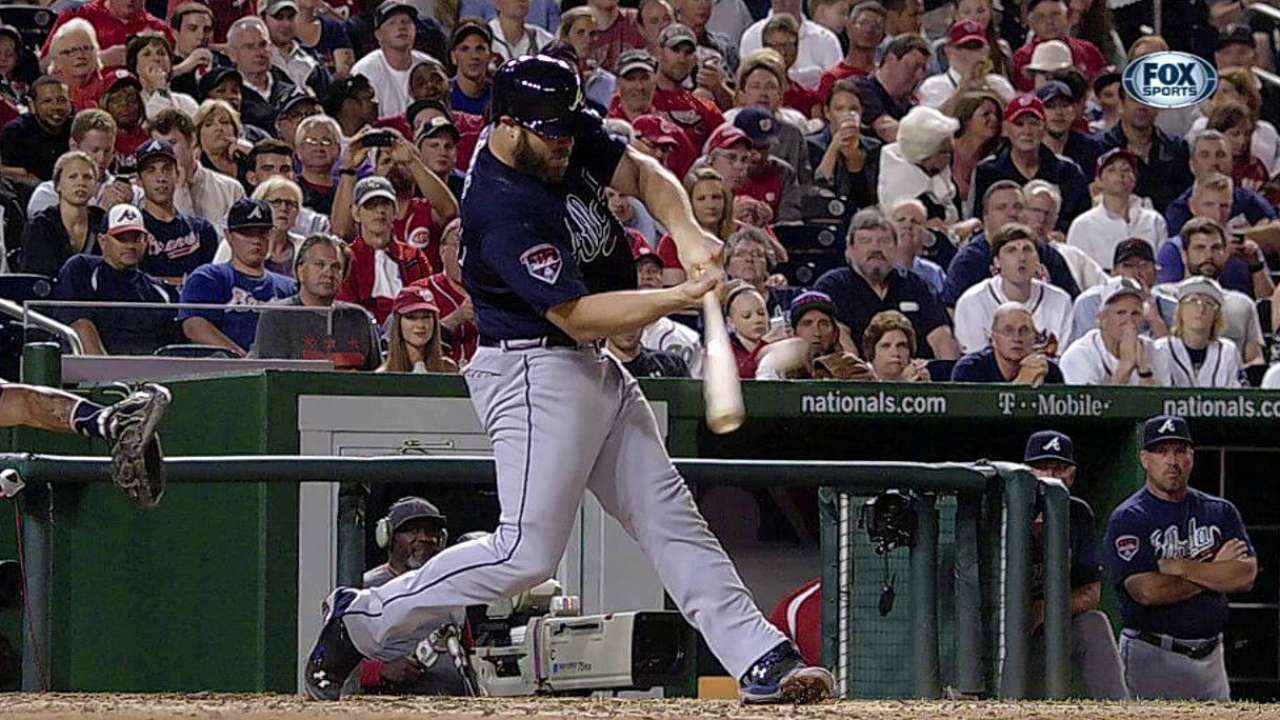 WASHINGTON -- While the Braves understand a handful of their pitchers have had some problems communicating with catcher Evan Gattis during games, they are also well aware of the tremendous offensive value Gattis provides as he continues to get used to calling games at the Major League level.
Thus, the Braves are planning to remain patient with Gattis much like they have been with Mike Minor, Brandon Beachy and some of the other young pitchers they have nurtured in recent memory.
Gattis' 20-game hitting streak came to a close when he was given a chance to handle the starting catching duties for a season-high fifth straight day in Sunday afternoon's 4-1 loss to the Nationals. He batted .386 (32-for-83) with eight home runs and a 1.150 OPS during the career-long streak.
"It had to come to an end sometime, Gattis said. "It was a good run."
Sunday's unexpected start gave Gattis a chance to gain more comfort with Braves starting pitcher Ervin Santana, who has internally indicated that he would rather throw to Gerald Laird, who had served as the starting catcher in five of Santana's previous six starts. This battery seemed effective on Sunday as Santana allowed three runs over six innings.
"I think it was good," Gattis said. " I thought it was the best lineup. I was good to go today."
Santana has experienced some of the same communication problems that became clear as Julio Teheran was unable to hide the frustration he felt while working with Gattis on Saturday night.
"I've never seen anything like it," said a National League scout in reference to the amount of time Teheran spent either shaking off Gattis' signs or simply staring at the plate waiting to see the sign he wanted.
Despite the fact that he recorded a season-high 10 strikeouts, Teheran was visibly frustrated throughout most of his seven innings. The 23-year-old pitcher showed his youth as he became more visibly agitated during the fifth inning. Then, he allowed his emotions to get the best of him when he was called for an embarrassing balk. He stepped off the rubber and toward the plate after waiting what he perceived to be too long to get the sign he wanted from Gattis.
Teheran said he spoke to Gattis on Sunday morning and assured him that he wants him to continue serving as his primary catcher. Gattis has caught just 97 games at the Major League level. This past winter, former Braves catcher Brian McCann said he was in the Majors for at least four years before he became truly comfortable calling a game.
Gattis said most of Saturday's confusion stemmed from instances when Teheran was shaking off pitches in an attempt to confuse opposing batters.
"I know sometimes [Gattis] feels bad," Teheran said on Sunday. "I just talked to him and said, 'don't feel bad,' I've got a lot of pitches that I've got to make and sometimes I want to show them what I have … But we've been doing a great job together. Even yesterday, I had 10 [strikeouts]. It's good."
Mark Bowman is a reporter for MLB.com. This story was not subject to the approval of Major League Baseball or its clubs.