Minor's damage control sets up Braves' comeback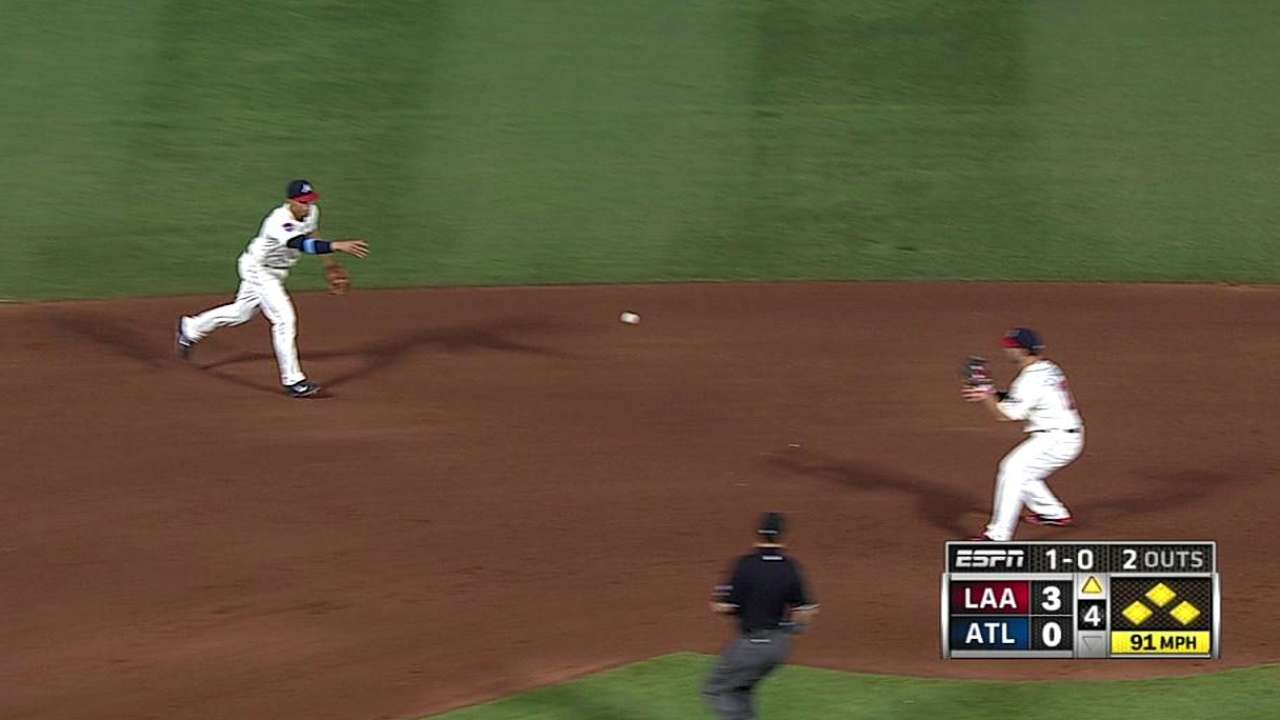 ATLANTA -- Coming off a start in which he was once again frustrated by Coors Field, Mike Minor could have folded as he struggled to navigate his way through the potent Angels lineup on Sunday night. But instead, the southpaw fought his way through five rocky innings and gave the Braves a chance to claim a 7-3 victory.
Despite allowing 11 consecutive hits in a second straight start, Minor limited his damage to three runs over five innings. The Braves southpaw once again fell victim to the long ball as he surrendered solo home runs to Erick Aybar and Mike Trout. But considering that 12 of the 27 batters he faced reached base with a hit or a walk, he also proved quite effective in the damage control department.
"I guess I was lucky enough to hang in there through five with just three runs, two solo shots," Minor said. "The one Trout hit was the worst pitch of the night just because we know he hits breaking balls in the zone -- sliders from lefties and righties, he hammers them."
Along with being upset about the slider Trout hit over the left-field wall in the third inning, Minor was upset at himself for not having more respect for Aybar, the six-hole hitter who sent a 2-0 fastball into the seats during the second inning. But at the end of the day, there were nine other hits that accounted for just one run.
"I looked back at all of the hits and I felt better," Minor said. "I felt like I was throwing better than that. I just felt like they were putting good at-bats together on me. They were hitting bad pitches and I was walking guys. It was just one of those games where I felt better than the outcome."
Minor can't escape the fact that he has not yet proved to be as consistent as he was in the past. After completing at least six innings in 30 of 32 starts last year, he has exited before the sixth in three of this year's first nine starts, including his past two.
Minor's ERA has jumped from 3.07 to 4.42 as he has allowed 22 hits and 11 earned runs in the nine innings that have encompassed his past two starts.
"The numbers are there, I'm not pitching well, but I feel like I am," Minor said. "I feel fine. I feel like I'm going to bounce back every time. Tonight, I felt great. I felt like I had pretty good stuff."
Mark Bowman is a reporter for MLB.com. This story was not subject to the approval of Major League Baseball or its clubs.