Carpenter confident in face of extended rough patch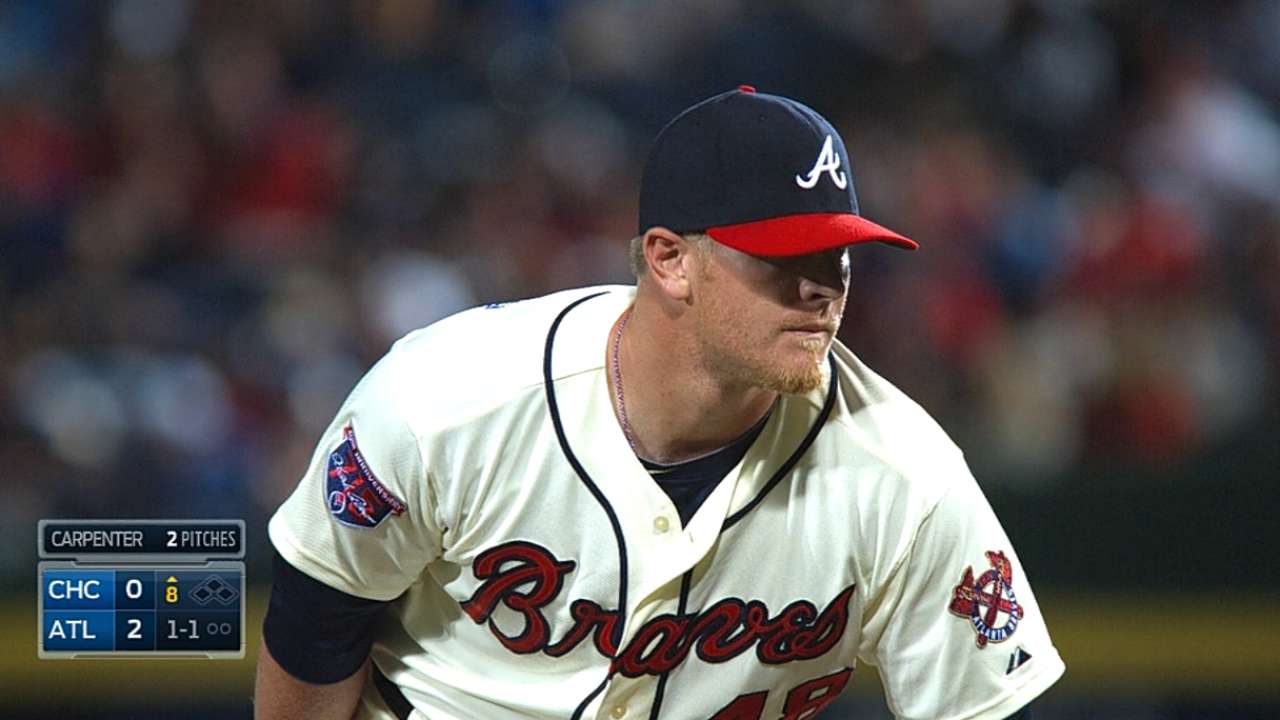 DENVER -- As Braves right-handed reliever David Carpenter has struggled over the past few weeks, it has been difficult for him to continue saying he has simply been a victim of "dumb luck." But there are some statistics that indicate he hasn't pitched much different than he did when he posted a 1.78 ERA in 56 appearances last year.
"I'm still continuing to trust that the stuff is still good enough to get people out," Carpenter said. "If you go through a stretch like this, it really starts to wear on you mentally. But I'm just trying to maintain that confidence. It's nice to hear [Braves pitching coach Roger McDowell] say, 'I've still got all the confidence in the world in you.'"
While allowing 20 hits and nine earned runs in 9 1/3 innings dating back to May 14, Carpenter has seen his ERA go from 1.69 to 4.26 and his opponents' batting average rise from .246 to .324. Though he has issued just three walks during this span, his strikeout ratio (one per every 5.6 plate appearances) has not been as good as the 3.28 ratio he produced in the 18 appearances that preceded this frustrating stretch.
Carpenter's inability to miss bats as frequently has led to his belief that he has been victimized by some tough luck, a theory supported by the Fielding Independent Pitching stat, which measures what a pitcher's ERA should be over a given period assuming that the balls in play and timing were league average.
The 2.69 FIP Carpenter has produced in 30 appearances this year is actually better than the 2.83 mark he had during last year's breakout season.
"I'm just trying to get back to having fastball command and the execution of my offspeed pitches," he said. "I need to remember I'm not trying to throw the ball by everybody or a slider as hard as I can. I just need to execute and spot it where they're going to have trouble squaring it up or possibly get a swing and a miss."
Mark Bowman is a reporter for MLB.com. This story was not subject to the approval of Major League Baseball or its clubs.