Diminutive Simmons fitting well in bullpen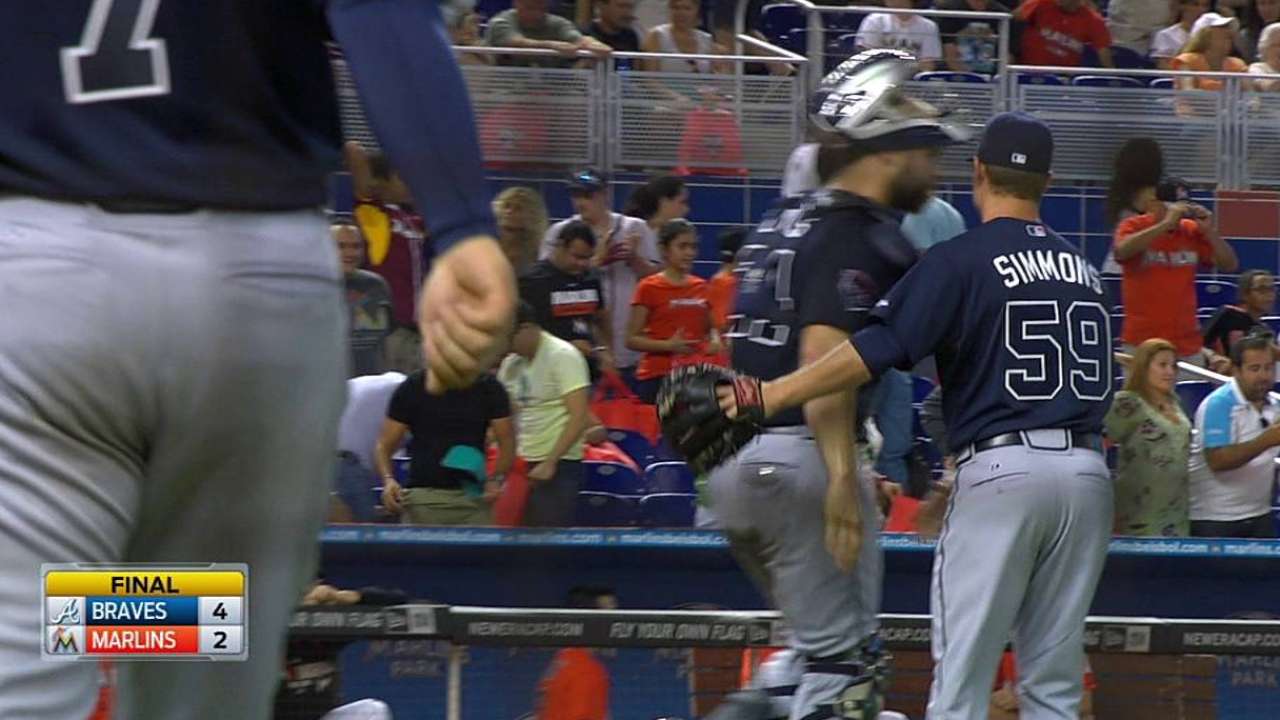 ATLANTA -- In the months before the Braves selected right-hander Shae Simmons in the 22nd round of the 2012 First-Year Player Draft, the 5-foot-11 hurler had some "weird" conversations with scouts. They all asked Simmons the same pressing question.
Will you grow?
"I was like, 'Nope, probably not,'" Simmons said, laughing. "My dad's not real tall either."
Bill Simmons, Shae's father, stands at six feet -- "even."
"He's got me by an inch," Simmons said.
The first round of the 2014 First-Year Player Draft begins Thursday, and success stories like Simmons' represent hope for the guys who are selected during the second and third days of the Draft.
Only two of Atlanta's 48 22nd-round selections have played more than 100 games in the Majors. Simmons is one of only three others who have made it to The Show.
"I always thought that I had the ability," Simmons said. "It's just, I had to prove it to everybody around me that I'd be able to do it."
Like Simmons himself, the pitcher's path to the Major Leagues was short. The Braves purchased his contract from Double-A Mississippi on May 30. One day later, Simmons was thrown into a one-run game with two men on base. He fired two quick strikes to Jarrod Saltalamacchia with fastballs touching 94 and 96 mph before getting the Marlins' catcher to swing and miss at an 84-mph slider.
Braves manager Fredi Gonzalez liked what he saw, so he used Simmons as the closer on Sunday while Craig Kimbrel rested after three straight days of work. The young hurler got into some trouble by giving up two singles and issuing a walk. But he escaped the inning unscathed, inducing two grounders to the other guy named Simmons -- Andrelton, the Gold Glover.
"Obviously, you bring somebody up because there's a need," Gonzalez said. "So why make him wait another four or five days? Let's go."
As Simmons navigated through his first two Major League outings, his fastball was clocked as high as 97 mph. Along with Kimbrel, the Braves now have two hurlers south of six feet who can bring the heat.
"It doesn't matter, your height really, if you get on top of the ball," Simmons said. "It'll look the same, especially when you have the type of stuff Craig has. It doesn't matter if you're seven-foot tall or 5-foot-5. It's going to be hard to hit regardless."
As far as other similarities to Kimbrel, however, Simmons won't be dangling his right arm to the side as he looks in for the count. In fact, don't expect anything too stylistic from Simmons when he toes the rubber.
"I'm just normal, I think," Simmons said, laughing. "Maybe not."
Mark Bowman is a reporter for MLB.com. Joe Morgan is an associate reporter for MLB.com. This story was not subject to the approval of Major League Baseball or its clubs.