Johnson removed from game after temper boils over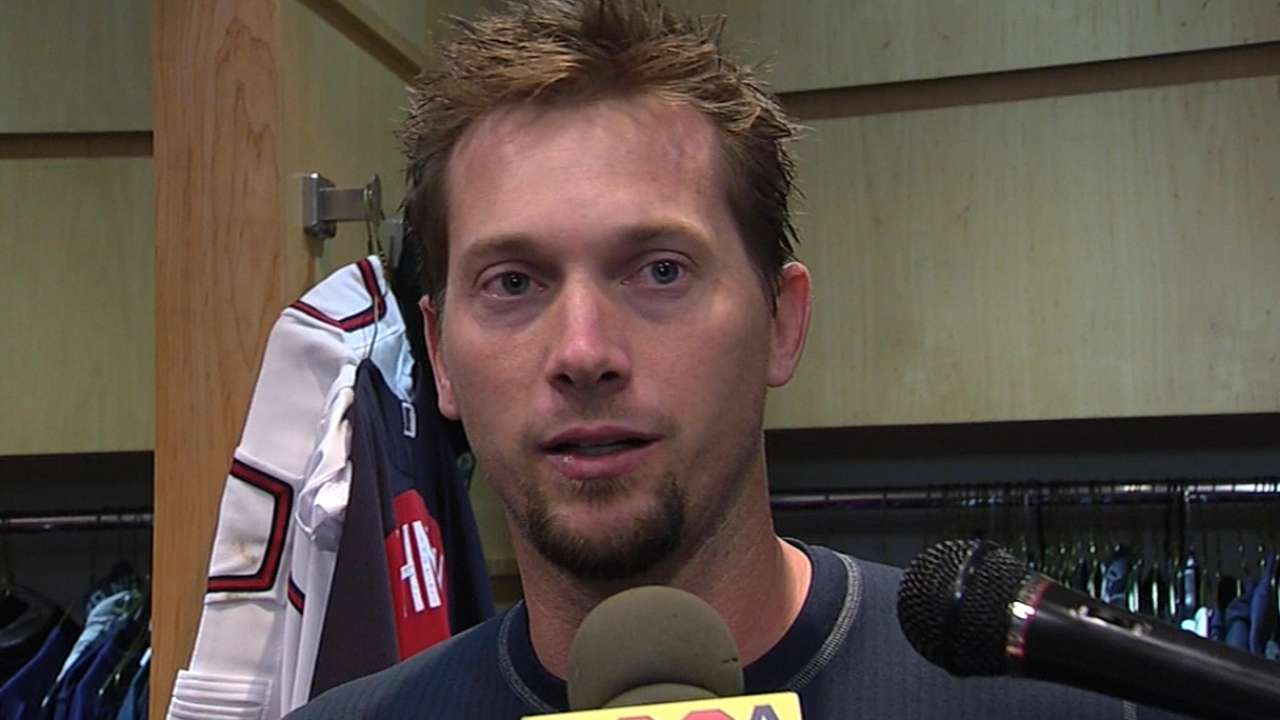 ATLANTA -- Chris Johnson felt first-base coach Terry Pendleton's wrath at the end of a game in September and he was benched for two games in April when his temper got the best of him again. He was fortunate that his latest fit of rage did not amount to anything more than him facing the embarrassment of being removed during Friday night's 3-2 win over the Rockies.
"I let my emotions get the best of me tonight," Johnson said. "I came in, in the tunnel and blew up a little bit. That's dangerous to do. There were some people down there that weren't too happy about it."
After striking out to begin the bottom of the second inning, Johnson went toward the clubhouse to release some anger. Pieces of a bat that he shattered hit both Gerald Laird and manager Fredi Gonzalez, who were standing near the top of the dugout stairs.
Laird rushed toward Johnson and managed to get to him just ahead of Gonzalez, who offered a few choice words before replacing him with Ramiro Pena between innings.
"I agree 100 percent with his decision," Johnson said. "It was the right thing to do. Taking me out of the game and not letting me play is probably the worst thing to do to me because all I want to do is to go out there and play. So whatever the punishment might be, I'll take it like a man and try to get better."
When Johnson turned over cups, bubble gum containers and other dugout items last month, he was left out of the lineup for two games. After he hit Pendleton with a batting helmet after a Sept. 28 game against the Phillies last year, he did not play in the following afternoon's regular-season finale.
"I play with a lot of passion," Johnson said. "Every single pitch and every single at-bat, I hold in high regard. When things don't go well, that is kind of my downfall. That is one of the biggest parts of my game I need to work on. One of the worst things I could ever do is hurt a teammate or something like that.
"This has to be it for me. I think it will get a point where people won't think I'm truly sorry for doing it. It just looks selfish."
Instead of addressing this latest issue when asked by reporters, Gonzalez made Johnson take full accountability by explaining his actions to media members.
"I apologized to the team for that after the game and to Pena for having to pick me up," Johnson said. "I'm sorry I let down the fans and the people that came out to see me play today."
Mark Bowman is a reporter for MLB.com. This story was not subject to the approval of Major League Baseball or its clubs.