Gonzalez stands behind actions in strange 7th vs. Crew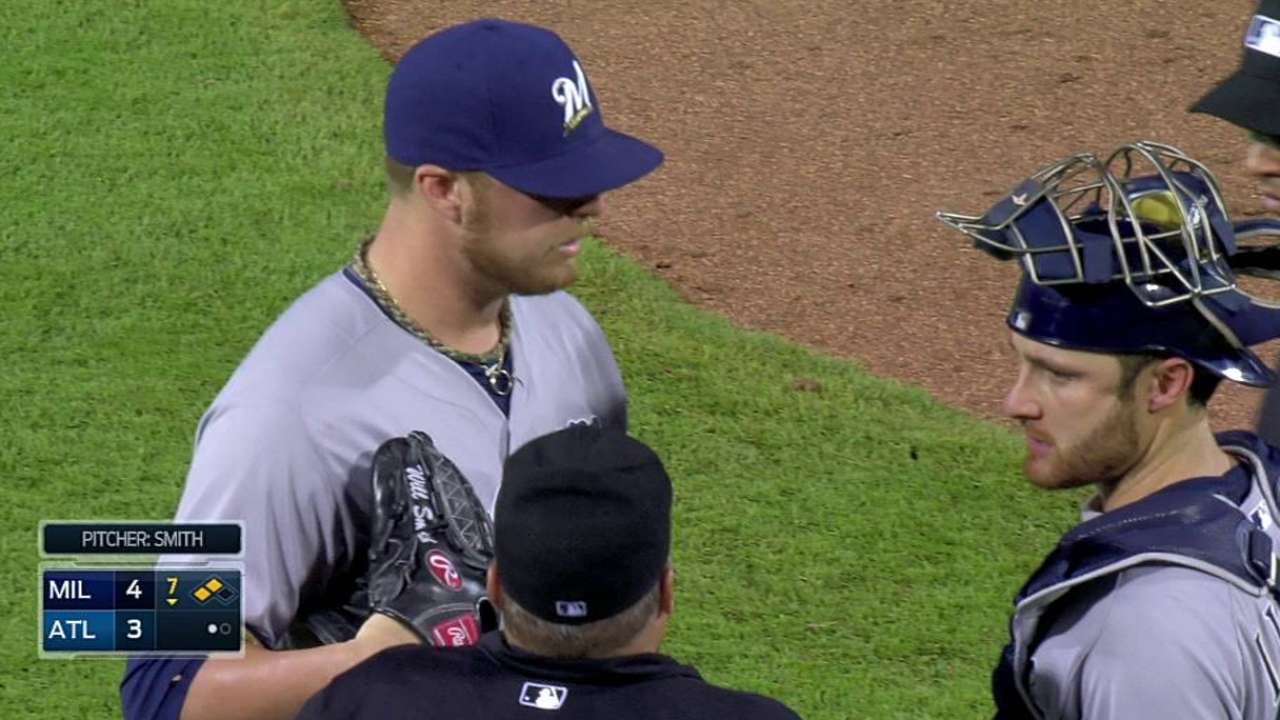 ATLANTA -- Braves manager Fredi Gonzalez sympathizes with the position Brewers manager Ron Roenicke was in Thursday night, when he announced Will Smith was entering the game in the seventh inning without realizing the pitcher was not warming up in the bullpen.
But at the same time, Gonzalez's responsibility was to protect his own team by making sure the umpires did not allow Smith to throw more than the customary eight pitches allotted to any pitcher who enters a game in which their entry was not necessitated by an injury or ejection.
"As far as the eight pitches, rules are rules," Gonzalez said.
With pitching coach Rick Kranitz and bullpen coach Lee Tunnell attending graduation ceremonies, the Brewers fell victim to what Roenicke termed "miscommunication." Backup catcher Martin Maldonado had gone to the bullpen with the understanding Zach Duke would be the left-handed reliever who would need to warm up. But the dugout never called the bullpen to get either of the lefty relievers -- Duke or Smith -- to warm up.
Duke jogged out of the bullpen and reached the infield grass before Roenicke made it known he wanted Smith. Because his name had already been given to the umpires, Smith could not exit the game until he faced at least one batter or retired one of the runners already on base.
Via the television monitors in the dugout, Gonzalez knew a left-handed reliever had not been warming up in the Brewers' bullpen. Thus when Smith entered, he made sure to tell crew chief Fieldin Culbreth that the southpaw should not be allowed to throw more than eight warmup pitches.
Once Culbreth donned the headset and verified this with a supervisor in the replay command center, Ryan Doumit greeted Smith with a decisive two-run single.
"I think [Culbreth] just wanted to make sure they were doing the right thing," Gonzalez said. "I said, 'Call Bud Selig and wake him up. Whatever you've got to to do, but he's only throwing eight pitches.'"
Mark Bowman is a reporter for MLB.com. This story was not subject to the approval of Major League Baseball or its clubs.