Simmons puts defense as top priority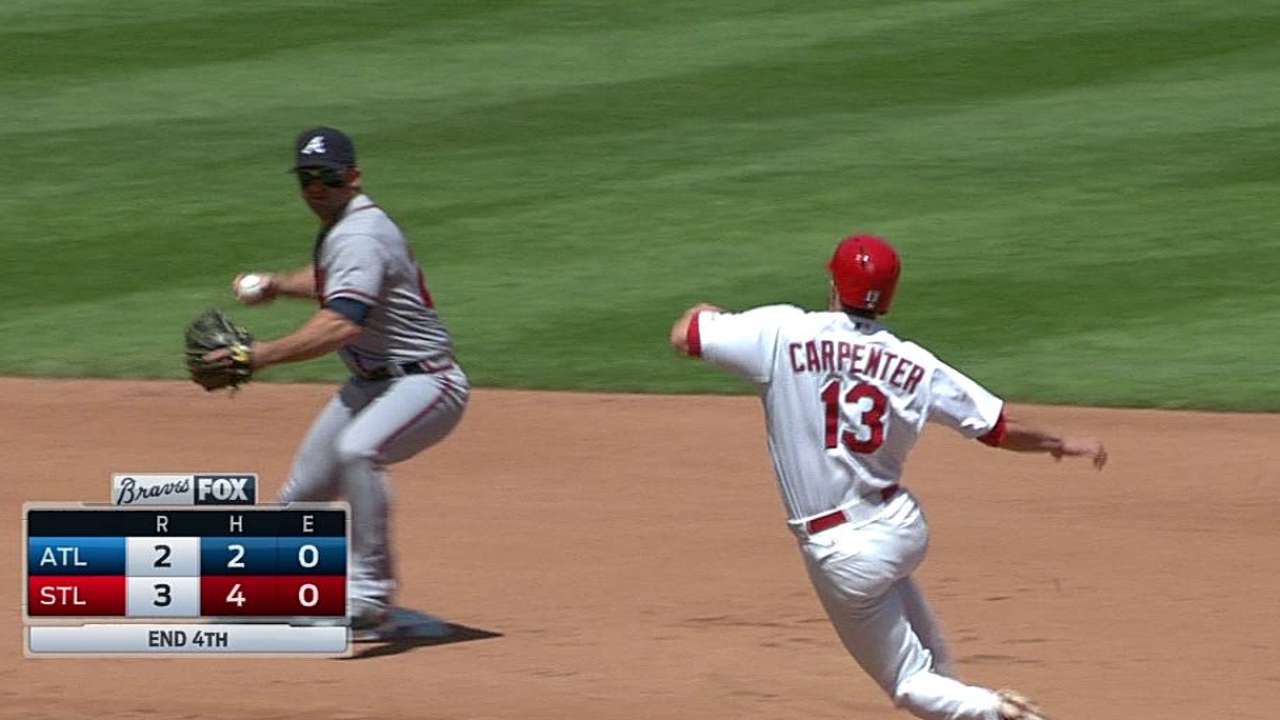 ATLANTA -- It came as little surprise that Braves shortstop Andrelton Simmons put the brakes on when asked about hitting two home runs to celebrate his bobblehead night prior to Thursday's series finale with the Milwaukee Brewers at Turner Field.
It's not that he can't go yard -- he has four on the year and 20 for his career -- it's just that Simmons prefers to think more about defense.
"He takes so much pride in defensive stuff. It's nice to see," said Braves manager Fredi Gonzalez. "He loves defense."
Simmons' labor of love paid off last season when he won his first National League Gold Glove and Rawlings Platinum Award as the N.L.'s top defensive player.
While the 24-year-old can be scary with the way he wields the glove, throws darts from almost every conceivable angle, and tracks down balls with almost inconceivable range, he actually scares his manager more with his ferocity upon returning to the dugout following a play he does not make.
"You always see players stamp offensively. You know, they leave the bases loaded, they stamp, they go in there and they throw helmets and break stuff," Gonzalez said. "I've seen him get so upset because he felt like he didn't make a play defensively almost to the same extent that you have to go in there and calm him down because he's going to hurt himself. That's how much pride he takes."
A career .983 fielder, Simmons is fielding at a .987 clip so far in 2014, converting 154 of 156 chances. That's tied for third in the National League, and his two errors are tied for second behind only Colorado's Troy Tulowitzki -- who is perfect in the field. By the way, Tulowitzki comes to Turner Field this weekend.
Gonzalez credits the priority given to defense by Simmons and right fielder Jason Heyward, himself a Gold Glove winner in 2012 -- Gonzalez asserts he would have repeated were it not for his missing 58 games to injury -- for a sign the Braves display in the hallway leading from their clubhouse to the dugout.
It's a list of Braves Gold Glove winners and bears the slogan: "Defense Wins Championships!"
"We put that up this year," Gonzalez said. "It's the first time it's ever been up there because that's what wins. I brought both of those guys out when we put it up. In any sport it takes some effort to play defense. Both him and Jason, you got to see it. You've got to see the same thing I do."
Jon Cooper is an associate reporter for MLB.com. This story was not subject to the approval of Major League Baseball or its clubs.