Patience a virtue for Braves' bats of late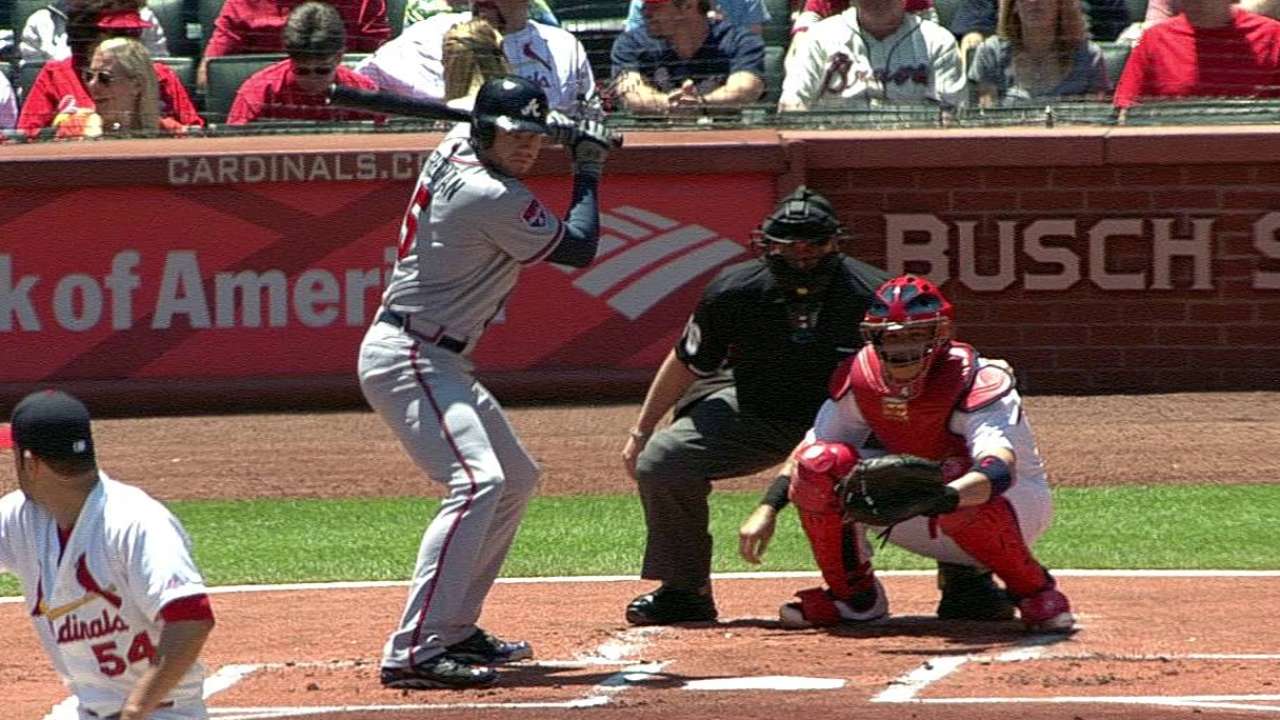 ATLANTA -- Two games does not erase all of the frustration that built over this season's first two months, but after watching his offense total 15 runs over the previous two days, Braves hitting coach Greg Walker returned to Turner Field on Tuesday feeling better about the mindset of his position players.
"I think we got to the point where we started fighting the other team, instead of ourselves," Walker said.
The Braves tallied six runs in Sunday's comeback win over the Cardinals, and then erupted for nine runs during Monday's win over the Brewers. They had not scored more than five runs since April 19, and had only done so seven times before Sunday.
Maybe more telling was the fact that they had entered Sunday having scored less than three runs in 11 of their previous 18 games.
"We were in our own heads," Walker said. "We were beating ourselves because we're frustrated. When you've got a bunch of guys that are frustrated, it doesn't matter what kind of swing you have or how talented you are."
Walker shoulders the blame for allowing the frustration to fester as long as it did. But while drawing nine walks in the previous nine innings they had played entering Tuesday, the Braves have at least shown a willingness to begin showing the increased patience their hitting coach has been preaching on a daily basis over the past couple of weeks. They had drawn nine walks in the 44 innings that preceded Sunday's ninth inning, during which a two-out walk and a wild pitch proved decisive.
Along with drawing more walks, many of the Braves players have spent the past couple of days showing a willingness to hit the ball to all fields. Freddie Freeman hit an opposite-field home run on Sunday and another on Monday. Justin Upton went the other way with his eighth-inning homer on Monday, and Jason Heyward began Monday's three-hit game with an opposite-field single.
"That's how the swing works," Braves manager Fredi Gonzalez said. "You catch it a little bit late, you go opposite [field]. If you catch it a little bit earlier, you pull it or go straightaway. That's always a good sign when you're hitting the ball the other way."
Mark Bowman is a reporter for MLB.com. This story was not subject to the approval of Major League Baseball or its clubs.