After quiet April, Johnson heating up in May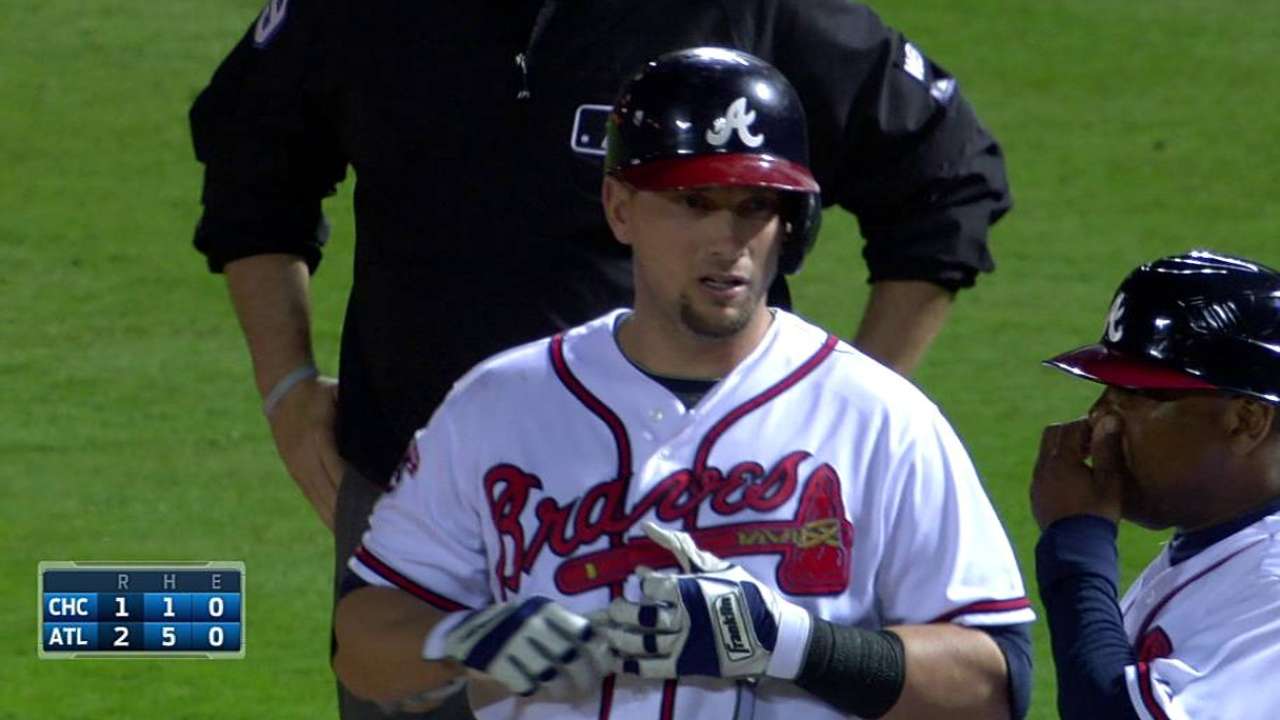 ATLANTA -- What's that they say about April showers?
The hard luck and empty at-bats that poured on Braves third baseman Chris Johnson in April have been replaced by solid, productive at-bats that are resulting in big days. They're the kind of days that are reminiscent of 2013, when he led the team in batting and, for a while, made him a challenger for the National League batting title (he finished second at .321 to Colorado's Michael Cuddyer and was fifth in the Majors).
Johnson came into Sunday's game with five multihit games in May, during which he hit .382 (13-for-34), and he had three multihit games in his last four, during which he hit .533 (8-for-15).
But he needed to buck a couple of trends, as he batted fifth, where he was hitting .229, his second-worst spot (his best place is seventh, where he boasts a .458 average) and faced right-hander Edwin Jackson , against whom he was 0-for-5 lifetime.
He took care of that, going 2-for-4 and scoring a run in a 5-2 victory.
So make that six multihit games in May, during which he's hitting .395 (15-for-38) and four multihit games in his last five, during which he's hitting .526 (10-for-19).
"That's the Chris Johnson we've seen," manager Fredi Gonzalez said after Sunday's game. "He has a great approach and keeps the line moving."
That's quite a rebound from April, when he had four multihit games and finished the month hitting .231. All of a sudden, balls are finding holes.
"That just means my bat path is right right now," he said. "It's finding the holes on both sides of the diamond. If the guy throws me away, I'm able to hit the ball to right field and get it by the second baseman. I'm showing that I can pull the ball, too, and kind of stay inside it that way. So it's good."
The best part is that all he had to do to change was not really change.
"For me, my approach kind of stays the same," he said. "When I'm struggling it's because I'm swinging at balls that are out of the strike zone, so I try to get the ball back in the strike zone and then just put my swing on any pitch."
Johnson has been especially proficient against lefties, against whom he is hitting an NL-leading .500 (9-for-18), and is a big reason why Atlanta ranks third in the NL in batting against southpaws with a .268 average. That .268 mark is 42 points higher than the team bats against righties.
While the difference between Johnson in April and Johnson in May is quite profound, he doesn't believe that a simple change of the calendar can make such a difference.
"I just stuck with my approach, continued to work and then a new month came up and I ended up getting hot and getting some hits," he said.
"I don't know that I give it all to the calendar year. Hopefully it's something that I'm doing," he added with a laugh. "But I'll take it."
Jon Cooper is a contributor to MLB.com. This story was not subject to the approval of Major League Baseball or its clubs.