Slow start not causing Johnson to panic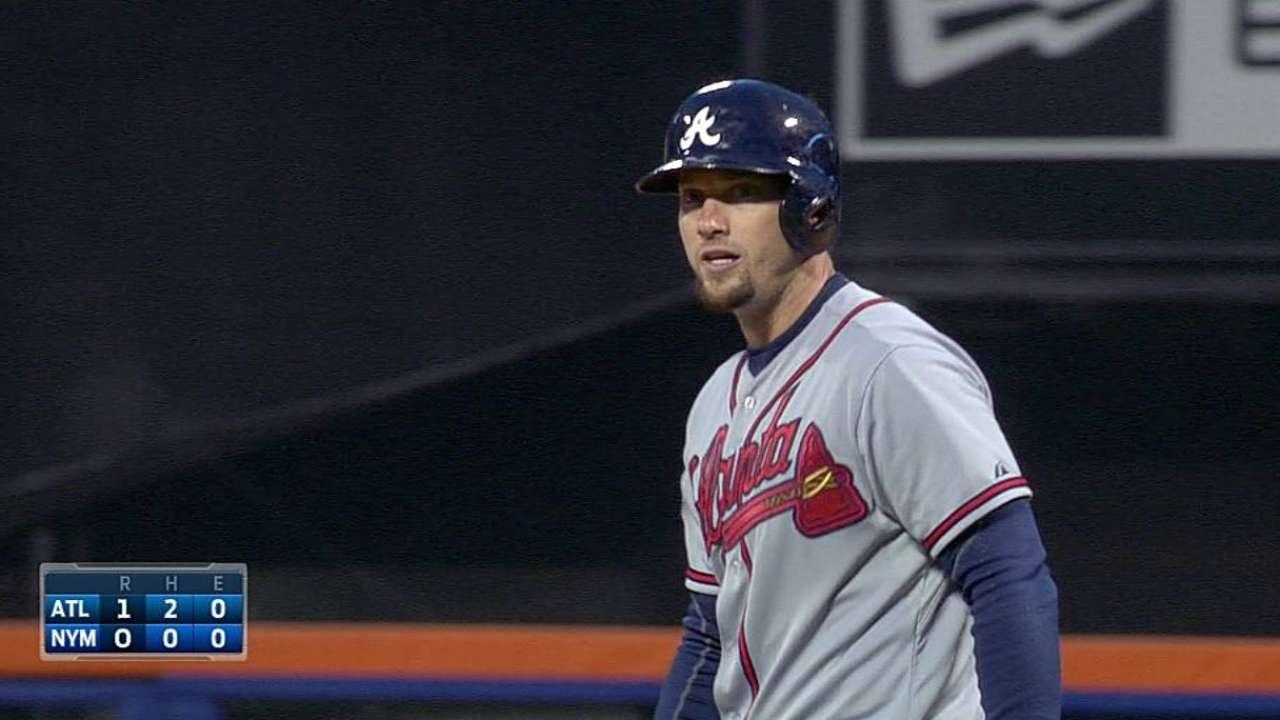 ATLANTA -- When Braves third baseman Chris Johnson steps into the batting box for his second at-bat of home games, the chorus of the Macklemore and Ryan Lewis song "White Walls" blares over the loudspeakers at Turner Field.
When asked about the song before Saturday's 4-1 win against the Reds, Johnson blamed the Grammy Award-winning duo for his current slump at the plate.
"It's my walk-up song," Johnson joked. "That's the problem."
After placing second in his quest for the National League batting title last season with a .321 average, Johnson has not reached base quite so regularly to begin his second season in an Atlanta uniform.
He is batting .250 (21-for-84) but has walked only twice in 88 plate appearances entering Sunday. Additionally, his BABIP (batting average on balls in play) has expectantly slipped from the dizzying heights of .394 last season to .328 this April.
After recording three hits against the Mets on April 18 to up his average to .293, Johnson has hit .154 (4-for-26) with five strikeouts in his past seven games.
"I just need to get my bat path a little bit better," Johnson said. "I'm a little in and out of the zone right now."
Johnson said his bat path has resulted in more popups when he is trying to hit to the opposite field. According to FanGraphs, Johnson's fly-ball percentage on batted balls has increased from 27.5 percent last year to 33.9 percent, and his ground-ball percentage has slipped from 45.5 percent to 38.7 percent in 2014.
Despite an increase in the rate of pitches he has both seen and swung at in the strike zone this season, his contact on those pitches has slightly dipped from 88.6 percent to 86.6 so far this season due to his struggles with bat path.
"Once my bat path is right, then it doesn't really matter about my timing," Johnson said. "If I get a little beat, my bat's still in the zone."
Although Johnson has not started his season the way he envisioned, he is not worried about his performance at the plate. In the end, he said, "I'll be all right."
"I'm not really pressing the panic button or anything like that," Johnson said. "I know my swing, and I know I've just got to get my bat path back and my bat in the right spot and then everything will start to come."
Joe Morgan is an associate reporter for MLB.com. This story was not subject to the approval of Major League Baseball or its clubs.