Mejia released so he can play in Japan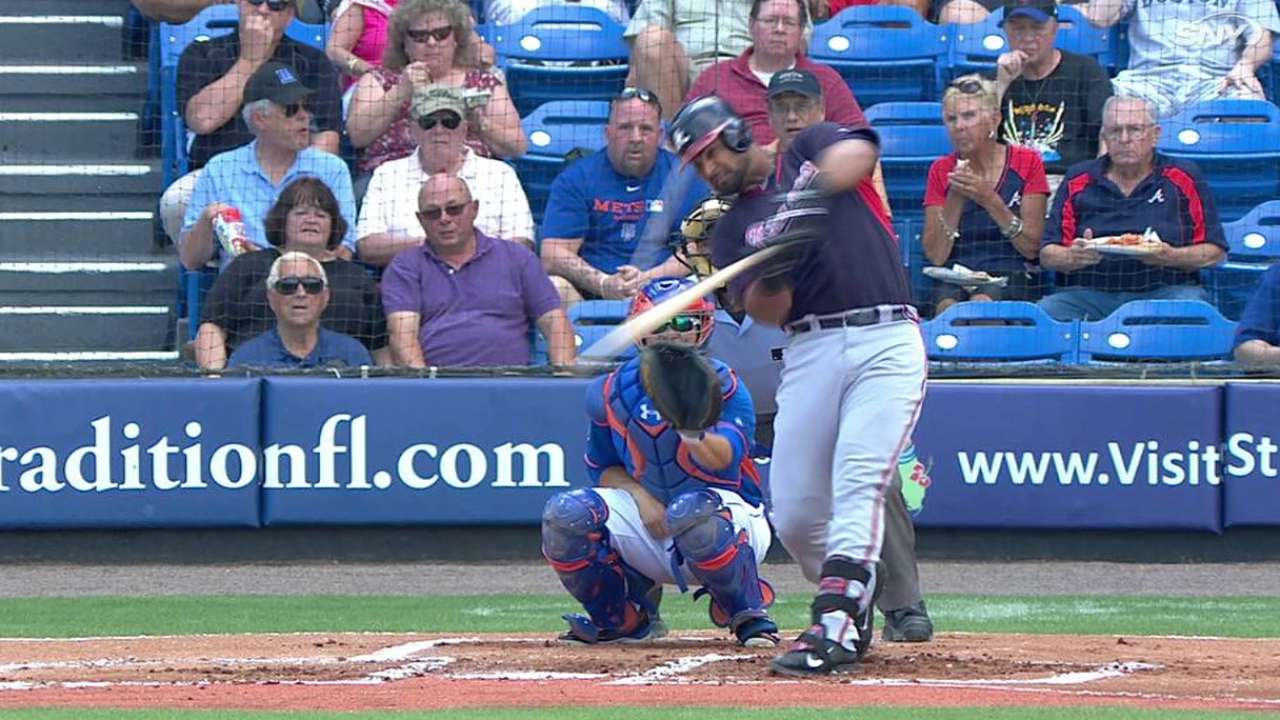 ATLANTA -- Despite producing good power numbers over the past few seasons in the Braves' Minor League system, Ernesto Mejia has not been widely viewed a Major League-caliber player. But Mejia will have a chance to make some money and improve his stock as he spends the rest of this year playing for Japan's Seibu Lions.
The Braves released Mejia from their 40-man roster on Saturday to allow him the chance to sign with Seibu. Specifics of Mejia's contract and the financial return the Braves will receive were not revealed.
"[Mejia] has played great and he has done everything we have asked him to do at Triple-A, but there just wasn't a spot [at the Major League level]," Braves general manager Frank Wren said. "We thought we had a deal this winter with another Japanese club and that fell through. This one surfaced in the past couple weeks. It works out well where he can go over, get a chance to support his family, make some money and establish himself over there."
Mejia's path to Atlanta was blocked by the presence of Freddie Freeman, who signed a franchise-record eight-year, $135 million contract in January.
But even if Freeman is sidelined for an extended stretch this season, the Braves would likely fill their first-base void with Joey Terdoslavich or Chris Johnson. The 6-foot-5, 260 pound Mejia's limited mobility and lack of defensive versatility have created doubt about his ability to play in the Majors. There has been some thought he could potentially serve as a designated hitter. But American League clubs have not shown interest in trading for him over the past couple years.
Mejia, 28, batted .354 (28-for-79) with seven home runs and a 1.104 OPS in 20 games with Triple-A Gwinnett this year. The first baseman's early season power surge had positioned him to best the career-high 28 home runs he hit last year, during the second of the three seasons he spent with Gwinnett.
After hitting .296 with 24 home runs and an .849 OPS in 133 games with Gwinnett in 2012, Mejia was added to Atlanta's 40-man roster. Though he had been granted this honor, he still did not get his first call to the big leagues when rosters expanded last September.
When asked during Spring Training about the fact he had not been added to Atlanta's roster for last season's final month, Mejia said he was surprised. But the mild-mannered Venezuelan was never critical of the Braves organization which had signed him to his first professional contract in 2002.
"I expect him to do well and put up pretty big numbers [in Japan]," Braves manager Fredi Gonzalez said. "But at the very least, he gets a chance for other clubs to look at him and see him. I'm happy for him. We couldn't ask more from him. It was just a bad situation."
Mark Bowman is a reporter for MLB.com. Joe Morgan is an associate reporter for MLB.com. This story was not subject to the approval of Major League Baseball or its clubs.