Freeman known for bat, but strong on defense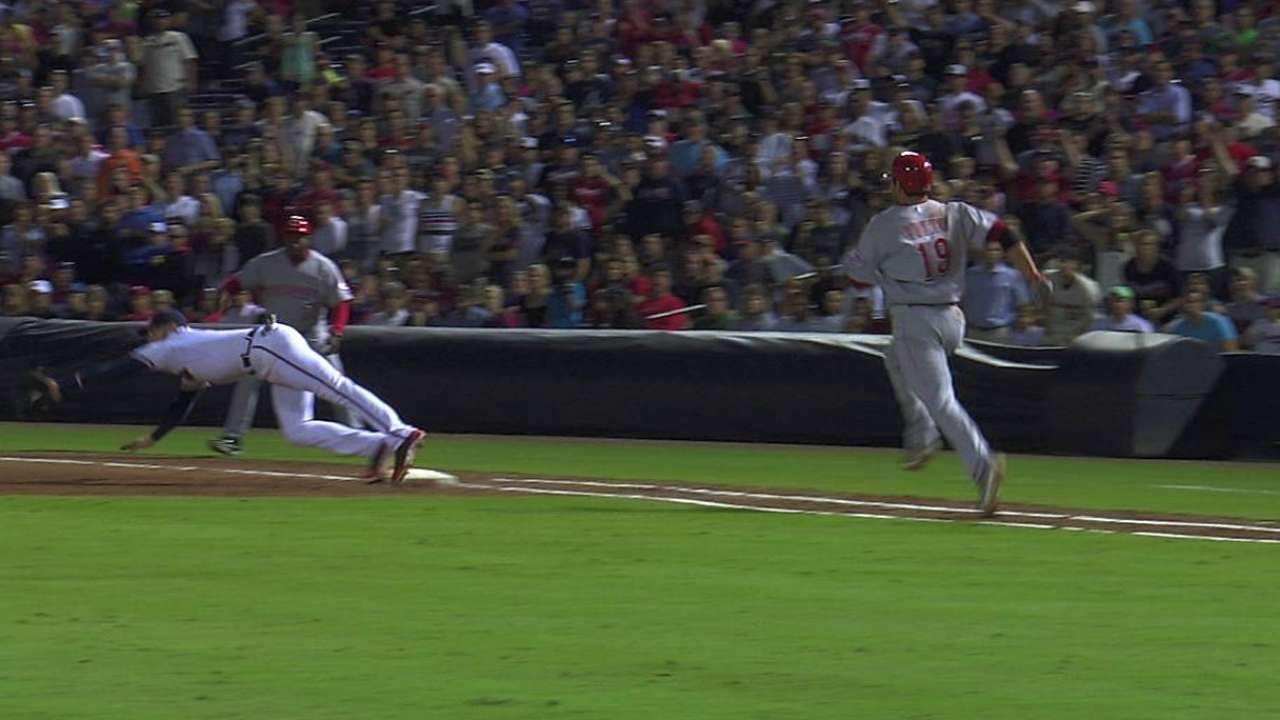 ATLANTA -- Freddie Freeman proved he is more than just a run-producing bat on Friday. He made a diving play to nab an errant Chris Johnson throw and kept his foot on first base to record the final out in the Braves' 5-4 win against the Reds. The out was confirmed by instant replay.
"I felt like I was on [the base], but you never know," Freeman said. "I might have been falling off the bag and it was bang-bang. I felt like I was on, and obviously it showed I was."
Joey Votto would have been safe at first had Freeman not kept his foot on the bag, and the Braves believe Roger Bernadina, who began the play on second, would have been awarded the tying run as he had already rounded third when the play ended.
"I think Bernadina scores there on that play," Atlanta manager Fredi Gonzalez said after the game. "We don't have to deal with it. They got the play right and that is why replay is there for those plays. There's nothing else you can do."
Johnson admitted Saturday he should have set his feet before throwing to Freeman, but he acknowledged that the first baseman regularly amazes him from across the diamond with acrobatic stretches and dives at first base.
"That's why he's one of the best players in the game, just because he's good on both ends of the game," Johnson said. "He's awesome. He saves us a lot over there."
Freeman led National League first basemen with a 9.38 range factor per game in 2012, but his fielding statistics otherwise rank near the league average. He makes his impact instead by turning extraordinary circumstances into ordinary, routine plays.
Entering Saturday, the 6-foot-5 Freeman had caught 3,698 balls on groundouts and recorded only seven catching errors on throws to first. However, the stretches, dives and picks he makes to record those outs do not show up in the box score.
"He does that stretch. A lot of us can't do the splits," Johnson said. "Sometimes you look at him and you're like, 'Man, that's a pretty big dude over there doing that.'"
But Freeman ranks ninth in the Majors with a .357 (30-for-84) batting average enterting Saturday and hits third in Atlanta's potent lineup, so the spotlight will remain on his bat.
"I take a lot of pride in doing it, but I'm OK with not getting any recognition," said Freeman of his defense. "I just go out there and just play hard, and that's just one of those things. It's my job to catch the ball over there, so that's what I just do."
Mark Bowman is a reporter for MLB.com. Joe Morgan is an associate reporter for MLB.com. This story was not subject to the approval of Major League Baseball or its clubs.