Minor, Floyd making progress with rehab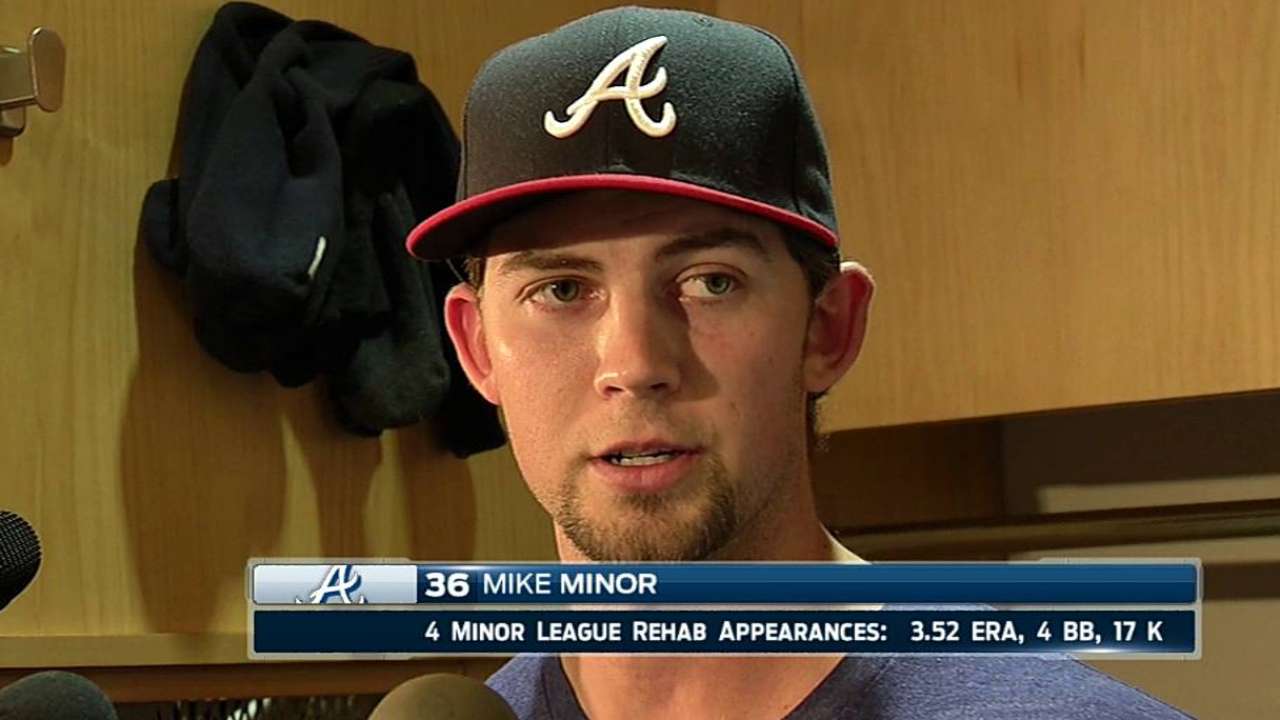 ATLANTA -- Mike Minor and Gavin Floyd continue to work their way back to join a Braves rotation that leads the Majors with a 1.50 ERA entering Friday. Minor pitched for Double-A Mississippi on Friday, and Floyd pitched for Triple-A Gwinnett on Thursday.
Minor gave up five earned runs on 10 hits that included four home runs in seven innings of work. He struck out two and threw 81 pitches, 58 of which were strikes.
Floyd made the first of what Atlanta manager Fredi Gonzalez said would include at least two more starts in the Minors before he will be re-evaluated. Minor is expected to return to Atlanta's rotation some time next week.
Gonzalez will likely need to decide what to do with the rotation four or five days after Floyd's next rehab start on Tuesday.
"It always takes care of itself," Gonzalez said. "I'm not really going to worry about it until that time comes."
Floyd threw 86 pitches in 5 1/3 innings, fanning one and giving up two runs on five hits and three walks against Columbus on Thursday. He will make his next start with Gwinnett on the road in Toledo, Ohio, on Tuesday.
Following the outing, Floyd, who underwent Tommy John surgery last May, said he was just dealing with "normal soreness" in the scapula area of his right shoulder.
"The elbow feels great, the shoulder feels good, my body feels good, so I'm just excited," Floyd said. "Hopefully I'll go 100 [pitches] next time and see what happens. Things have been going pretty well."
Floyd is thankful his rehab process is going well given the uncertainty and unpredictability of recovery from Tommy John surgery, but there have been challenges along the way.
Returning to game situations has proven the most challenging to Floyd during his rehab process. He has pitched 19 innings and owns a 4.74 ERA in five rehab starts between Gwinnett and Mississippi this season.
"It's just getting used to runners on and refining things again and working on slide steps, working on holds, working on little things that come into game situations," Floyd said. "You get in a scenario where you're bases loaded and maybe there's an out or no outs and you're trying to figure out how you get a ground ball here and executing pitches, staying mentally focused. Just the little things that in a game and through the season that you have to be good at and trying to get those back and refine those."
Mark Bowman is a reporter for MLB.com. Joe Morgan is an associate reporter for MLB.com. This story was not subject to the approval of Major League Baseball or its clubs.