Freeman says right eye discomfort is gone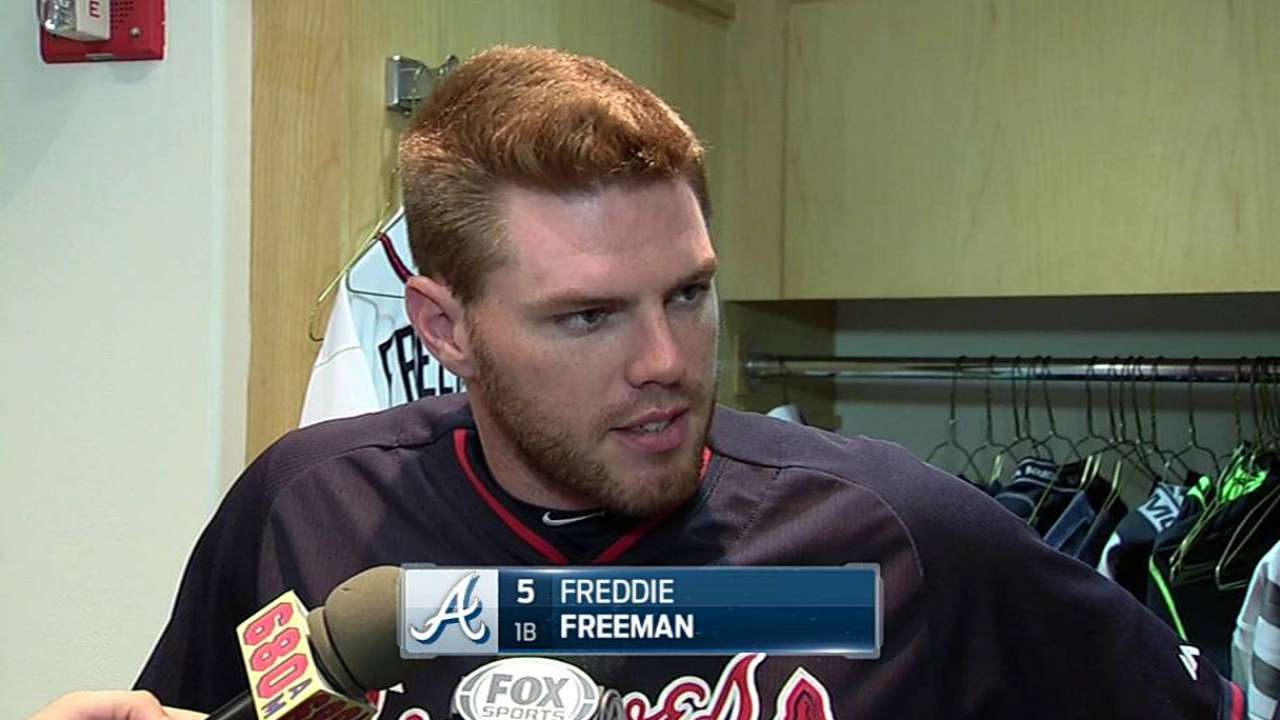 ATLANTA -- Braves first baseman Freddie Freeman returned to Turner Field on Friday confident that he would no longer have to deal with the right eye discomfort that plagued him as he struggled throughout the Marlins series earlier this week.
"When I woke up this morning, it didn't feel like there was a crumpled up piece of paper in my eye like it has been," Freeman said. "Everything feels good today."
Freeman felt some dryness in his eyes as he took batting practice before last Saturday's game against the Mets at Citi Field. He ignored the problem as he notched three hits that evening. But Freeman went 1-for-5 the next afternoon and then felt his right contact lens break while it was still in his eye just before Monday night's series opener against the Marlins.
Freeman said the Braves' medical staff used a Q-Tip to locate and remove the broken contact lens from his eye approximately seven minutes before Monday's first pitch. This likely added to the irritation he felt as he went 0-for-12 with six strikeouts during the three-game series against the Marlins. He had batted .397 with nine strikeouts in the 81 plate appearances he had compiled before Monday.
After going 0-for-4 with three strikeouts in Tuesday's matchup against Jose Fernandez and the Marlins, Freeman visited Dr. David Ross, who had treated Freeman when he dealt with dry eyes throughout May during the 2012 season.
"It's very frustrating," Freeman said. "I thought I had put the eye problems in my past and gotten behind it. It's just one of those things that I'm going to have to battle the first few months of every season with the cold and the wind. If we can just manage it the rest of my career, I think we'll be OK. I think we caught it quick enough. This is a lot better than two years ago.
"Two years ago, I couldn't see with my glasses on. Now, I can see with my glasses on. Everything feels good. I feel great today and hopefully I can get some results."
Mark Bowman is a reporter for MLB.com. Joe Morgan is an associate reporter for MLB.com. This story was not subject to the approval of Major League Baseball or its clubs.