Heyward expounds on decision to bunt in ninth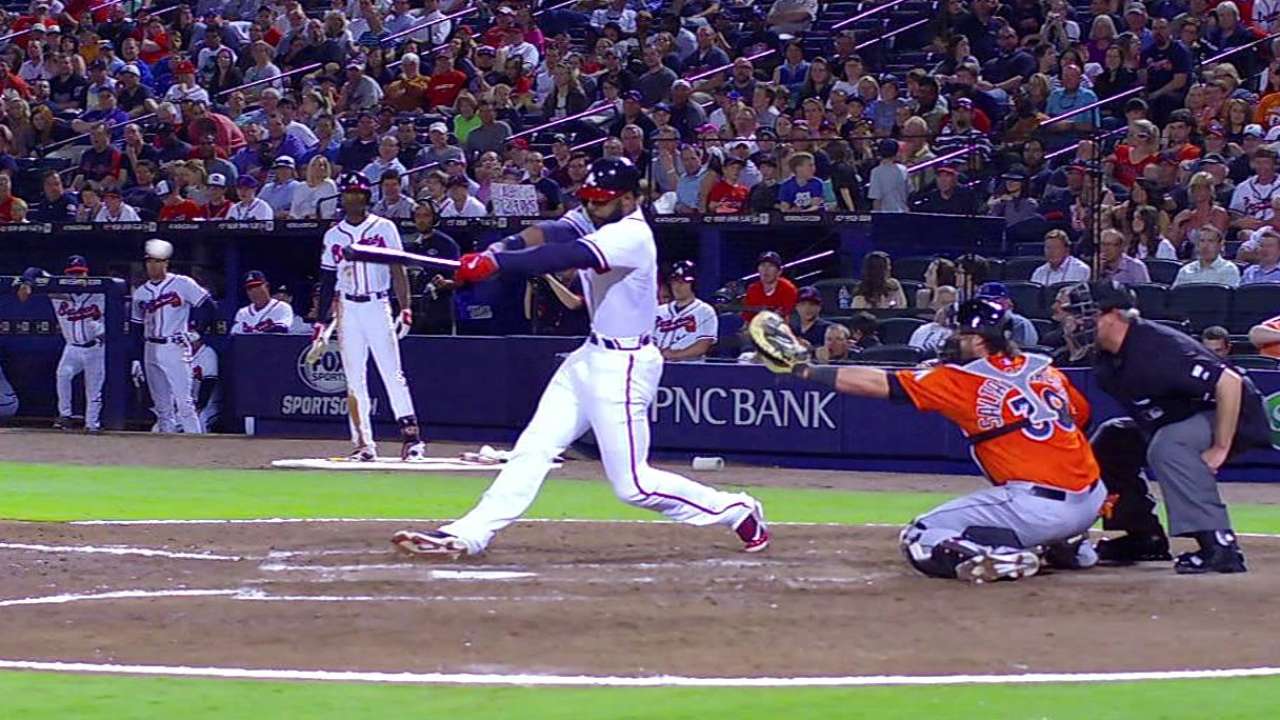 ATLANTA -- When Braves backup outfielder Jordan Schafer doubled off Carlos Marmol to begin the ninth inning of Monday night's 10-inning win against the Marlins, Jason Heyward looked toward the dugout and saw manager Fredi Gonzalez give him the choice to either swing away or attempt to advance Schafer with a sacrifice bunt.
After choosing to do the latter, Heyward popped his bunt up to Marmol, who caught the ball near the mound. The decision drew great scrutiny throughout the ninth inning that concluded with Chris Johnson grounding out with the bases loaded.
"I did not want to not get [Schafer] over with a strikeout," Heyward said. "I wanted the ball to be in play there. I wasn't thinking negative-type [thoughts] in general. I was just overthinking the situation. Looking back on it, it wouldn't have hurt just to pull the ball again."
Heyward halted a 3-for-32 skid with Sunday's three-hit game, and then lived up to his reputation as a pull hitter when he delivered a go-ahead single to right field in Monday's seventh inning. Instead of attempting to hit another ball to the right side, Heyward opted to put himself in an unfamiliar situation. He has recorded just one sacrifice bunt during his Major League career.
"You're almost better off trying to bunt for a hit rather [than a sacrifice]," Heyward said. "I feel I'm more than capable to get the bunt down. I feel like I'm more than capable of getting him over. I feel like I'm more than capable of getting a hit there. All the above. I was trying to play the game. I tried to do a little bit too much with the situation."
Gonzalez understood the reasoning that influenced Heyward's decision to bunt.
"I left it up to him," Gonzalez said. "Whatever he wanted to do, whatever he felt comfortable doing there. You don't want to play extra-inning games and the chances of scoring a run from third base is greater than scoring a run from second base, especially with a guy like Marmol. With a guy on third base, maybe you take one of his breaking pitches away or his split because he doesn't want to bounce it and let the runner score there. That was fine. I had no problems whatsoever."
Mark Bowman is a reporter for MLB.com. This story was not subject to the approval of Major League Baseball or its clubs.