One more rehab start before Minor's return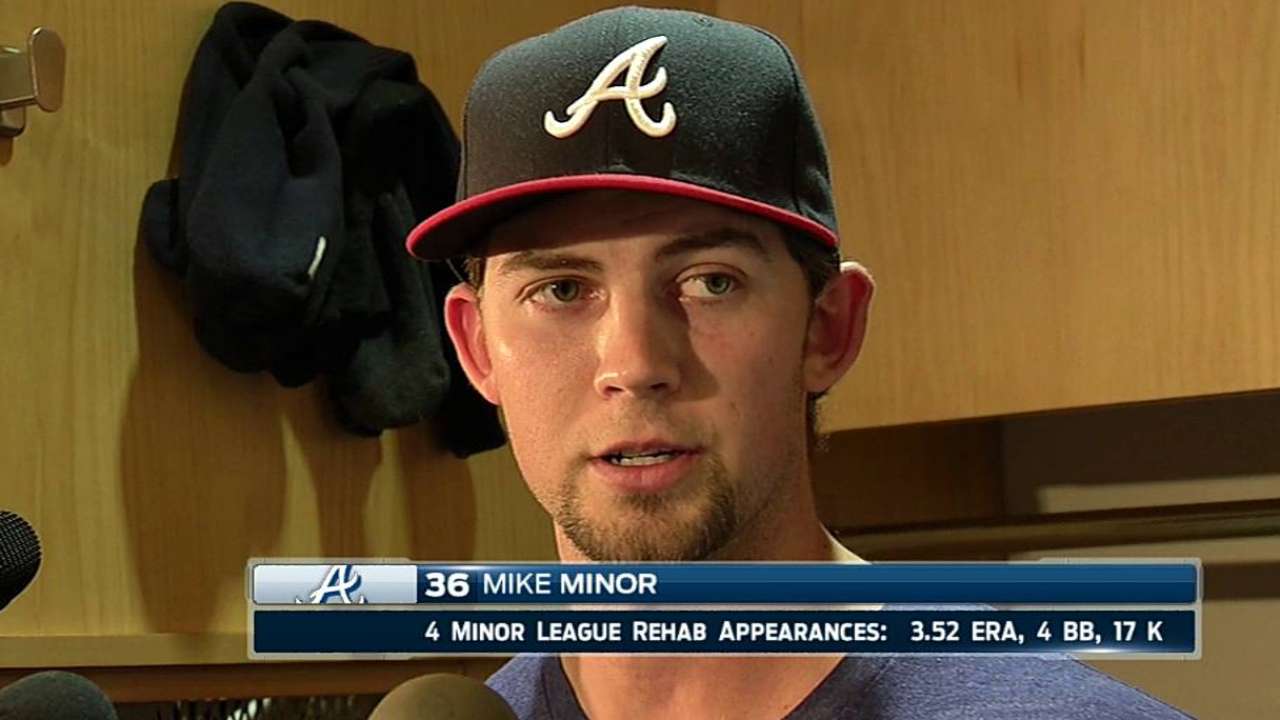 ATLANTA -- Mike Minor was looking forward to the chance to make his regular-season debut this weekend against the Reds. But the Braves have decided Minor will instead make one more Minor League start.
Minor will attempt to throw somewhere between 90-100 pitches when he takes the mound on Friday night to start Double-A Mississippi's game in Pensacola, Fla. Including the Braves Futures Game he pitched on March 29, this will stand as the sixth start he has made during a rehab stint that has essentially served as his Spring Training.
"Coming out of Spring Training, you usually get six starts," Braves manager Fredi Gonzalez said. "So, let's keep it that way. We'll give him [another] start and then he'll be ready to come in."
If Minor gets through Friday's start without any setbacks, he could join Atlanta's starting rotation as early as April 30.
"It's their final decision," Minor said. "I feel good and that's what I told them. But they want to err on the side of safety and precaution and make sure I'm OK."
Minor has gone nearly two months since last feeling any discomfort in his left shoulder, which proved to be tight during the early days of Spring Training. The tightness has been blamed on the month-long stretch of inactivity Minor experienced after undergoing a Dec. 31 urinary tract procedure.
Had Minor started one of this weekend's games against the Reds, the primary concern would have centered around his durability. Given that he has not thrown more than 80 pitches during any of his rehab starts, Minor likely would not have been available to throw much more than 90 pitches in his season debut.
With Minor now set to make another rehab start, the Braves will not have to deal with the possibility of playing three straight games in which they would have been sending a starter to the mound with two extra days' rest.
Such would have been the case for Minor or Ervin Santana had either started Saturday's game against the Reds. With Monday's off-day, Alex Wood and Aaron Harang would have also been lined up to start the first two games of next week's series in Miami with two extra days' rest. Santana will now start Friday's series opener against the Reds with one extra day of rest. Julio Teheran and Wood are in line to start the final two games of the series on regular rest.
Mark Bowman is a reporter for MLB.com. This story was not subject to the approval of Major League Baseball or its clubs.