Varvaro turning heads with relief work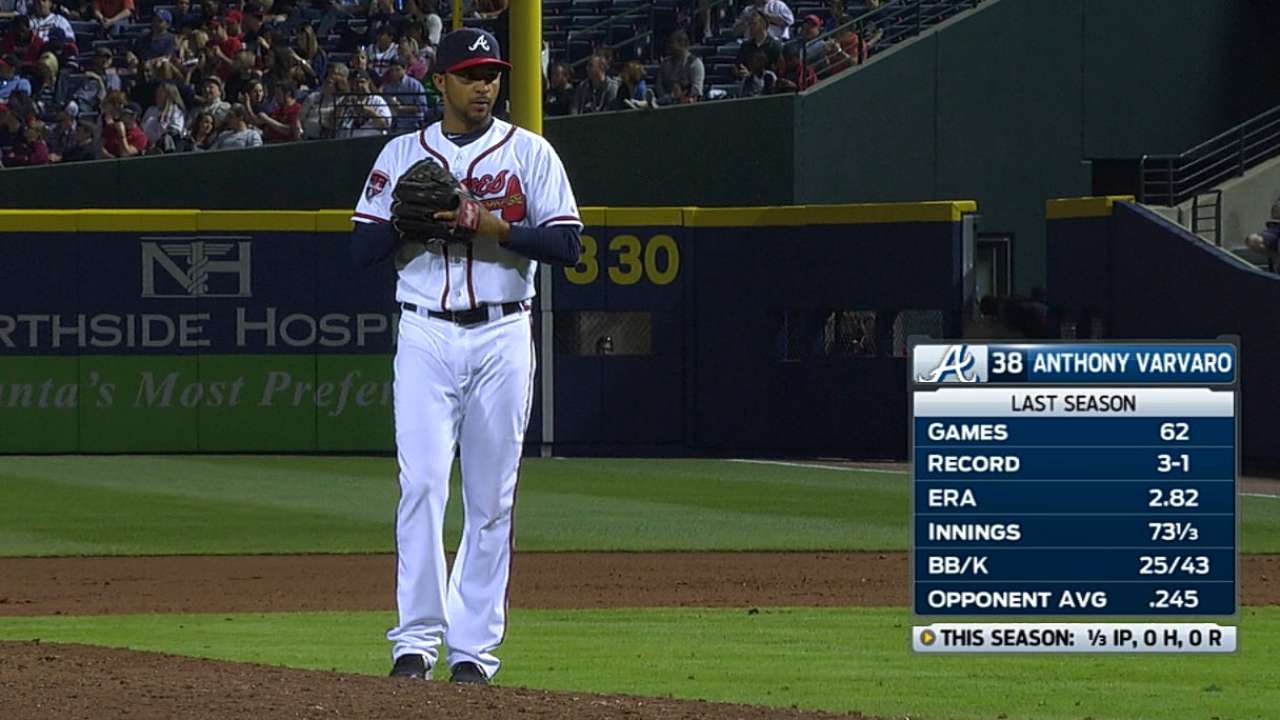 ATLANTA -- Braves manager Fredi Gonzalez was encouraged by what he saw from a number of his relievers during Sunday afternoon's 14-inning loss to the Mets. Gus Schlosser worked three scoreless innings before surrendering Curtis Granderson's game-ending sacrifice fly.
Schlosser deservedly garnered much of the postgame praise for the way he handled himself as he worked more than two innings for the first time in his career. But Anthony Varvaro has also caught the attention of his manager and teammates, as he displayed a high-powered fastball during a scoreless 10th inning.
"I've seen it from [Varvaro] before," Gonzalez said. "You've seen him come out of the bullpen, and he can really light up that radar gun. I've been really, really impressed with him the last couple of times out. He's throwing strikes and getting some big time hitters out."
After surrendering David Wright's leadoff single in the 10th inning on Sunday, Varvaro ended the frame with consecutive strikeouts of Chris Young and Lucas Duda. Young ended his at-bat by swinging through a 97-mph heater, one of six fastballs that registered higher than 95 mph during the inning.
Varvaro, a Long Island native, admits his adrenaline started flowing a little more after Wright singled. Each of the first four fastballs he threw during the inning registered between 92-93 mph. Just one of the last 10 fastballs he threw was clocked below 95 mph.
"We always tell him he's holding back," Braves right-handed reliever David Carpenter said. "Then all of a sudden he's popping 95 or 96 and we think, 'He's ready to go, he must have stretched a little more.'"
Since experiencing a rocky Spring Training, during which he initially toyed with developing a slider, Varvaro has shown the Braves he can be a dependable sixth or seventh-inning option, like he has been the past two seasons. He has allowed just one run in 4 1/3 innings over his first five appearances.
"It's nice for a manager or a bullpen coach, when the bullpen door opens, you know what you're going to get," Gonzalez said. "You know what you're going to get with him. He can sit around for three or four days and not pitch. Then you bring him in a situation, and if you match him up right, he's going to be successful."
Mark Bowman is a reporter for MLB.com. This story was not subject to the approval of Major League Baseball or its clubs.