Medlen, Beachy evaluate mechanics during recovery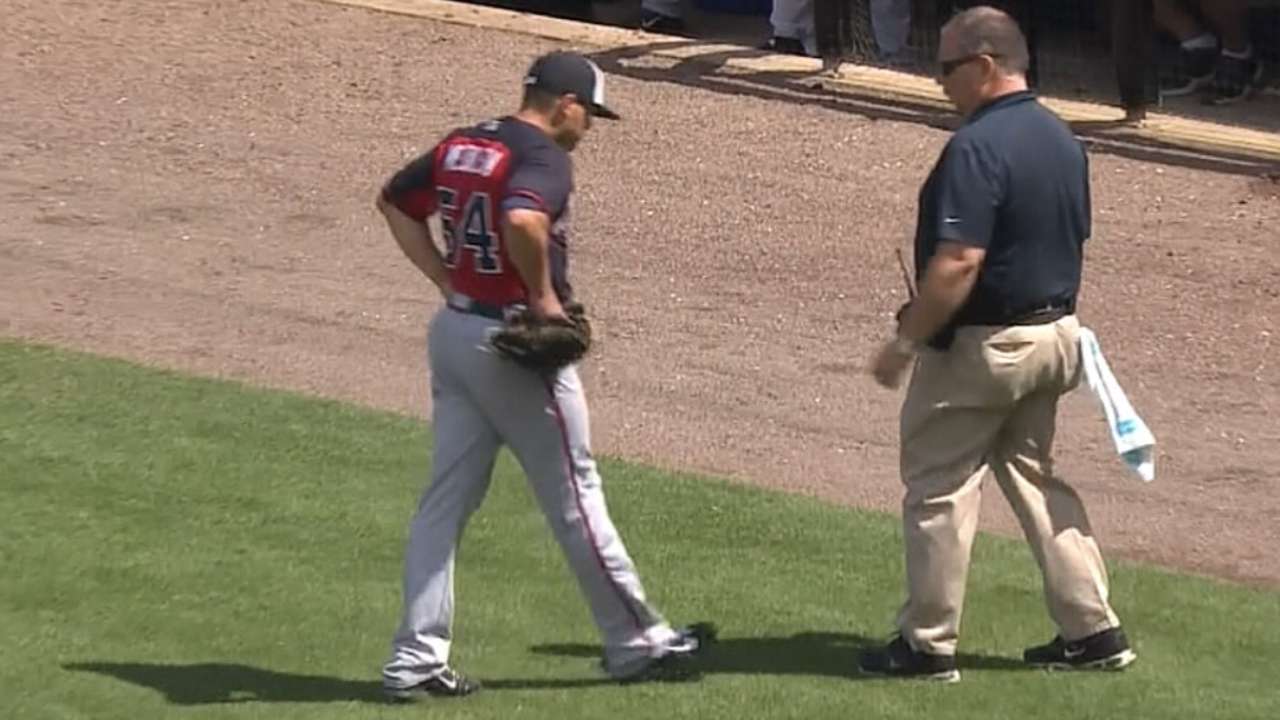 ROME, Ga. -- Following his second Tommy John surgery, injured Braves starter Kris Medlen Googled himself. Medlen is looking at his delivery both in photos and on film to determine how he can avoid another elbow injury.
"The fact that I was able to come back for two years and pitch for two years after surgery means that the first surgery worked, but I didn't change anything mechanically from what I was doing before the first time," Medlen said.
"Once I blew out the second time, I wasn't Googling surgeons or anything like that. I was Googling myself, looking at pictures and coming in looking at film of what I was doing mechanically, which I probably should have done the first time around."
For Medlen's second Tommy John surgery on March 18, Dr. James Andrews took a tendon from the pitcher's forearm instead of his hamstring. Ten days later, Medlen feels "pretty good" physically, and he has progressed from a cast and a sling to an arm brace.
Medlen is also making progress mentally.
He said he is "less clingy" with the training staff now that he has been through the process of rehabbing from Tommy John surgery before.
Medlen also feels he has an idea of what he would like to try to correct mechanically when he eventually gets to throw again. He believes his timing was off and that he wasn't using the right muscles.
"Obviously, I'm not going to stop studying the film and pictures and certain positions I'm supposed to be in at certain times in my delivery," Medlen said. "That's just something I need to approach the second time around to make sure this doesn't happen again, because if it does, then I'm going to be done. And that's no fun."
Brandon Beachy, meanwhile, is taking on a mindset similar to that of Medlen.
"Here we go again," Beachy said. "I've got to get it right this time."
Beachy has looked at his arm path among other things. He has his sights set on a return, but he struggled to voice his frustration with undergoing a second Tommy John surgery in just 21 months.
"I just can't put it into words," Beachy said. "It's been exhausting mentally, way more so than physically. But it's not going to stop me. It's not going to slow me down. I'm going to do what I have to do, and I'm going to get back out there."
On Tuesday, Beachy is expected to switch out his current cast and sling for an arm brace similar to what Medlen is currently wearing. Dodgers team physician Dr. Neal ElAttrache performed Tommy John surgery on Beachy on March 21.
Andrews performed Beachy's first Tommy John surgery, taking a tendon from the pitcher's wrist. This time, ElAttrache took a tendon from a cadaver.
Beachy has looked to the case of Arizona Diamondbacks pitcher Daniel Hudson for inspiration. Hudson underwent Tommy John surgery in July 2012 and again last June before rehabbing and signing a Minor League deal with the D-backs in December.
"Daniel Hudson had two closer together than I did, and he's, from all I've heard, he's feeling well coming back right now from Arizona," Beachy said.
Although Medlen and Beachy cannot help the Braves on the field this season, both plan to be around this year. Their paths to recovery may be different, but Medlen and Beachy both know their role now is to rehab and lend support to their teammates.
"I'm planning on being there every day when the team's at home," Beachy said. "I'll just be a cheerleader. Just feel as much as I can like I'm still a part of things."
Joe Morgan is a contributor to MLB.com. This story was not subject to the approval of Major League Baseball or its clubs.