Reliever Gearrin suffers right elbow sprain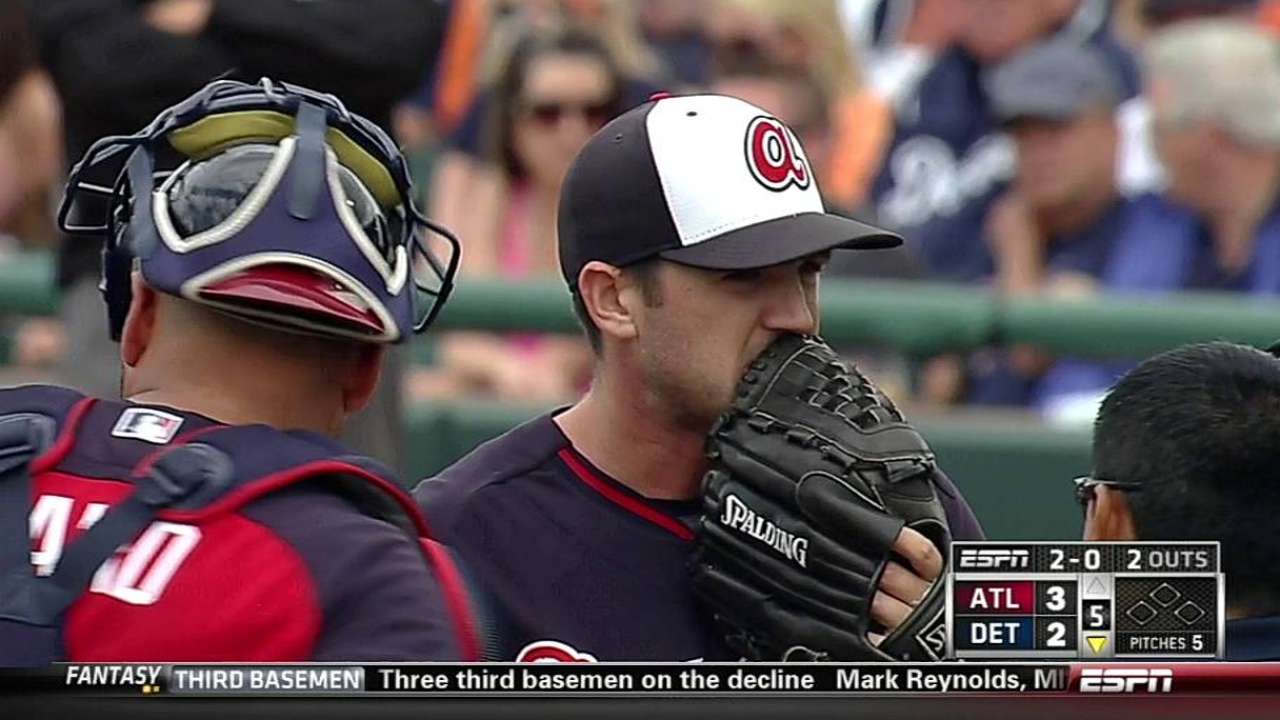 LAKELAND, Fla. -- Less than a week before Opening Day, another elbow injury has forced the Braves to once again alter their pitching plans.
Right-handed reliever Cory Gearrin's bid to be on Atlanta's Opening Day roster likely ended when he was forced to exit Tuesday's game against the Tigers with a sprained right elbow.
"It was just a little bit tender," Gearrin said. "This close to the end of camp, I didn't really want to do anything crazy. … The last two [pitches] I threw, I knew it was definitely feeling a little bit tender. I didn't want to keep trying to pitch through it."
While Gearrin's likely absence will not cause the Braves to scramble like they did when Kris Medlen and Brandon Beachy suffered season-ending elbow injuries less than 24 hours apart earlier this month, there is nonetheless a need for Atlanta to determine who will fill its final bullpen spots.
Gearrin's candidacy to begin the season with the Braves was strengthened by the fact that he is out of options and the club does not currently have many attractive options to fill the remaining bullpen spots.
Craig Kimbrel, Jordan Walden, Luis Avilan, David Carpenter and Anthony Varvaro stand as the only relievers who are currently guaranteed spots in eight-man bullpen the Braves plan to use as they go through the early portion of the regular season with a four-man starting rotation.
David Hale or Gus Schlosser -- whichever one does not begin the season in the rotation -- will fill one of the three available spots. Left-handed reliever Ian Thomas stands as the next-best bet to begin the season in Atlanta's bullpen. Thomas strengthened his bid as he completed his fourth consecutive scoreless appearance during Tuesday's game against the Tigers.
The Braves could fill the last spot with a player who has already been sent to Minor League camp. Left-handed reliever Ryan Buchter, who is already on the 40-man roster, might be the best candidate from this group. Buchter's command plagued him during the Grapefruit League season, but he was more impressive than Luis Vasquez and Juan Jaime.
Mark Bowman is a reporter for MLB.com. This story was not subject to the approval of Major League Baseball or its clubs.