Braves send five players to Minor League camp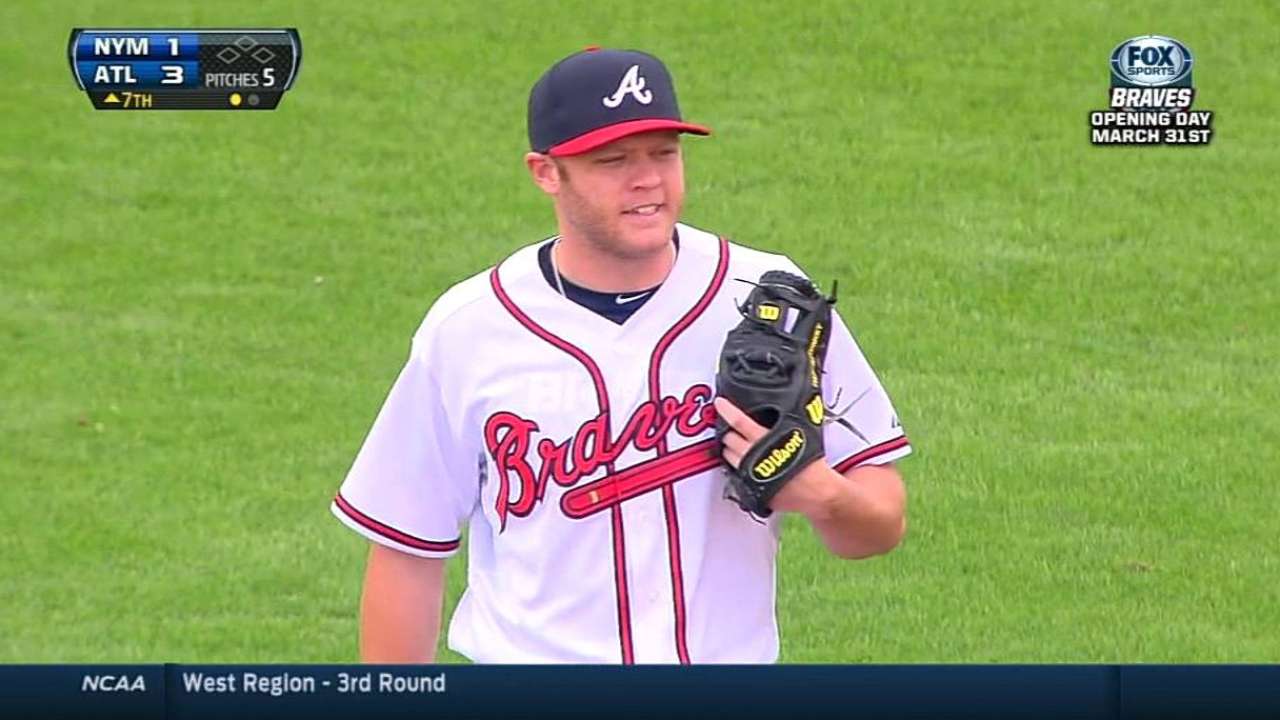 LAKE BUENA VISTA, Fla. -- The Braves provided a clearer picture of their potential Opening Day roster when they sent five players to Minor League camp on Monday.
Left-handed reliever Ryan Buchter, outfielder Jose Constanza and utility man Joey Terdoslavich were optioned to Triple-A Gwinnett. The only non-roster invitees affected -- second baseman Tommy La Stella and Tyler Greene -- were reassigned to Minor League camp.
While the Braves could make acquisitions via a trade or free agency this week, this round of cuts gives left-handed reliever Ian Thomas and utility man Tyler Pastornicky more reason to believe they could be part of the Opening Day roster.
"I think there are other things that can happen," Braves general manager Frank Wren said. "We just have to stay in a position where we haven't definitely drawn up the 25 until we're definitively sure who that group is going to be. We're getting closer."
After tearing the anterior cruciate ligament in his left knee last August, Pastornicky set a goal to be a part of Atlanta's Opening Day roster in 2014. Though he did not play in his first big league game until Friday, he now stands as the only internal candidate to team with Ramiro Pena as Atlanta's two backup infielders.
Greene's bid for that role evaporated as he hit .243 and raised concerns about his glove. While Pastornicky's defensive skills are limited on the left side of the infield, he's a better offensive threat and has the ability to play each of the outfield positions, if necessary.
Buchter could find his way to Atlanta's bullpen if he goes to Gwinnett and addresses the command issues that plagued him again as he issued six walks, notched 12 strikeouts and allowed five earned runs in 8 2/3 Grapefruit League innings. He had been battling with Thomas to begin the season as Atlanta's left-handed specialist.
Thomas has issued five walks and allowed three earned runs in nine Grapefruit League innings. His addition to the Opening Day roster would provide a feel-good story. He went unsigned out of college and then spent three full seasons pitching in an independent league before the Braves found him in 2012.
La Stella made a good impression, hitting .255 (12-for-47) in 20 Grapefruit League games. The intriguing 25-year-old second baseman will attempt to extend his offensive success and lessen concerns about his defense as he begins this season with Gwinnett.
"Coming in, everybody talks about him as a guy who can hit, and we saw that," Braves manager Fredi Gonzalez said. "We sent him down. He understands. He's got to go to Triple-A, play every day and get better at his game."
Mark Bowman is a reporter for MLB.com. This story was not subject to the approval of Major League Baseball or its clubs.