Bethancourt among five Braves' roster cuts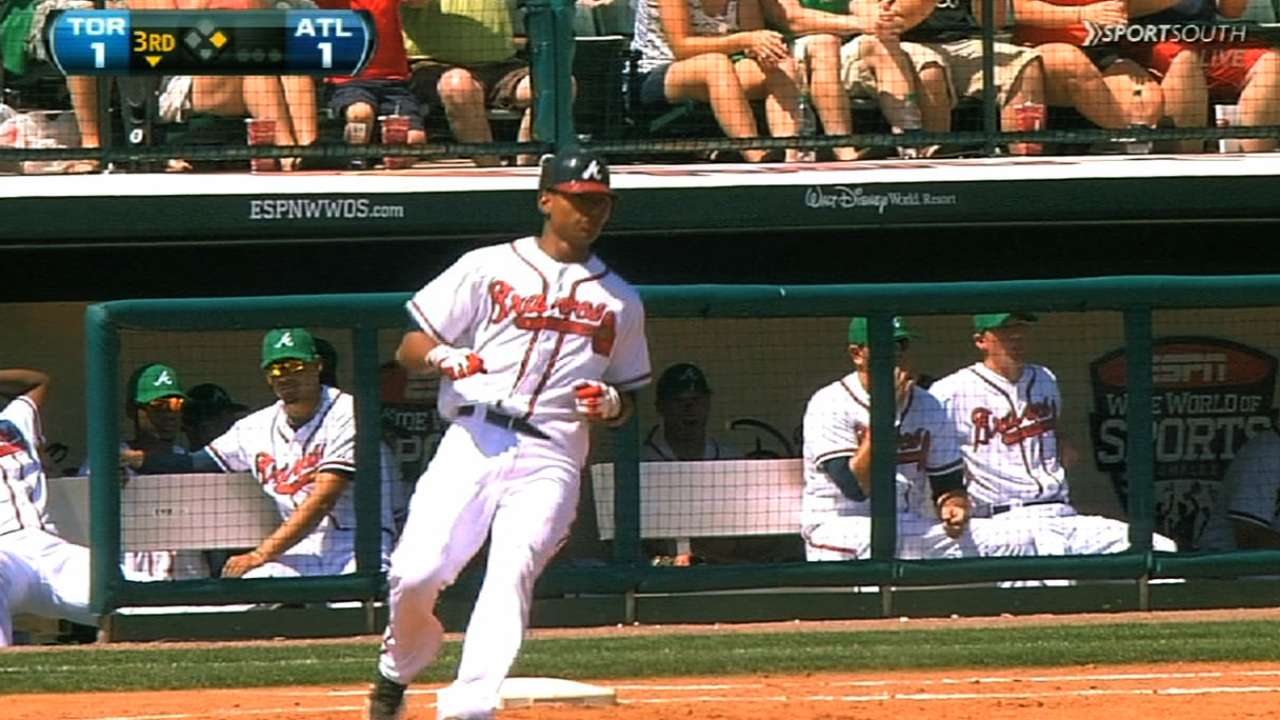 PORT ST. LUCIE, Fla. -- Braves general manager Frank Wren will likely spend the next week scouring the trade market in search of relief pitchers. But the makeup of his club's potential Opening Day roster became a little clearer when five members of the 40-man roster were optioned on Thursday morning.
Right-handed pitchers Luis Vasquez and Juan Jaime, catcher Christian Bethancourt and outfielder Todd Cunningham were optioned to Triple-A Gwinnett. Slick-fielding shortstop Elmer Reyes was optioned to Double-A Mississippi.
"The first 10 days [of the exhibition season] is for everybody to have fun," Wren said. "The next 10 days is to get the big boys stretched out, and the last 10 days is for the men."
While Bethancourt was not projected to be a part of the Opening Day roster, the highly-regarded prospect could make his way to Atlanta if Evan Gattis' offensive production is adversely affected in a starting role.
Bethancourt's strong arm has allowed him to stand as one of the game's top catching prospects. But scouts have continued to question his work ethic behind the plate and his offensive potential.
"He'll let us know when he is ready," Braves manager Fredi Gonzalez said. "There is no timetable for him. He could be here next month or he could be here next week. When he's ready, he'll let us know."
Vasquez and Jaime were the only members of this optioned quintet who seemingly had legitimate aspirations to be on the Opening Day roster. But the two hard-throwing right-handed relievers sealed their fate during Wednesday's game against the Yankees.
Jaime walked four of the five batters he faced, and Vasquez continued to show the rust that developed when he was sidelined during the early weeks of Spring Training because of a strained right lat muscle.
But as he surrendered a hit and issued two walks in his one-inning stint against the Yankees, Vasquez provided indication he is moving in the right direction. The fastball he produces with his sidearm delivery touches 95 mph. If he harnesses his command and continues producing similar velocity, he could eventually end up in Atlanta's bullpen.
Craig Kimbrel, Luis Avilan, Jordan Walden, David Carpenter and Anthony Varvaro currently stand as the only relievers who are seemingly guaranteed an Opening Day roster spot. Cory Gearrin's presence on the 40-man roster should aid his cause to get one of the remaining spots.
Left-hander Ryan Buchter and right-hander Gus Schlosser stand as the two other most likely candidates to get one of the final spots in this 'pen, which could consist of eight relievers as the Braves go through their first eight to 10 games using a four-man starting rotation. But Wren will continue to look at external options via potential trades or waiver wire deals.
Mark Bowman is a reporter for MLB.com. This story was not subject to the approval of Major League Baseball or its clubs.