Timetable for Santana, Minor becomes clearer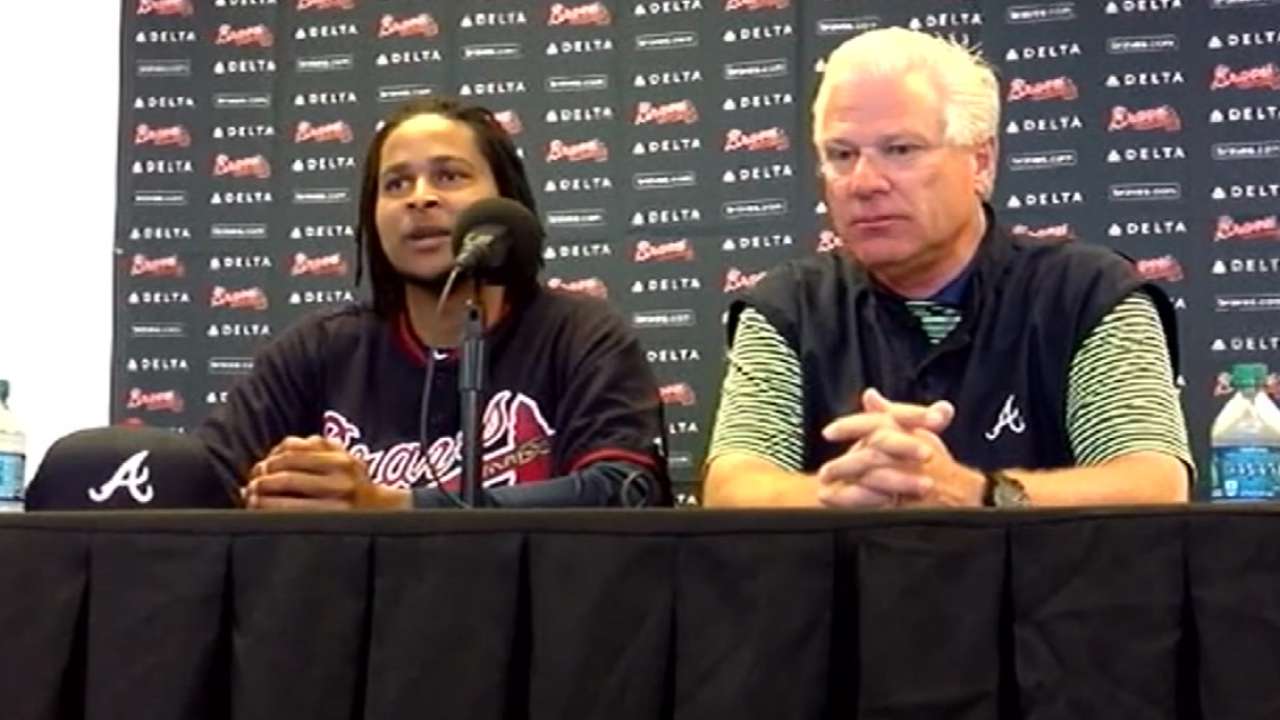 LAKE BUENA VISTA, Fla. -- While Ervin Santana remains on track to join Atlanta's starting rotation by the end of the second week of the regular season, it appears the Braves are going to wait until the second half of April to activate Mike Minor from the disabled list.
Santana will make his Grapefruit League season debut when the Braves travel to Port St. Lucie, Fla., to play the Mets on Thursday at 1:10 p.m. ET (available live on MLB.TV). Minor will spend a portion of Thursday morning throwing his latest round of live batting practice at ESPN's Wide World of Sports complex.
Braves manager Fredi Gonzalez said Santana is slated to complete two innings against the Mets. Sticking with the traditional Spring Training preparatory schedule, Santana will add an inning to his workload during each of the subsequent starts he makes over the next few weeks.
Barring setbacks, Santana will be on track to complete a five-innings start for a to-be-determined Minor League affiliate on April 4. This would put him in line to make his regular-season debut for Atlanta as early as April 9. The Braves will have the option of sticking with a four-man rotation up until April 12.
When the Braves signed Santana to a one-year, $14.1 million contract to replenish their injury-depleted rotation last week, Santana said he felt close to being ready to pitch in a game. The 31-year-old veteran has displayed his arm strength in bullpen sessions and two live batting-practice sessions over the past week.
When Minor reported to Spring Training in February, he dealt with some consequences of having to remain idle for a month following his Dec. 31 urinary tract procedure. He was shut down for a few days after he experienced left shoulder discomfort early in spring camp.
Now that he has gone nearly a month without any shoulder discomfort, Minor was holding out hope that he'd be ready to join Atlanta's rotation by the end of the regular season's second week. But with Kris Medlen and Brandon Beachy sidelined, the Braves are being very cautious with Minor.
Gonzalez indicated Minor and Gavin Floyd, who is working back from Tommy John surgery, could both make their first starts of the year in Minor League games in the final few days of March.
While Floyd is not expected to join the rotation before the first half of May, there is a chance Minor could be activated from the disabled list during the latter portion of the third week of the regular season.
Mark Bowman is a reporter for MLB.com. This story was not subject to the approval of Major League Baseball or its clubs.