Santana could make Braves debut this week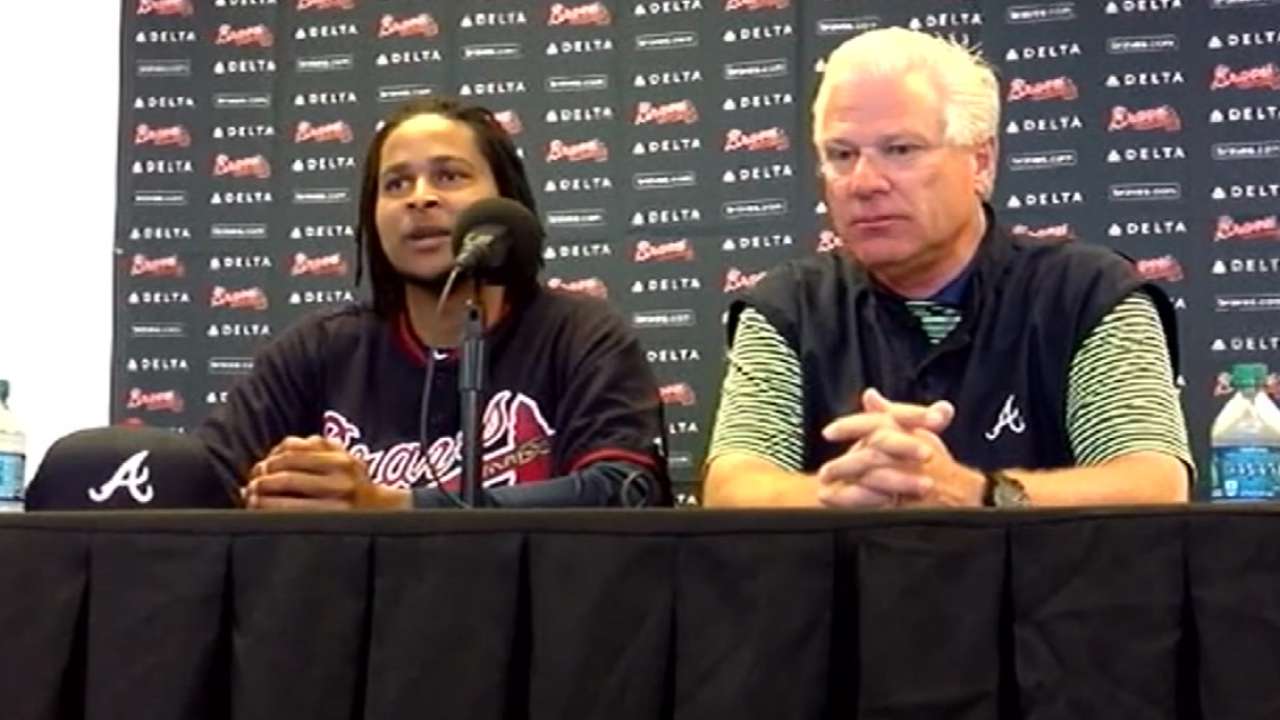 KISSIMMEE, Fla. -- Ervin Santana could make his first Grapefruit League start for the Braves by the end of the week. Mike Minor might have to wait a little longer to make his season debut. But both of these hurlers still appear on track to join Atlanta's injury depleted starting rotation during the middle of April.
Santana and Minor were encouraged after throwing live batting practice to Gerald Laird and three Braves Minor Leaguers on Monday morning at Champion Stadium.
Because this was the second time he completed this exercise since signing a one-year, $14.1 million contract with the Braves last week, Santana threw for 10 minutes. Minor's five-minute session served as the first time he has thrown to hitters this year.
"I felt normal once I got out there, but leading up to it my adrenaline was pumping pretty good," said Minor, who reported to Spring Training behind schedule because he was forced to remain inactive for a month following a Dec. 31 urinary tract procedure.
If Santana does not have any setbacks within the next day or two, the Braves will likely add him to their Spring Training rotation sometime this week. The 31-year-old pitcher kept himself prepared by throwing bullpen sessions during his final weeks as a free agent.
"If he wakes up good and everything is fine tomorrow morning, I think maybe we'll see him in a game here shortly," manager Fredi Gonzalez said.
Gonzalez indicated Minor will have to throw one or two more live batting-practice sessions before being cleared to pitch in a game.
It has been more than three weeks since Minor has experienced the left shoulder discomfort that sidelined him during the first week of Spring Training. But the Braves are being extra cautious in their attempt to bring him back to a rotation that lost Kris Medlen and Brandon Beachy to what appears to be season-ending elbow injuries last week.
If Santana does make a start by the end of this week, he would be on schedule to join the Atlanta pitching staff by the time the Braves are forced to go to a five-man rotation on April 12.
"I missed almost the whole Spring Training," Santana said. "I'm just trying to get ready normal. I'm not trying to rush. That's how you get better."
Mark Bowman is a reporter for MLB.com. This story was not subject to the approval of Major League Baseball or its clubs.