Freeman, Doumit exit with bruised fingers
First baseman says he'll be fine; catcher hurt on foul tip, X-rays negative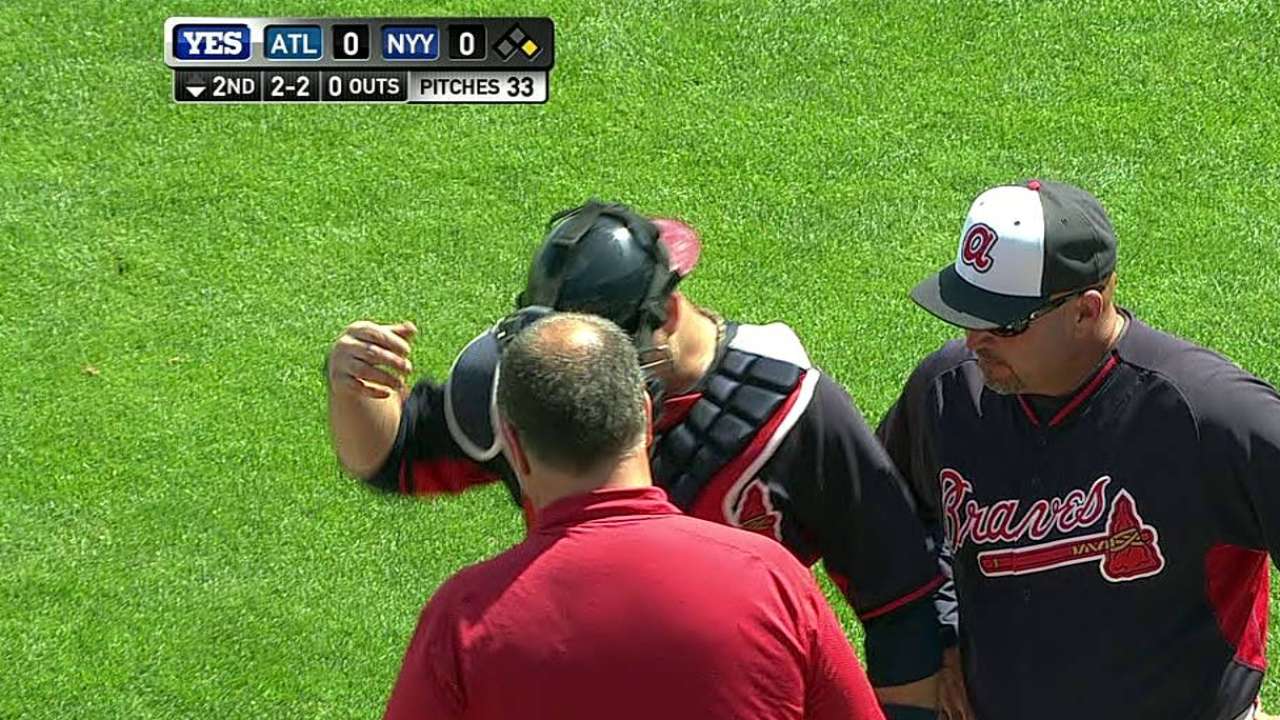 TAMPA, Fla. -- A pair of bruised fingers forced Braves first baseman Freddie Freeman and catcher Ryan Doumit to exit Sunday's 7-4 loss to the Yankees, but the club is hopeful that neither injury is serious.
Doumit left in the second inning after taking a foul tip off his bare right hand. The club diagnosed Doumit with a right middle finger bruise, and precautionary X-rays came back negative. Freeman, meanwhile, suffered a left thumb bruise while trying to snag a line drive down the first-base line in the second inning.
Freeman said his hand began to swell up almost immediately after the ball hit him.
"It caught me clean on the hand. There's no point in trying to be a hero in Spring Training, especially when we're getting close to the end," Freeman said. "[I'll] just put some ice on it for the next couple days and see where we go from there."
Freeman was held out of the 2013 All-Star Game with a jammed left thumb, but said this injury didn't seem to be as severe.
"I have hand problems every single year, it seems like," Freeman said. "But this one's not too bad, I don't think. We'll be all right."
With Julio Teheran pitching in the second, Yankees designated hitter Pete O'Brien fouled a pitch back at Doumit, which hit his exposed throwing hand, sending him straight to the dugout and out of the game. Christian Bethancourt replaced him behind the plate.
"I don't know if you were close to the field, but hearing that, it was clean. When you see someone walk off the field right away, it's unfortunate," Freeman said. "I think he's going to be all right. Hopefully he's OK. He was in high spirits before he left here, so hopefully we'll get some good news."
Braves manager Fredi Gonzalez was also optimistic that Doumit won't miss much time. Gonzalez said he could see the mark the stitches from the baseball left on Doumit's hand, but the veteran catcher was moving his fingers around not long after leaving the game.
With all the recent injuries the Braves have sustained, from the major pitching injuries to Sunday's dings and dents, Gonzalez said he's reached the point where he just wants to get everybody else to Opening Day with a clean bill of health.
"The last four or five games, you wish you could call the Commissioner and say, 'Our team's ready. Let's start the season. We don't have to play another five,'" Gonzalez said. "I'm sure everybody feels that way but we can't, we can't do that. Every time there's a little flinch or somebody goes down or you get one of those crazy [injuries], you start worrying. I think we're going to be OK there."
Adam Berry is a reporter for MLB.com. Follow him on Twitter at @adamdberry. This story was not subject to the approval of Major League Baseball or its clubs.