Fredi, Braves impressed with Yanks' Tanaka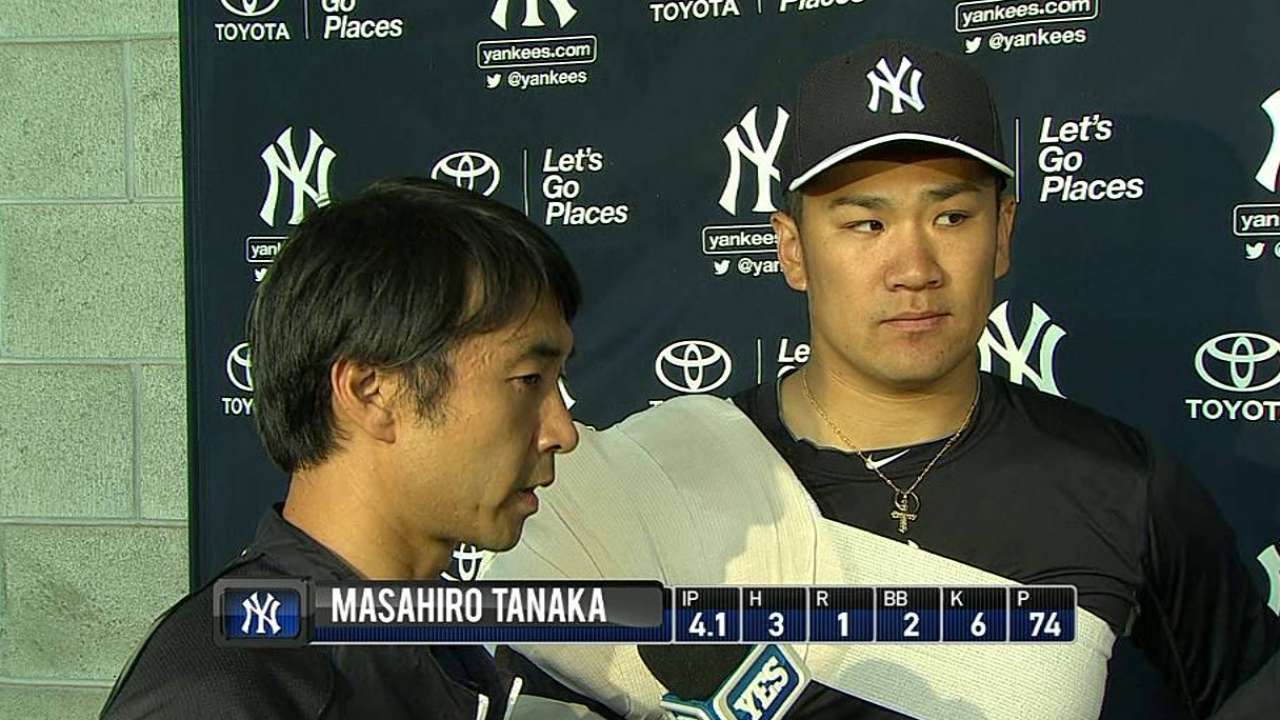 TAMPA, Fla. -- The Braves got their first look Sunday at right-hander Masahiro Tanaka, the much-hyped Japanese right-hander the Yankees signed this offseason, and came away impressed.
Tanaka held a lineup full of Atlanta's everyday players to just one run on three hits and two walks while striking out six over 4 1/3 innings. The Braves forced Tanaka to run his pitch count to 74, but didn't make much solid contact. Jason Heyward tapped out back to the mound in the first inning, then after B.J. Upton's ground-ball single up the middle, Tanaka struck out Freddie Freeman swinging and Justin Upton on a called third strike.
"He looked good. That split-finger he's got, it's a good pitch. It's a swing-and-miss pitch," Freeman said. "He spots up his fastball. I was watching it on TV when I came out of the game. He's able to go in and out, and that split-finger's a swing-and-miss pitch. he can throw it for a strike and also get you to chase on it. He looked real good."
"He's not throwing the ball 100 [mph], but his stuff is definitely effective and definitely blends well. He's pretty tough," second baseman Tommy La Stella added. "He can command all his pitches. Anytime you've got a guy like that, he is going to be tough to hit. He kept us off-balance. He pitched backwards."
Atlanta manager Fredi Gonzalez also took note of Tanaka's wide-ranging arsenal, the life on his fastball and the movement on his offspeed pitches. But Gonzalez was also impressed by the 25-year-old's poise on the mound, which should bode well for him while pitching in the spotlight of New York.
"This guy's pitched on some big stages, and I think he's going to be on the big stage in New York," Gonzalez said. "I don't think he's going to have any problem."
Heyward said the key to success against Tanaka will be patience. He was just the opposite in his first at-bat when he swung at the first pitch Tanaka threw.
"Like a lot of guys with good mix-and-match stuff, you want to be patient against him, go up there and try to get your pitch to hit," Heyward said. "He wants you to put the ball in play early and he's going to try to miss your barrel. Plain and simple, like a lot of other guys."
Adam Berry is a reporter for MLB.com. Follow him on Twitter at @adamdberry. This story was not subject to the approval of Major League Baseball or its clubs.