Uggla's emphasis on spring at-bats paying off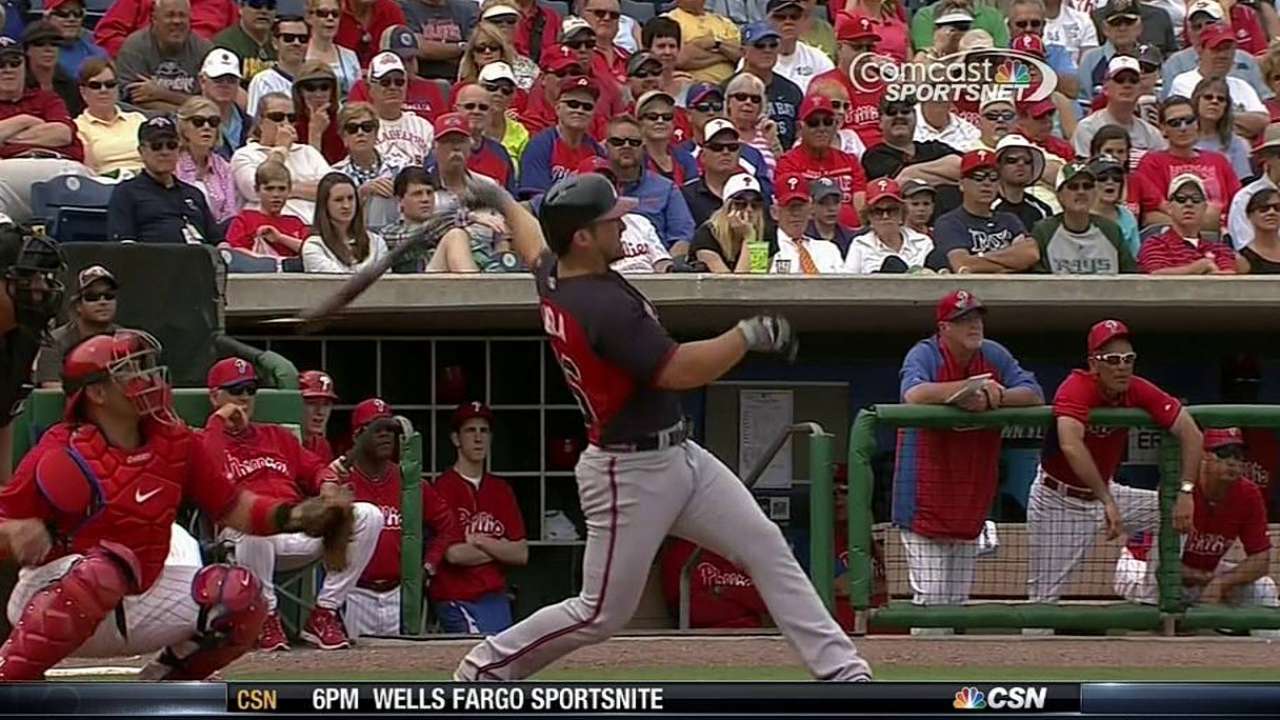 LAKE BUENA VISTA, Fla. -- Coming off two frustration-filled seasons that have created doubt about his future, Dan Uggla is treating this year's Spring Training different than most he has experienced since he established himself as a Major Leaguer.
"I never had to worry about it, because I knew I was going to end up with 30 homers and 90 to 100 RBIs," Uggla said. "The last two years didn't turn out like that. In 2012, it started out like it was going to go like that again. But I never came back around. I had to battle and grind through all of 2013 with not knowing what was going on."
After hitting .178 with 22 home runs and a .671 OPS last year, Uggla came to camp this year realizing he had something to prove. The veteran second baseman proved productive through the first few games of the Grapefruit League season before enduring a 1-for-13 stretch that included six strikeouts.
But Uggla has quickly turned the tide while going deep each of the past two days. His two-run shot in Monday's win over the Phillies landed on the roof of the tiki bar located far beyond the left-field fence at Bright House Stadium. Uggla then celebrated his 33rd birthday by highlighting a two-hit performance in Tuesday's 9-1 win over Philadelphia with a line-drive solo shot off Sean O'Sullivan that easily cleared Champion Stadium's left-center-field wall.
"This year, it's nice to have some results," Uggla said. "I'm still adjusting to live pitching, just like everybody is. I'm not putting too much emphasis on Spring Training. But the way I feel and the way I'm attacking the ball, that is different than year's past. I'm not just going through the motions, saying 'It will come, I'm working on stuff.'"
Uggla is batting .318 (7-for-22) with two home runs and eight strikeouts through his first 10 Grapefruit League games this year. Through his first 10 exhibition season games last year, he was hitting .154 (4-for-26) with one home run and 13 strikeouts.
While Spring Training stats -- especially those calculated with small sample sizes in early March -- are not necessarily meaningful, Uggla can at least take satisfaction from the fact he at least appears to be trending in a better direction with Opening Day less than three weeks away.
"Right now, I'm looking to make the adjustment pitch-by-pitch, rather than, 'It didn't feel very good today, we'll get 'em tomorrow.' If I didn't feel good, I'm thinking about it the whole day until I get a chance to get back in the [batting] cage. That's the difference for me this year. It's constantly going through my head, 'How am I going to make myself better?'"
Mark Bowman is a reporter for MLB.com. This story was not subject to the approval of Major League Baseball or its clubs.